The Learning Experience Continues... Online!
As a progressive university in the creative hub of Barcelona, Spain, our students' wellbeing and the quality of their education are our two most important objectives. That is why, in an effort to secure both our students' safety and to continue their access to quality education, all learning formats, including classes, meetings, and admission processes continue as they were, but this time in an online format.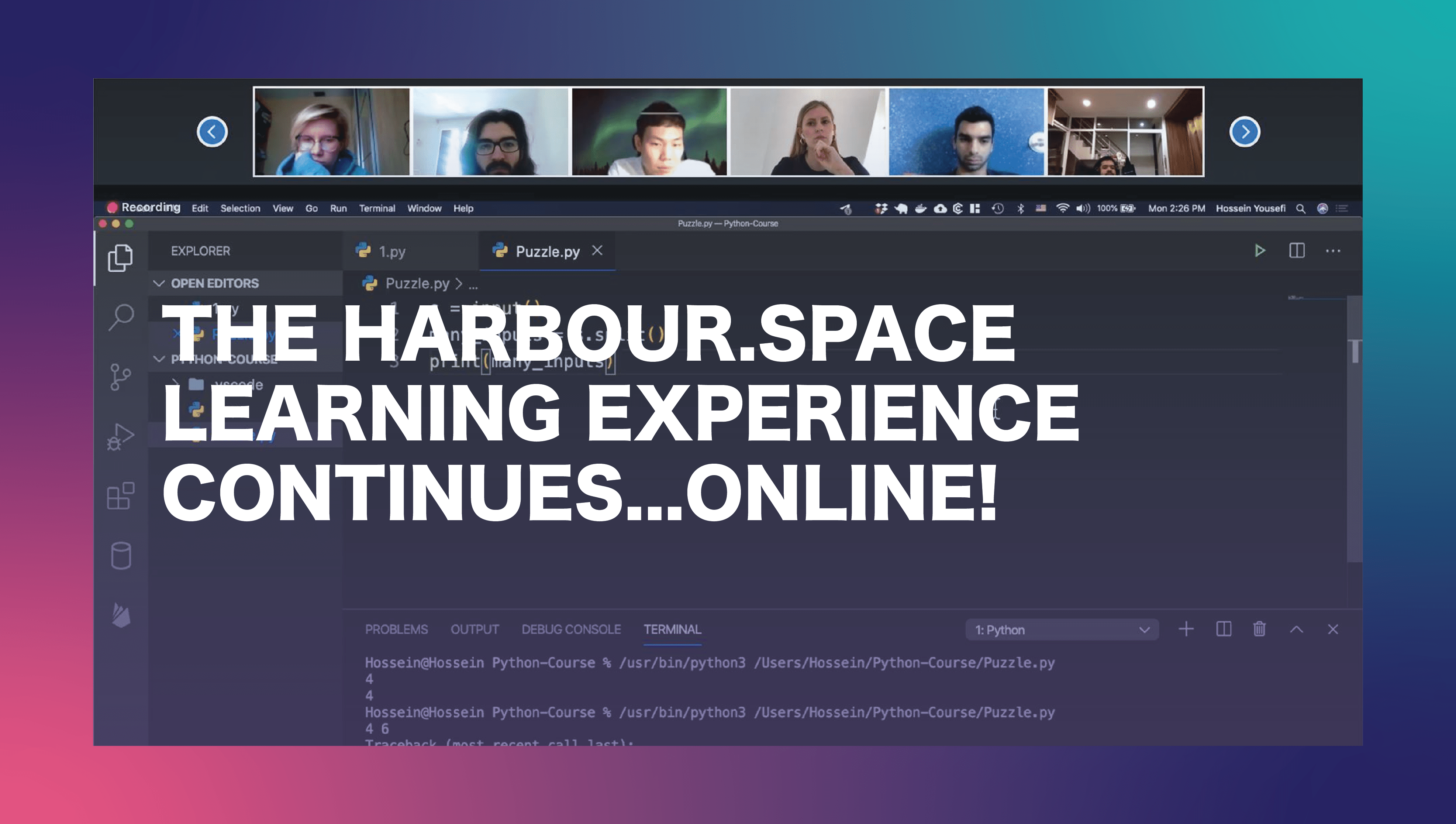 The Harbour.Space education continues, remotely. We are working hard to keep everyone updated as the situation evolves, conveying news from the Spanish government. 
Until it's resolved, we're still going strong! 
What You Need to Know
As of March 14th, the Spanish government closed down all nonessential work to avoid more contagion and preserve the health system. Residents are allowed to leave for necessity items ensuring they take extra precaution when going to public places. The government has extended the lockdown and will continue for the residents' best interest. 
We know there is a lot of misinformation via the internet and social media. However, fear not, as we curated a list of up-to-date links for quality information about the Catalunya region and the rest of the world: 
Online is the New Language  
Hannes Chopra is the CEO of RaSa Future Fund, Executive Coach and Advisor. Hannes is passionate about personal and leadership development, encouraging humans to become leaders of change in our transformative world. The successful entrepreneur, businessman, and well-admired professor at Harbour.Space shares his experience of switching to an online platform with these three fundamental points: 
We are all learning - embrace the learning journey together.
We all have fears and hopes - face them.
Online is like a new language - stop 'translating'.
Read more about Hannes' learnings through his experience: 
1. We are all learning - embrace the learning journey together
At the first online class, I mentioned to students openly that this is also a new experience for me so we will be learning together. At the end of every class, we took 5-10min of reflection on what worked and what didn't work today and what I should improve (as a professor). So I reflected then for myself after class and adjusted for the next day the syllabus and the teaching approach. It was a great and humbling experience and we developed, learned and grew together in this class. In essence, I learned that I had to rethink and redesign my whole syllabus.
2. We all have fears and hopes - face them 
At the first online class, I also discussed with students what they fear about online learning and what their hopes are. We had very open sharing and discussed openly how we could address these fears. This provided me valuable insights for creating a good schedule taking these fears in mind.
3. Online is like a new language - stop 'translating'
When you learn a new language, the real beauty of the new language manifests itself only once you really see it as a separate language and you don't translate back and forth in your mind. Once you stop comparing the new language to any other language you know, once you immerse into the experience of this language, the unique sound of words, the special meaning these words have and how to use them, laugh about the mistakes you made, slowly discover how you can express things in this language which you couldn't before in any other language, etc.. 
Online learning is exactly the same! As long as you compare offline and look at what is missing, you will never really get the benefits of online learning. And as long - as a professor - you basically teach online your usual offline syllabus with more or less the same methods, you will bore students to death and will never reap the benefits of online learning.
Quality Education No Matter the Classroom Location
Our global student community at Harbour.Space faced hard decisions when the change in Spain happened so fast. But as digital pioneers, students knew they were at an advantage to embrace quality education no matter the location of the classroom.
"As students of the 21st century at a technology-centered university, we're up to the challenge and excited to be an active part of this next major societal shift"

Sonnia Kuo, Interaction Design Master student. 
Explore more of Sonnia's outlook as a student during this time of virtual transformation:  
As a generation of digital natives, "we got this." 
"If we were to entrust a generation to not only deal with this unprecedented shift in a global society but to overcome and innovate in the midst of it, it would be this one. As digital natives, many of us grew up on the Internet, fostering our relationships by sharing and connecting with each other on social media, and bolstering our educations with laptops, smartboards, and online classrooms. 
So not only are we as students adapting quickly to online tools like Zoom, Google Classroom, and Hangouts, but we are testing their features to find better ways to conduct the online classroom experience each day. In Anton's Visual Design class, we've taken to Slack to keep an archive of daily assignments and in-class feedback as a way to easily review what your classmates are working on and the notes that were given. 
Friends who miss working side-by-side on campus have started scheduling Hangouts sessions to simulate the experience. These aren't formal calls or meetings, but simply something you can have running in the background as you work on your project, knowing your classmates are doing the same on the other side of the call and there to listen if you want to ask a question or simply chat and have some company as you work. Things like this help reintroduce some semblance of structure and normalcy to our lives, which have been thrown into disarray over the last month. 
Echoing Hannes' sentiment: going fully virtual at the drop of a hat was never going to be easy, and trying to replicate in-person experiences online isn't the way to do it. But as students of the 21st century at a technology-centered university, we're up to the challenge and excited to be an active part of this next major societal shift. 
Future Spacers of Harbour.Space
We are lucky to live in the digital age where we're able to learn not only inside the classroom but also remotely. Our students are continuing their degree with industry leaders around the world, getting the best education possible. However, our freedom of joining all together under one roof is limited for a while, our unparalleled academia flourishes. 
Our Admissions team has made several modifications to the application process to help potential students continue applying for our programs, so if you're worried about applying in the midst of the current situation, don't be - we've got your back ;)
Our physical campus doors may be closed, but our online doors remain open and going strong :) 
Let's Beat This Thing
As we move forward in this time of uncertainty, our students and faculty have put together several measures outside the classroom to ensure our community stays connected: 
Daily digital coffee breaks through zoom. 
Collaboration on various volunteer and social projects. 
Buddy group check-ins with Hannes Chopra. 
Open communication and feedback forms to improve the online experience.
Endless fun recommendations in our WhatsApp group. 
Now, more than ever, we come together and show that no matter how far apart we may be, we unite during these difficult times. We're looking forward to seeing you join us soon!
Harbour.Space is continuously sending positive vibes and happy, healthy thoughts your way! Although we temporarily closed as a precaution against the spread of Covid-19, we've always known the future to be digital. Find us online over the next coming weeks, stay safe and take care of yourselves.