What kind of Harbour.Space student are you?
Harbour.Space students come from all around the world to change the world, and they're eager to start right now. The combination of the curriculum and industry leading teachers shape these students to become the leaders of tomorrow, and to launch innovative companies based on their own inventions, ideas, and solutions to social problems. Harbour.Space strives to help students explore real-world problems right in the classroom, and give them the perspectives needed to be positive agents of change.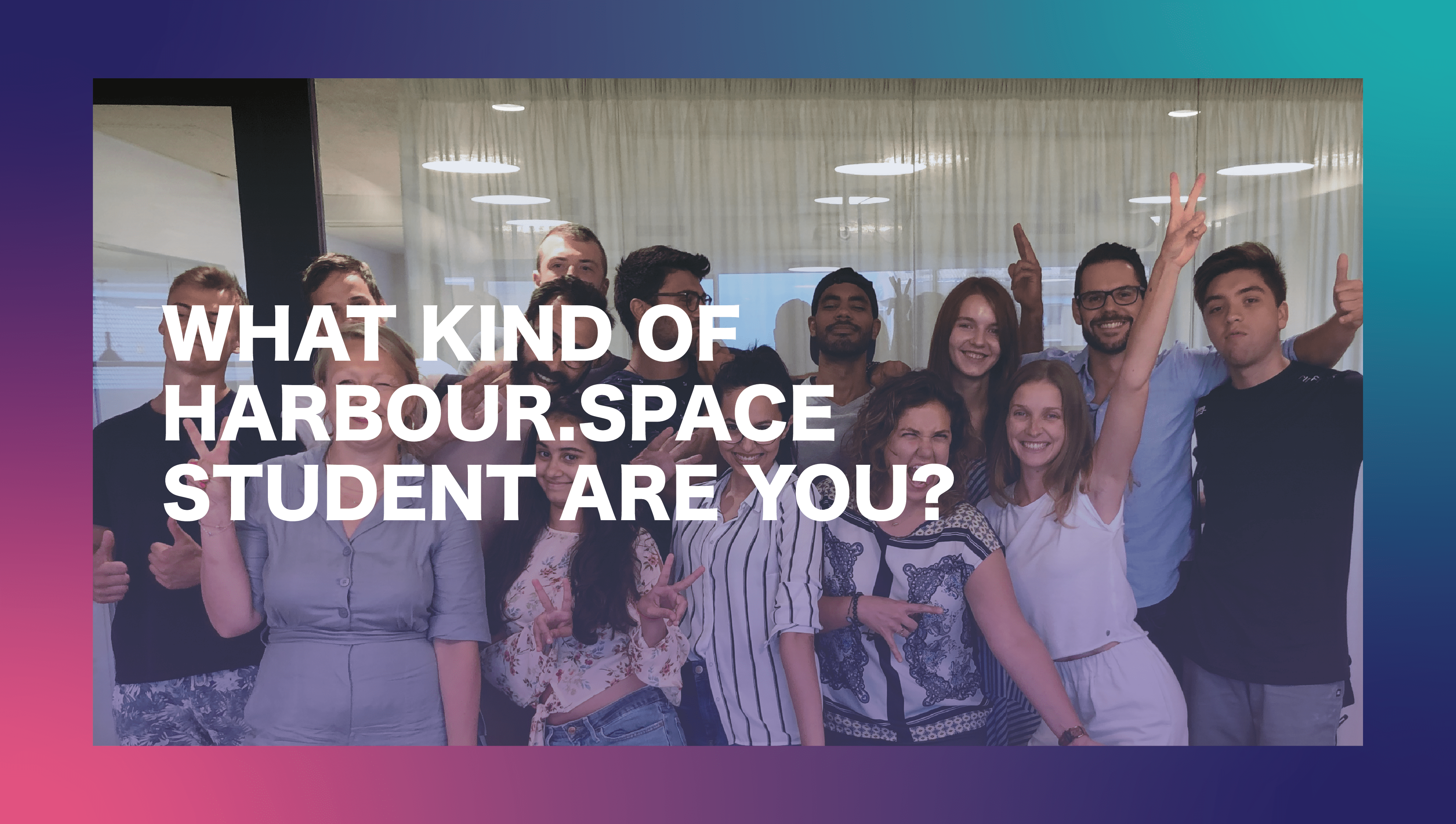 If you're wanting to expand your intellectual horizons, but wondering where you would fit in at Harbour.Space, let's expand your perspective and take your curiosity on a journey. 
A Day in Space
It's Thursday morning, week 3 of the module and things are getting intense. Are you two coffees deep, headphones in, face down in a computer? Are you nervously laughing about your presentation in the morning? Are you relaxing in the Space.Bar eating a peanut butter cookie? Or are you locked in a classroom with your team members only taking bathroom breaks?
Close your eyes, take a minute and think about it… amongst the craziness, you probably rhythmically resonated with one of the scenarios placing yourself as an Achiever, Enthusiast, Co-Creator or Visionary. But to truly understand what kind of Harbour.Space student you are, it's essential to walk in their shoes. 
Back to Thursday morning. Remember, it's almost the last day of the module, and you and your classmates are challenged with final presentations, pitches, and tests that evaluate their learnings of the last three weeks. Let's dive in. 
We are greeted by the warming barista in the Space.Bar with chatter filling in the air. With a flat white or matcha in hand, we see groups of students laughing. They engage in conversations unrelated to the piles of work they have due the next morning, with their faces illuminated as the Harbour.Space sign outside. 
These are our Visionaries. They're not your 9 to 5 types of people. They came to Harbour.Space because the traditional system failed to meet their expectations. Visionaries see differently and envision a future of technology. Visionaries know being ready for something that has never happened means preparing in a way that goes beyond the ordinary. But of course, before this magic happens, there's nothing like a good Space.Bar cup of coffee.
Adventuring up the stairs to the first floor we see our Achievers, earphones in, only momentarily peeking up from their screens to ask peers about homework questions. Their programs are tough, but they are tougher. They are the first to take on extraordinary challenges and rise to the occasion.
Our Achievers are driven individuals who are ready for that one extraordinary challenge that will lead to a personal and professional breakthrough. They're determined young professionals looking for the connections to bring their ambitions from vision to reality, or the bridging connection to a successful career in companies that will shape the future. 
Now waiting for the elevator, we share laughs with some of our Enthusiasts. They are riled up about their current project and prideful for what's to come. But on the way up, we join the others in a moment of silence, as they share how much they still have to do for their final presentation. 
With Enthusiasts it's a mix of laughter and uncertainty. There's always a balance, but they manage to bring each other up. They know, if they can make it through this module, they can make it through anything. Peers acknowledge their hard work and get inspired.
Enthusiasts are designers by nature. They live and breathe technology. They are at Harbour.Space to have an impact on others with what they build and create. Enthusiasts are driven by a passion for what they're learning and have a curiosity for the unknown. 
The elevator reaches the sixth floor. Doors open to the Open.Space where our Co-Creators are in constant movement. Our Co-Creators love extending their collaboration to whoever will listen and give feedback. They're wild about peer-review because they know the world isn't going to build itself - it's up to them to work together to make the difference. And of course, to ensure whatever they produce is in excellent condition. 
Even when Co-Creators take a small break from studies, the room fills with technical conversations about Irene Pereyra's latest design, the Space.Talk about Marketing Analytics, even how Elon Musk cleverly raised millions of dollars for Tesla.
It's interesting to see this interaction. It's like the start of many popular jokes, where an American, Russian, Italian and Iranian walk into Cyber.Space. What do you get? Technical and creative spark and, more importantly, new perspectives. Co-Creators challenge one another, they embrace honest feedback and love sharing advice and tips amongst each other. Leave it to them to hold nothing back. 
Although each group shares unique characteristics, Harbour.Space students are not defined strictly under these categories of Enthusiasts, Achievers, Visionaries, or Co-Creators. Each student's DNA is a mix of each one - that's what makes the university a community of humans in an accelerated evolution. 
From around the world, our students make the Harbour.Space family a vibrant and inclusive culture. Our students' excellences are defined by each other as they all have an equal goal to deeper their learning, make a difference, and create an impact in our world. They all just have a different way of doing it.
Are you ready to step into our iteration behind every one of our successes? We welcome you with arms wide open, ready to help you turn your curiosity and interests into knowledge, passions, skills, and talent that will take you as far as your dream can go. Take a look at our website to learn about all our fine-tuned programs! Also, get in touch with us at hello@harbour.space to let us know your thoughts! ​