Women in Tech: How to #breakthebias and Take Action in STEM Careers
To #BreakTheBias we need to know the status of female representation in STEM and recognise the women trailblazers that have changed the field. Above all, we need to give more opportunities to girls to study these careers and reduce the gender gap in tech.
March 08, 2022   ·   5 min read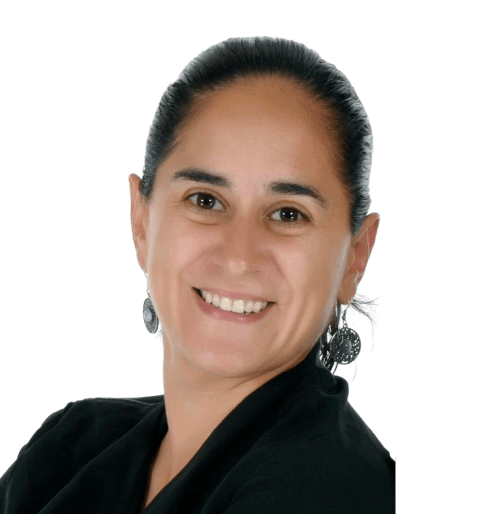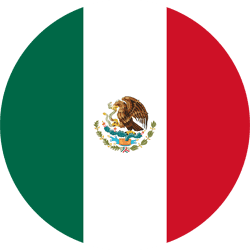 Montserrat Ruiz
Writer at Harbour.Space University
To #BreakTheBias we need to know the status of female representation in STEM and recognise the women trailblazers that have changed the field. Above all, we need to give more opportunities to girls to study these careers and reduce the gender gap in tech.
March 08, 2022   ·   5 min read
In 1908, 15,000 women marched in New York demanding, among other things, the right to vote, better pay, and shorter working hours. One year later, the first National Women's Day was declared. Ever since, the fight for women's rights has been unrelenting even though progress seems gradual. Today, more than a century after that first rally, women are still demanding a gender-equal world, free of bias and discrimination.

That is why this year's International Women's Day (IWD) campaign theme is to #BreakTheBias and make the world a more equitable and inclusive place for all. Nowhere is this cry for equity more relevant than in tech. Technology is the language of the present and the future. As Unicef's review on gender and innovation states: "digital literacy is essential to thrive in the 21st century. Today, 90% of jobs worldwide have a digital component… (and) there is a large gap in women and girls digital adoption and use compared to men and boys". This disparity in education between boys and girls has led to a direct disparity in the workforce between men and women.

To place an image in your mind, since Marie Curie won a Nobel Prize for physics in 1903, 572 men have won a Nobel for physics, chemistry, or medicine compared to only 17 women. Trailblazers exist, both past and present, and we need to remember and broadcast their accomplishments. These technological pioneers are the foundation for future female STEM innovators, entrepreneurs, and catalysts.

To #BreakTheBias we need to know the status of female representation in education and the workplace. We also need to acknowledge female figures that have either changed the world or are changing it today. Mostly, we need to set up ways to help the women of the future achieve a place in this technological world because today, every industry is a tech industry.
#breakthebias in STEM Education
In high-income countries, even though women are more likely than men to enrol and finish a bachelor's degree (PEW Research), these percentages drop when it comes to computer science, engineering, and physics. Globally, a UNESCO report shows that only 35% of STEM students in higher education are women.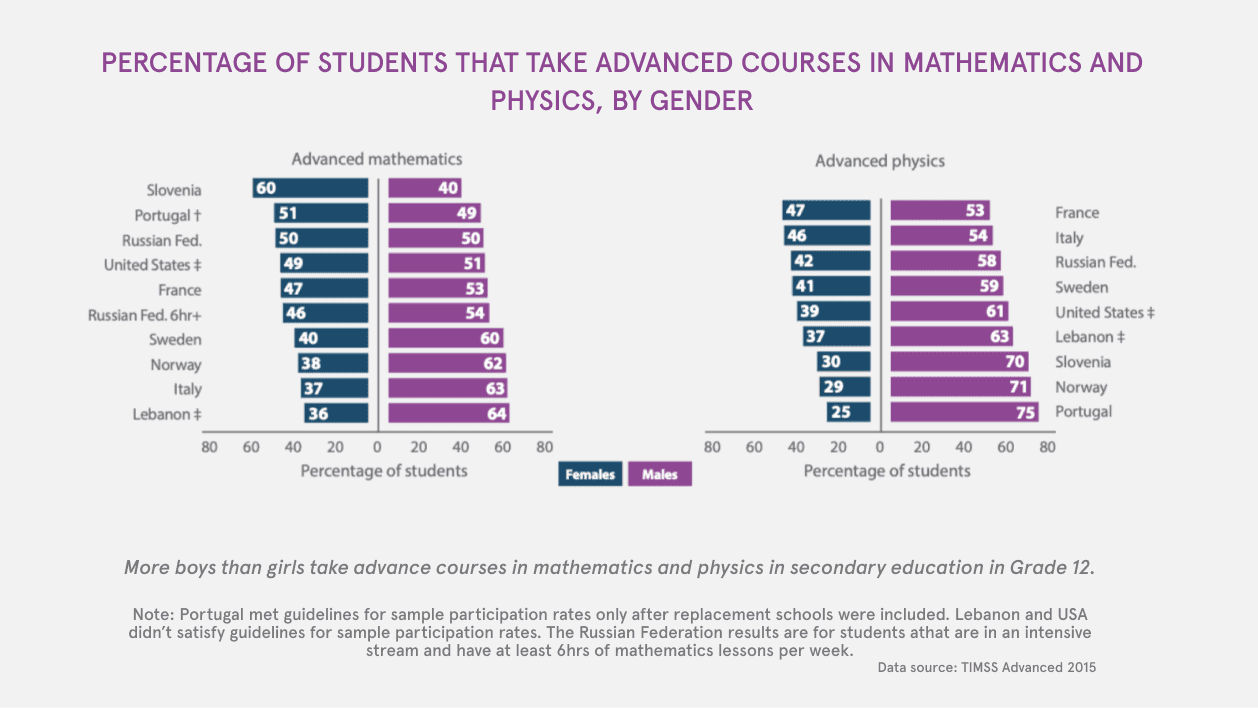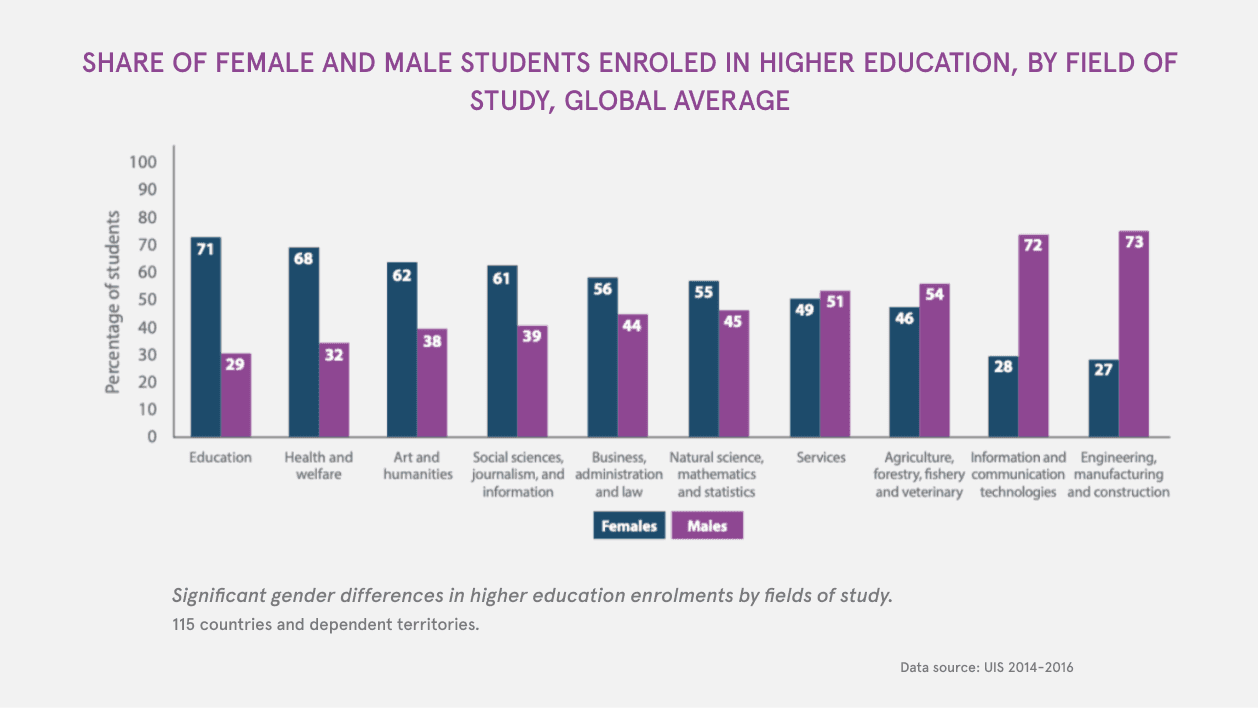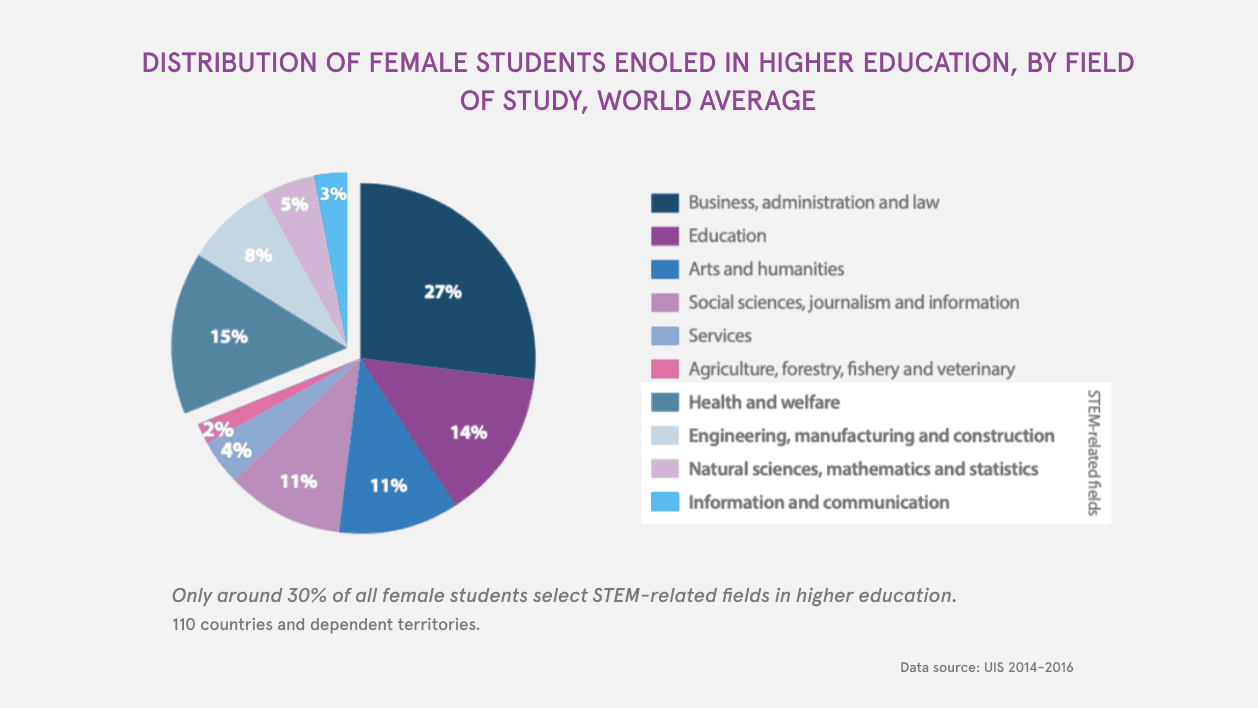 A research done this year by the National Girls Collaborative Project shows that even in high-income countries like the United States, only 20% of women enrol for a BA in computer science, 22% for a BA in engineering and only 21% for a BA in physics.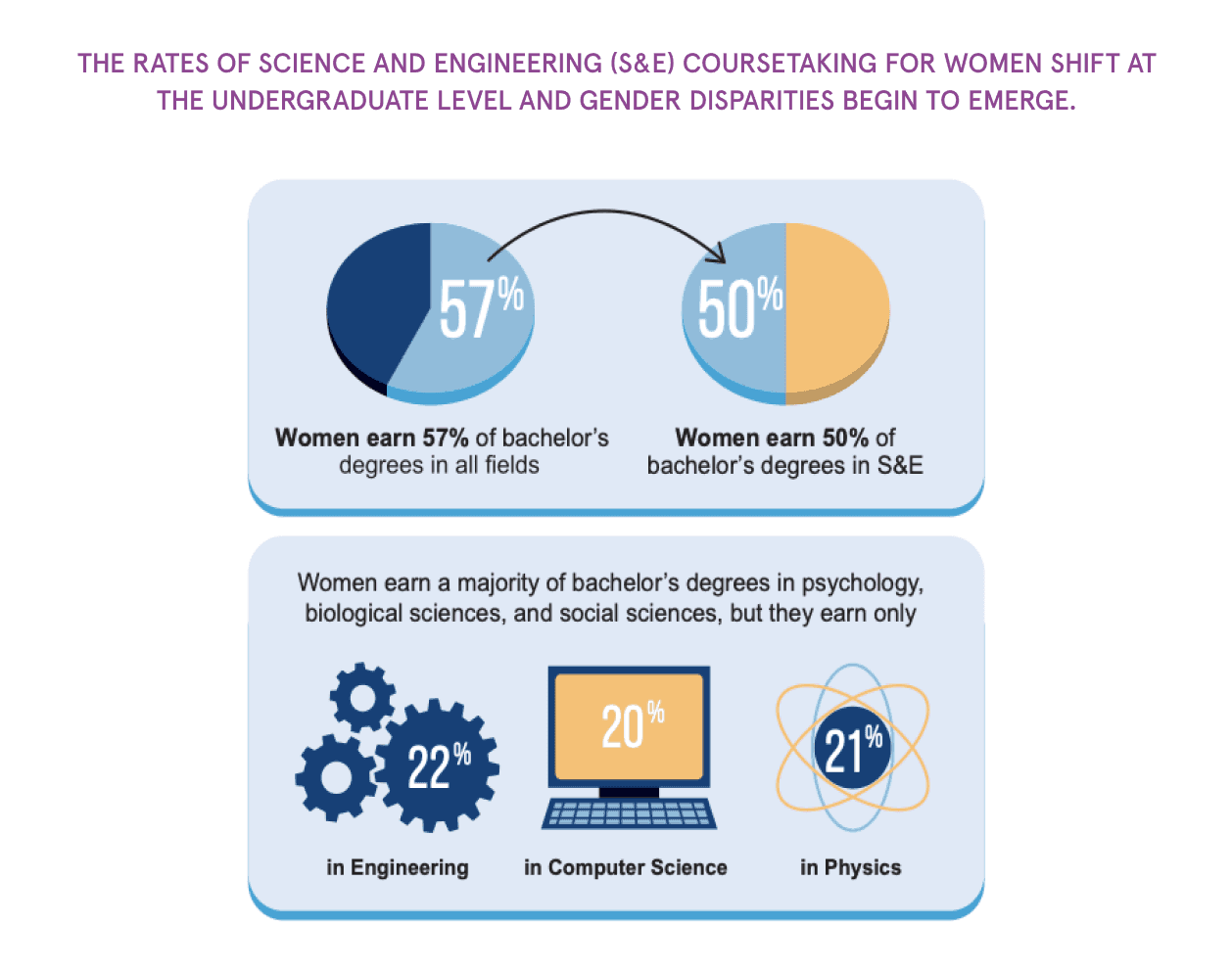 It's imperative that girls receive positive mentoring in STEM fields at a young age to stimulate their interest in those early years. To change the future, we need to encourage curiosity about tech in the present. We need to understand what is keeping female students away from STEM to know how to tackle the gap because this underrepresentation in the educational pipeline directly affects women's opportunities in the workforce.
"Education systems and schools play a central role in determining girls' interest in STEM subjects and in providing equal opportunities to access and benefit from quality STEM education". Cracking the code: Girls' and women's education in science, technology, engineering and mathematics (STEM).
#breakthebias in STEM Workforce
The first gender gap translates to an even bigger chasm in the workforce. According to Gartner's research, only 31% of IT employees are women. Deloitte also calculates that about 33% of the workforce in the global technology firms is composed of women. In 2021, Statista showed that women made up 20-42% of the workforce of the top tech companies (Google, Apple, Meta, Amazon, and Microsoft).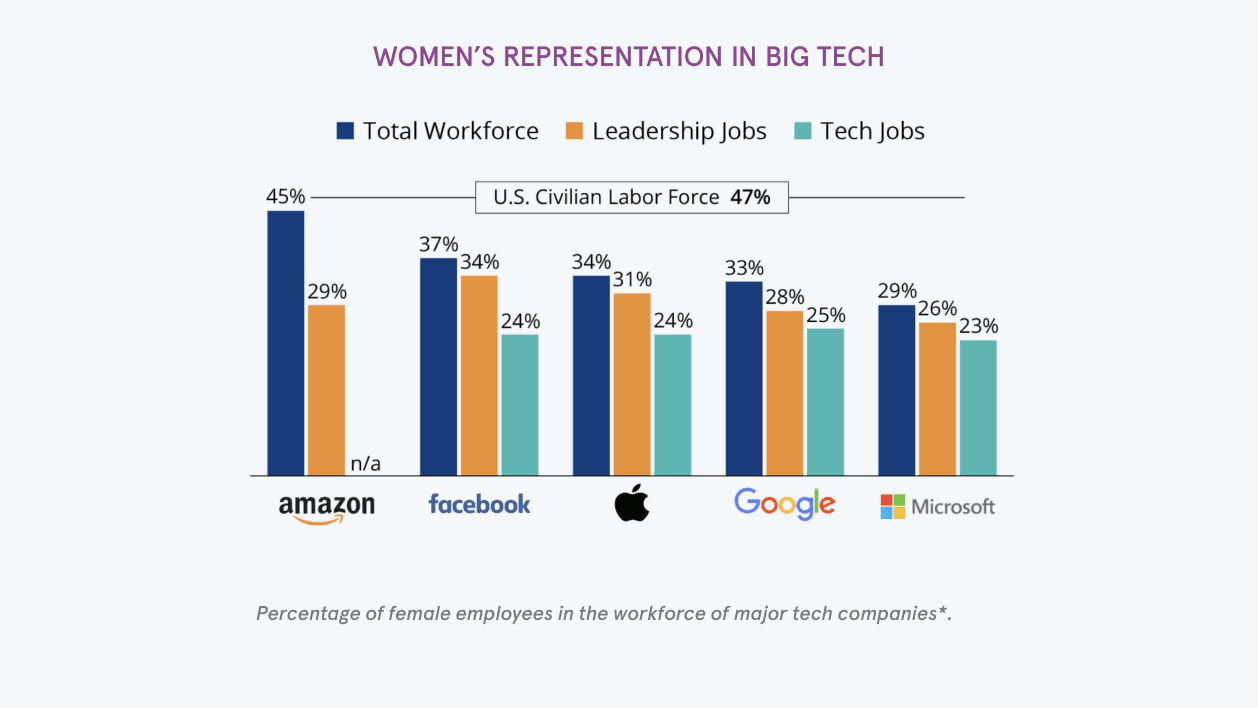 These gaps are continuing to occur even when large companies have made pledges about being more gender diverse and having programs in place for years. In reality, representation only grew by 2 per cent from 2019 to 2022. What is happening in the workplace? It starts with recruitment and hiring, but it also has to do with inequality in retention, salaries, and promotion of the female staff.
Even before the pandemic, women in STEM careers were more likely to leave their jobs within the first five years. Their reasons include lack of role models, having to deal with a "bro-culture", feelings of isolation, disparities in salaries and promotions, being judged negatively by their male peers, and sexual harassment (43% of women working in tech experienced harassment).
Women Want More (equal) Pay and Better Leadership, but Equally Important Are Having a Work-Life Balance and a Respectful Environment to Work in. 
What can companies do? These top 5 factors were identified by women in tech as factors that would have encouraged them to stay with their previous company, all of which are tied to culture and fair treatment:

Better pay (73%)
Improved company leadership (69%)
Promotion (65%)
Greater work-life balance and schedule flexibility (65%)
A more positive and respectful work environment (63%)

The sample of women in the Tech Leavers Study included a total of 594 women, 67% were White or Asian and 33% were Black, Latinx, or Native American/Alaskan Native. Source: 2017 Kapor Center. All Rights Reserved.
A 2021 McKinsey study shows that the disparity between men and women begins as early as the first promotion opportunity because even though women account for 48% of entry-level hires they only account for 41% of first-level managers.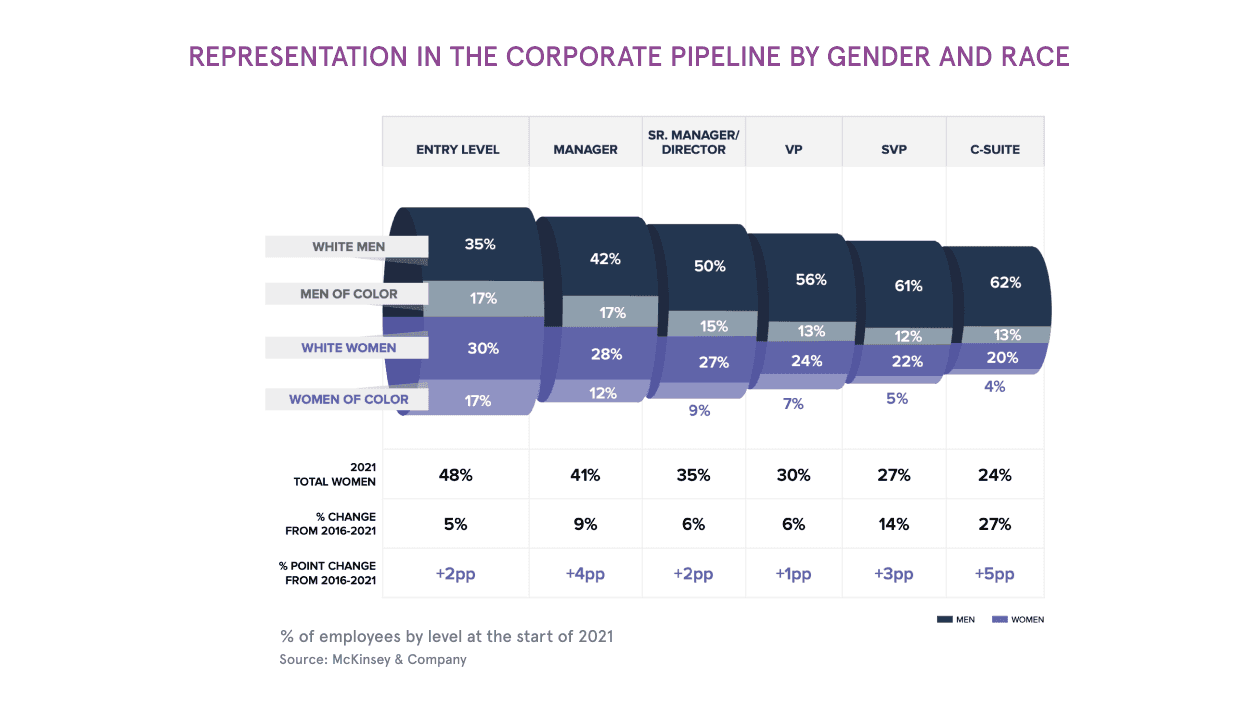 The few women that thrive make up less than 25% of the tech industry's senior leadership roles and they earn about 10% less than their male counterparts. Even worse, according to the Deloitte study, after the pandemic, 51% of women feel less optimistic about their career prospects now than before the crisis broke out because they feel more burned out and have to deal with more micro-aggressions.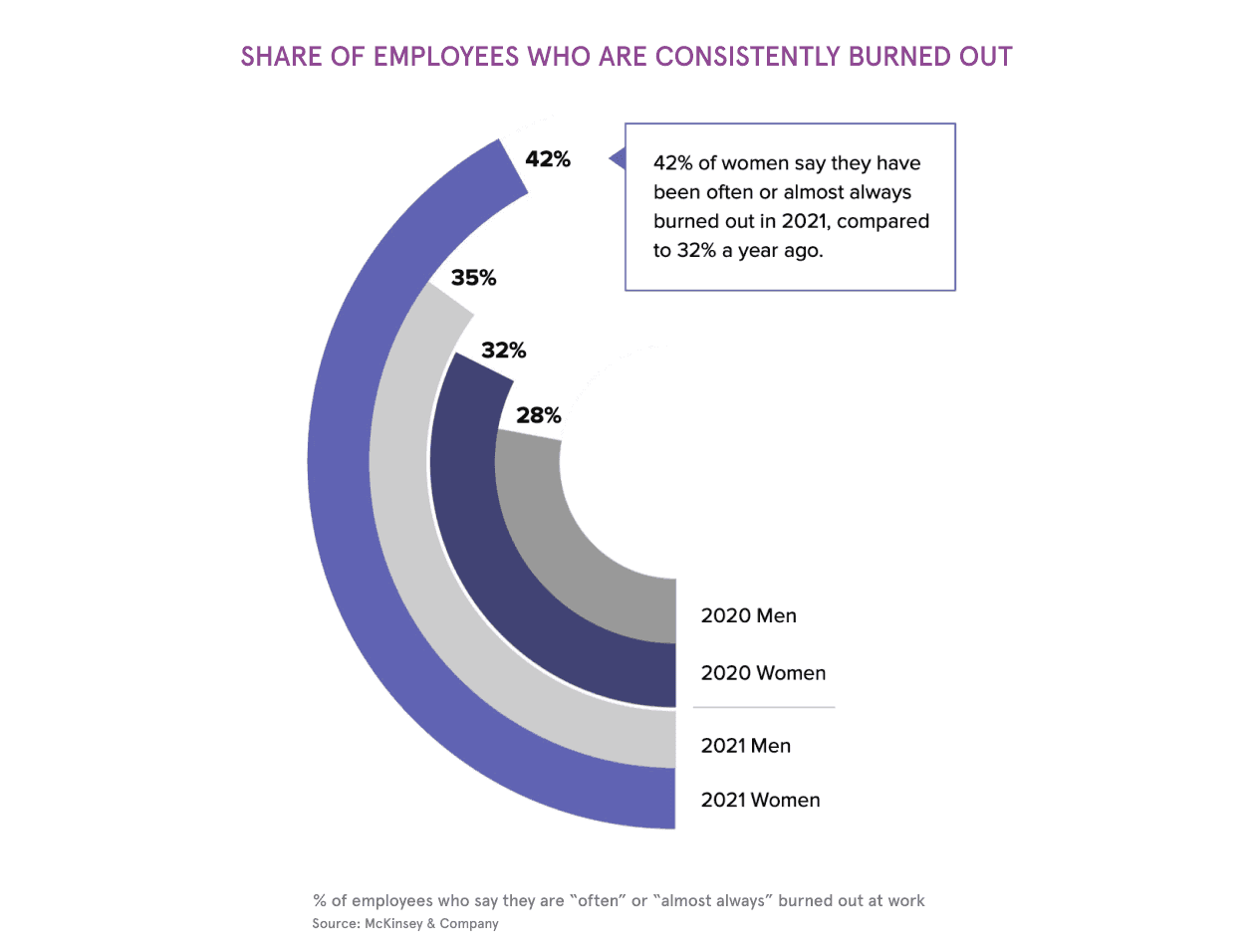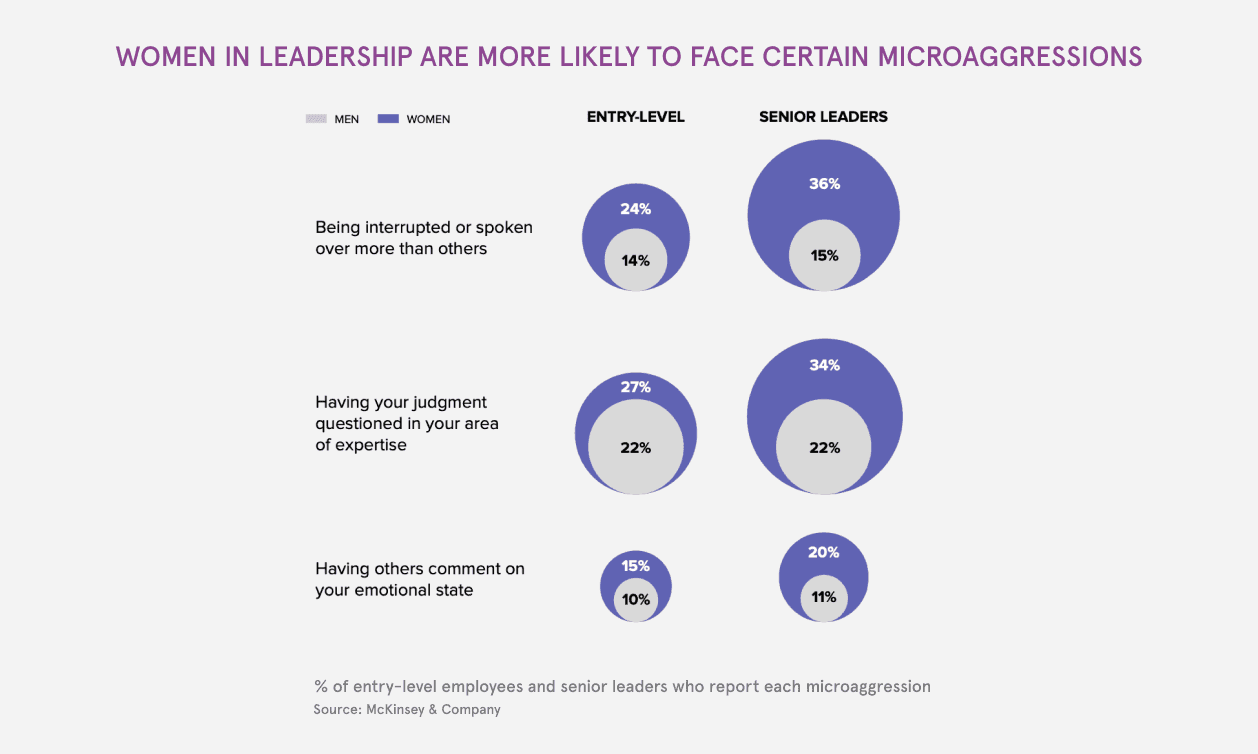 Finally, the biggest gap is among female and male tech entrepreneurs. As of today, only 5% of start-ups are owned by women. According to Fundera, women receive only 7% of venture funds for their start-ups. 
Nevertheless, there is always hope, and as past and present trailblazers have proved women's power and equal ability will #BreakTheBias once and for all.
#breakthebias Past and Present Tech Trailblazers
Did you know that the first computer programmer was a woman called Ada Lovelace? Or that the person that inspired the Bluetooth, Wifi, and GPS technology was also a woman called Hedy Lamarr? It's a fact that if we celebrate the achievements of women in tech more women will feel empowered to follow their steps. Here are some of the past and present STEM trailblazers that broke and #BreakTheBias.
Past Trailblazers that began to #BreakTheBias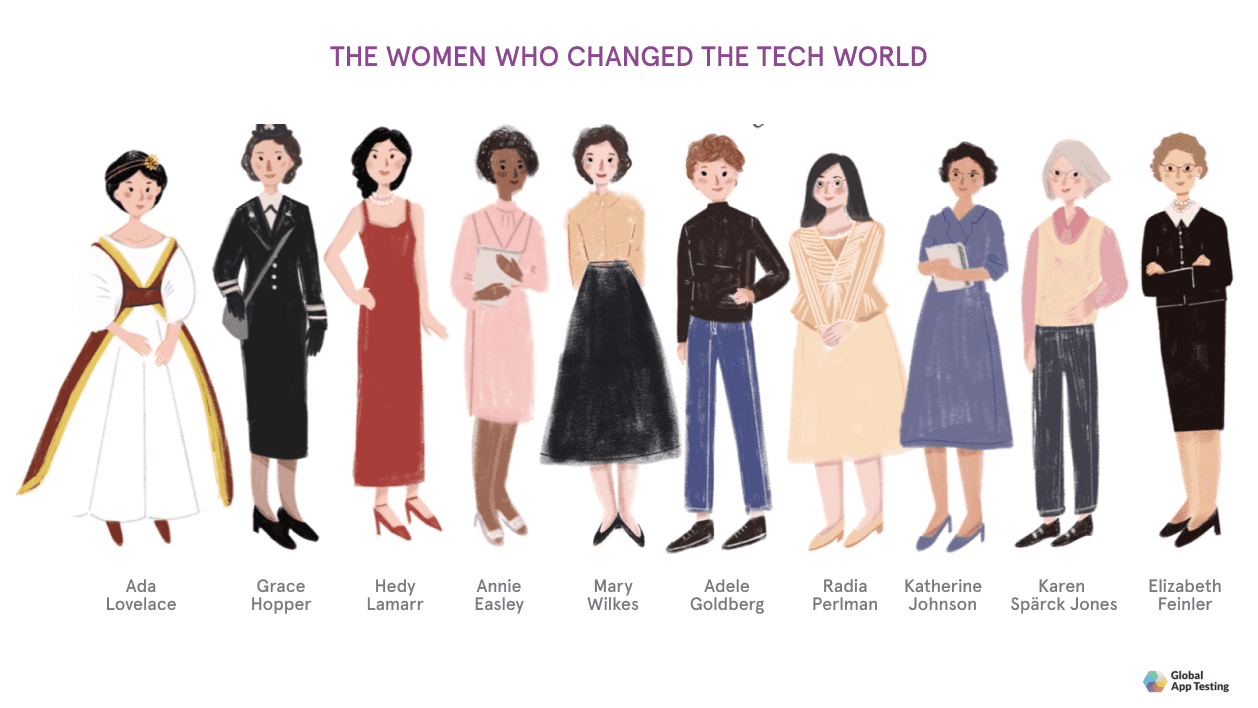 Ada Lovelace, world's first computer programmer. This incredible woman was born in 1815. She was Lord Byron's daughter but, most importantly, she was a magnificent mathematician and scientist. She worked with Charles Babbage in his "analytical engine" and it was she that created the first algorithm intended that such a machine could do more than just mere calculations. Today, she is considered the first computer programmer and since 1998 the Lovelace Medal is the top award for computing in the United Kingdom. "The Analytical Engine has no pretensions whatever to originate anything. It can do whatever we know how to order it to perform". Ada Lovelace
Hedy Lamarr, the inventor of Wifi, Bluetooth, and GPS technology. This successful film actress was also a self-taught inventor that designed in 1942, with the help of George Antheil, the "Secret Communication System". The idea was to guide torpedoes off course during the Second World War, but her patent eventually led to the creation of Wifi, GPS, and Bluetooth technology. "All creative people want to do the unexpected". Hedy Lamarr
Grace Hopper, developer of COBOL language. A computer scientist in the 40s and one of the programmers to work on the Harvard Mark I. She developed COBOL, a programming language that we still use today. She also recorded one of the first computer bugs. "It is often easier to ask for forgiveness than to ask for permission". Grace Hopper
Annie Easley, computer scientist at NASA. She began her career as a "human computer" in 1955. She was one of only four African American employees at the lab. Her work as a computer scientist in the Centaur project placed the foundations for the space shuttle launches. She also had a role as an equal employment opportunity (EEO) counsellor. "If I can't work with you, I will work around you". Annie Easley
Mary Wilkes, first home computer user. She was a lawyer, a computer programmer, and a logic designer. She is best known for designing the software for LINC, now acknowledged as one of the first personal computers. Since she used it at her home back in 1965, that made her the first person to ever use a home computer. Her work is recognized in Great Britain's National Museum of Computing. "I'll bet you don't have a computer in your living room". Mary A. Wilkes
Adele Goldberg, Graphical User Interface (GUI) pioneer. As a computer scientist, she developed the programming language Smalltalk-80. Apple used her concepts to develop the Apple Macintosh desktop. Her ideas became the basis for what is now called graphical user interfaces (GUI). "Don't ask whether you can do something, but how to do it." Adele Goldberg
Radia Perlman, STP creator. Born in 1955, she is also known as "the mother of the Internet". Radia was a computer scientist and a mathematician. She invented the Spanning Tree Protocol (STP), the transparent interconnection of lots of links (TRILL), and Link-State Routing. In other words, she created the backbone of internet connections. "In engineering, the point is to get the job done, and people are happy to help. You should be generous with credit, and you should be happy to help others". Radia Perlman
Katherine Johnson, mathematician at NASA. This NASA mathematician made complex manual calculations for critical space missions, including the first-ever US Space flight and the mission that succeeded to send John Glenn into orbit. "We will always have STEM with us. Some things will drop out of the public eye and will go away, but there will always be science, engineering, and technology. And there will always, always be mathematics". Katherine Johnson
Karen Spark-Jones, developer of Inverse Document Frequency (IDF). A British computer scientist that developed the inverse document frequency (IDF) concept, a technology used today by most modern search engines. It's used to rank a document's relevance to a search query. She received the Lovelace Medal in 2007. "Computing is too important to be left to men". Karen Spark-Jones
Elizabeth Feinler, first search engine. She is an information scientist that worked from 1972 until 1989 as director of the Network Information Systems Center at Stanford University. She managed the first ARPANET, worked in the Defense Data Network (DDN), and her group created the domain naming system we use today (.com, .net., .gov, etal). In 2012, she was inducted into the Internet Hall of Fame. "I think the Internet is one of the technological wonders of the world, and just to have been there at ground (zero), it was pretty exciting". Elizabeth Feinler
Present Trailblazers that #BreakTheBias
Manal Al-Sharif, Founder of Women2Hack Academy. She was born in Saudi Arabia in 1979. Studied computer science and was the only woman working as an IT Security Specialist at Saudi Aramco, a State-owned oil producer. She defied the female driving ban in Saudi Arabia in 2011 and was sent to jail for nine days. After her arrest, she kept criticizing the Saudi government. After her divorce, she left the country and now lives between New Hampshire and Australia. She is the founder of Women2Hack Academy, a program that fosters tech talent. "The rain begins with a single drop". Manal Al-Sharif
Elina Berglund, Co-founder of Natural Cycles App. Swedish physicist and entrepreneur who co-founded Natural Cycles, a fertility tracking app that is now used by more than 900,000 people in 200 countries. Her app can be used both for birth control and family planning. "Success is making all women feel empowered to find and choose the right birth control option for them". Elina Berglund
Sue Black, Founder of #Techmums. A UK computer scientist that founded #Techmums, a charity that empowers mothers through online and offline tech classes. She just partnered with Meta to launch #TechmumsTV, a web series that has 300K viewers. "Trust your instinct, surround yourself with people who support you and just go for it". Sue Black
Anne-Marie Imafidon, Co-founder and CEO of Stemettes. This British computing and mathematics prodigy founded Stemettes in 2013, a social organization that has helped over 40,000 girls realize their STEM potential. She launched The Stemettes app in 2016 and founded Outbox Incubator, the world's first tech incubator for teenage girls. "Introducing children to the work of female STEM role models is an important way to inspire girls and young women into STEM careers while challenging stifling industry stereotypes". Anne-Marie Imafidon
Maria Klawe, President of Harvey Mudd College. She is the first female president of Harvey Mudd College, a private science and engineering school that is famous for being the recruiting ground for Silicon Valley companies. Under her, female enrollment has gone up by 50% in computer science and physics and up to 55% in engineering. She also hired more women faculty, including the first female Dean of the Faculty. "Coding is today's language of creativity. All our children deserve a chance to become creators instead of consumers of computer science". Maria Klawe
Alice Bentinck, Co-founder and CEO of Entrepreneur First and Code First: Girls. At just 35 years of age, she is considered one of the 50 most inspiring women in European tech. In 2012, she founded Code First: Girls, a platform that offers free web programming courses for women in university. With Entrepreneur First, a start-up accelerator, she also funds individuals in Asia and Europe. "This new talent doesn't join an organization; they join a mission that they can be proud of". Alice Bentinck
Melanie Perkins, Co-founder and CEO of Canva. This Australian tech entrepreneur created Canva, a web design platform that enables people an easy environment to produce graphic design and image editing to create content for social media platforms. Her company is valued at over one billion and Melanie, at age 36, is one of Australia's richest women. "If you are determined and want it, you can just go for it". Melanie Perkins
Susan Wojcicki, CEO of YouTube. She has been in the tech industry for over 20 years. In 1998, Larry Page and Sergey Bin put in place Google's office in Wojcicki's garage in Palo Alto. As part of the founding team, she was Google's first marketing manager back in 1999 and put in place products such as AdWords and Google Analytics. She has been the CEO of YouTube since 2014 and has a net worth of over $815 million USD. In 2017 she was ranked #6 in Forbes list of the "World's 100 Most Powerful Women". Her sister, Anne Wojcicki is the founder of 23andMe. "Work smart. Get things done. No nonsense. Move fast". Susan Wojcicki
#breakthebias at Harbour.Space
At Harbour.Space we believe in a more equitable and inclusive world and we are committed to #BreakTheBias. We want to reduce gender inequality with education. Last year Harbour.Space awarded more than €412,000 to 25 students from all over the world. And this month, for the second year in a row, we are granting the "Women in Tech Scholarship", an economic award that helps girls launch their careers in tech, entrepreneurship and design. We do this because we believe it's important to build a tech industry that is inclusive and free from gender bias.
These are a few testimonials of Harbour.Space's students:
"This opportunity has changed my life in so many ways because it has made me more confident in pursuing my career in cyber security… I empower women by doing things that I enjoy and not worrying about how I'm being perceived because of it. I think that plays a role in showcasing to other women that it's OK to do things that make you happy. Finally, Harbour.Space has helped #breakthebias by empowering women to go into the tech industry and giving them opportunities to showcase how passionate they are about the industry itself".
Nawal, Cyber Security Student - Oman
"First of all, the scholarship allowed me to move to Barcelona which is an amazing city. [This move] has brought me a lot of quality to my life, but, most importantly, it has given me the opportunity to be part of the Harbour.Space environment and community. The connections that I'm making here are priceless… I believe I can empower other women by using me as an example. They can see me as a person from a developing country that got a scholarship… [and is now] studying, working, hustling every day and being happy".
Susanna, Digital Marketing Student - Brazil
"This opportunity has given me a sense of direction… I [#breakthebias] by making sure I acknowledge women around me. I [see] their achievements, support them, and most importantly, celebrate them. Harbour.Space's inclusive culture allows me to express myself freely. Here I am seen, heard, and respected regardless of my gender".
Chaymaa, Digital Marketing Student - Morocco
"This opportunity has changed my life because I am living my dream right now. Barcelona [is a city] that inspires you and makes your creativity flow. I #breakthebias by being myself without thinking that anyone is going to judge me. I know I can do whatever I really want to do… and when other [women] see you doing it they believe they can do it too".
Tamara, Interaction Design Student - Colombia
Who Can Apply?
"The Women in Tech Scholarship" is open to all self-identified women. For our Bachelor's programmes, we just need your CV or LinkedIn and proof that you are proficient in English. For our Master's programmes, we need your BA degree, CV or LinkedIn and proof that you are proficient in English. It is that simple!
So, if you want to take that next step in your career and are passionate about any of our programmes don't ponder any longer, you have until March 31st to apply and receive up to 50% off your tuition fee and a reduced application fee. Also, if you know someone that might benefit from this opportunity, share this information with her and invite her to study with us! Take this opportunity, join us at Harbour.Space and together we'll #BreakTheBias!
If you enjoyed this article, are interested in studying with us in Barcelona or Bangkok and want to learn more about studying abroad, check out these articles:
If you are interested in other programmes take a look at Harbour.Space's website to see which ones might help your professional development. If you have any inquiries or thoughts, you can write to us at hello@harbour.space.
Thanks for reading
If you're interested in further growth, take a look at our website to learn what your future could look like at Harbour.Space. Lastly, get in touch with us at hello@harbour.space to let us know your thoughts!
Share article:
Loading...