Bangkok, Thailand: Places to See, Eat, Drink and Shop
Welcome to one of Southeast Asia's most exciting capitals and the number one city in Asia for launching a startup. To relish the city and country to its fullest potential, here are some tips on what to see, where to eat, drink and shop.
September 03, 2021   ·   5 min read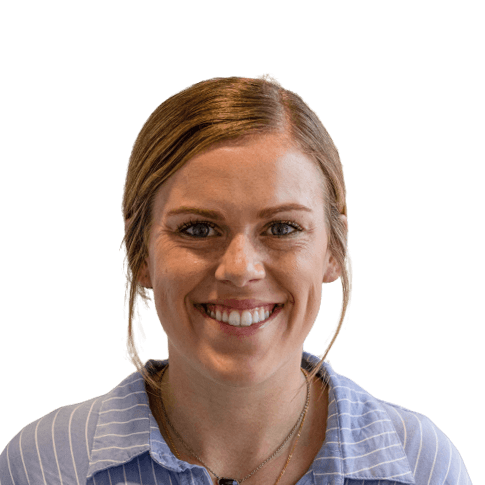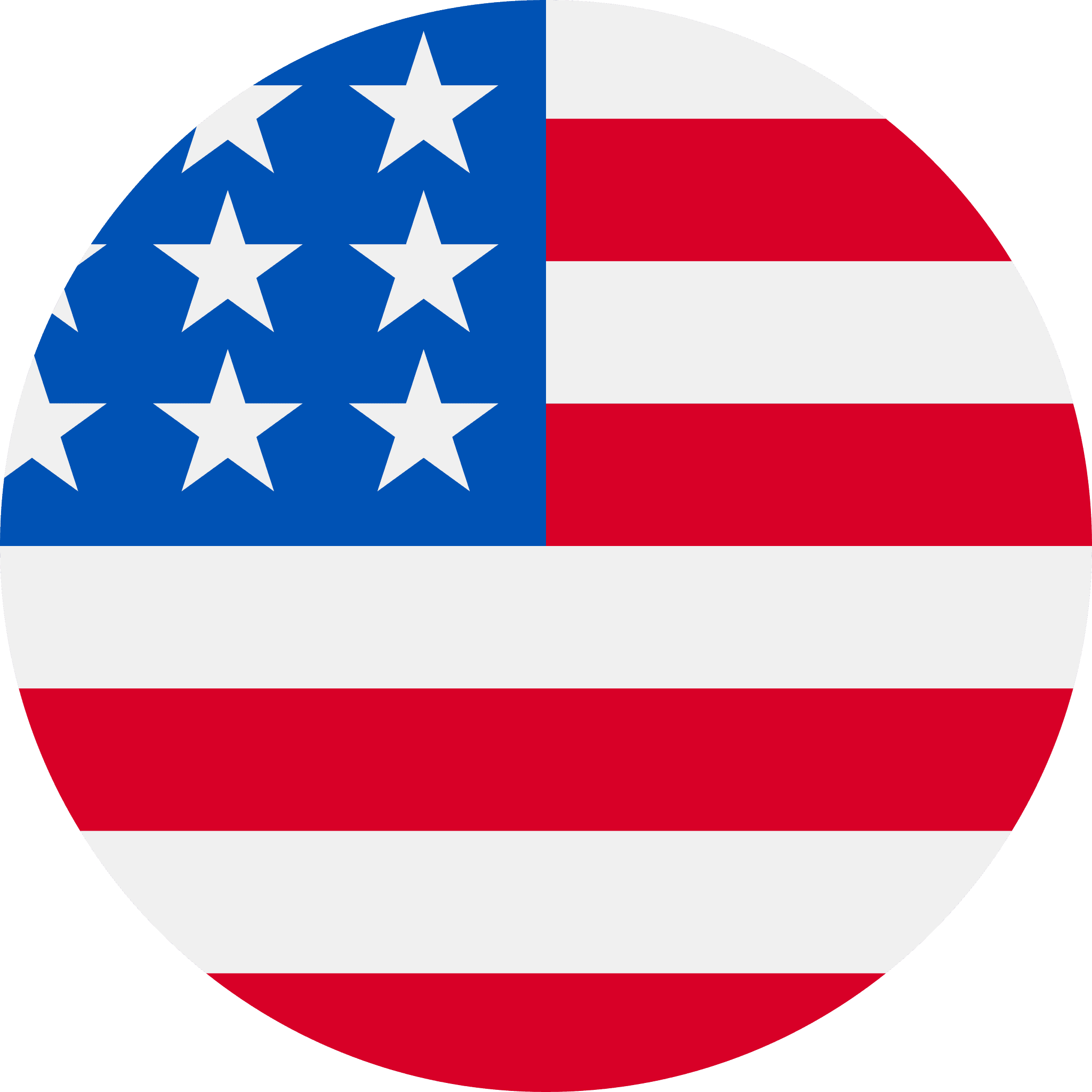 Annie Frische
Copywriter at Harbour.Space University
Welcome to one of Southeast Asia's most exciting capitals and the number one city in Asia for launching a startup. To relish the city and country to its fullest potential, here are some tips on what to see, where to eat, drink and shop.
September 03, 2021   ·   5 min read
Welcome to Bangkok, one of the most spectacular cities in the world! As the first class at Harbour.Space Bangkok Campus, we welcome you to one of Southeast Asia's most exciting capitals and the number one city in Asia for launching a startup.
You are here to study cutting edge programmes, but you are also here to live in a cosmopolitan city where tradition and modernity merge; where Buddhist temples, delicious street food and a buzzing nightlife converge in one magical destination.
To relish the city and country to its fullest potential, here are some tips on what to see, where to eat, drink and shop in Bangkok, Thailand.
What to See: Grand Palace, Temples, Museums, and More!
You can't say you went or lived in Bangkok if you didn't visit these world-famous cultural attractions:
Grand Palace and Wat Phra Kaew (Temple of the Emerald Buddha)
It is without a doubt the most famous attraction and you cannot say you're truly in Bangkok until you see it in all of its splendour. It was established in 1782 when King Rama I ascended to the throne, and, at one time, it was both the king's home and where the government administrative offices were.
Be ready to spend the whole day exploring it because it has over 218,000 square meters.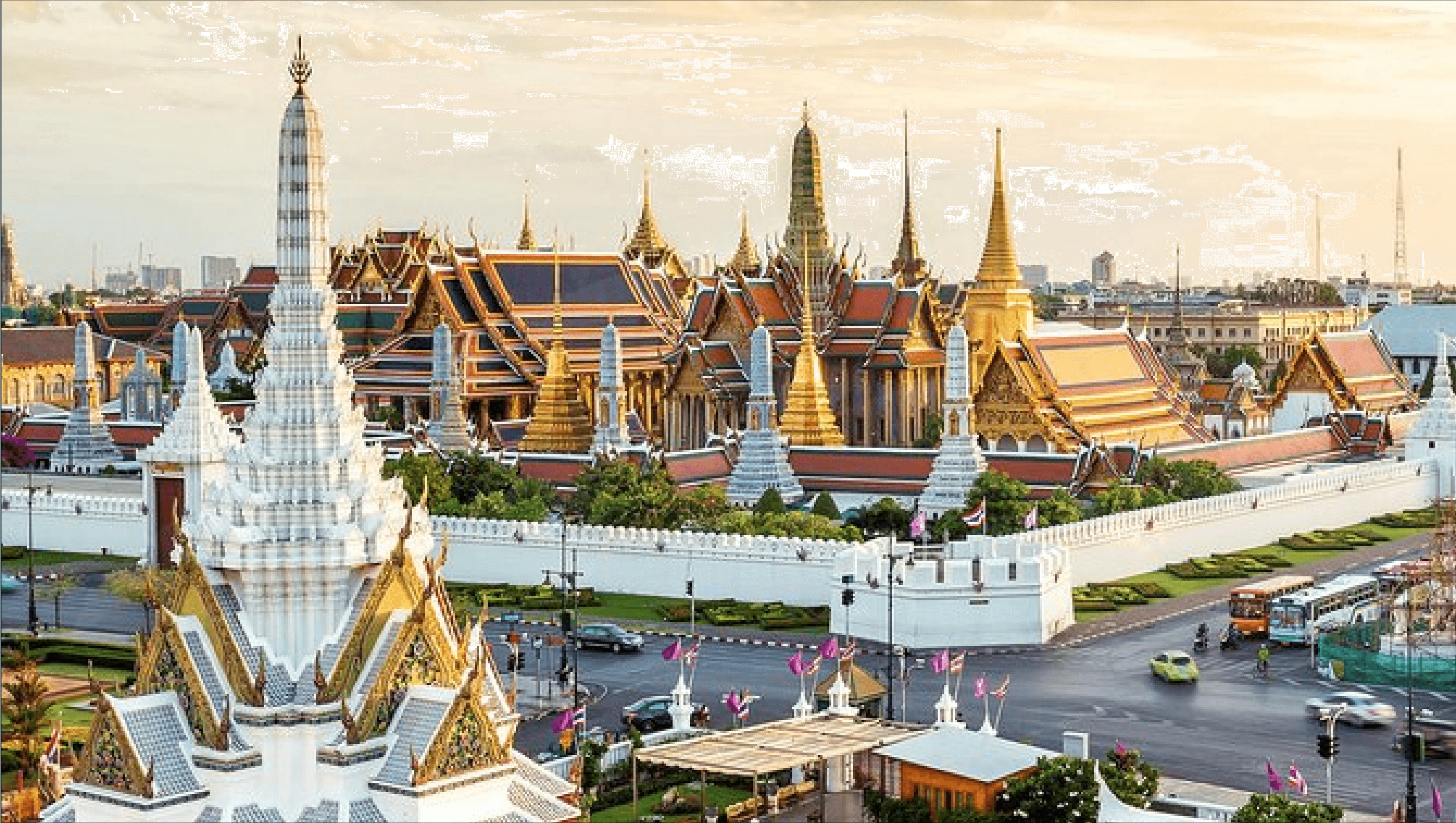 Here, among the buildings, you will find Wat Phra Kaew, the house of the Emerald Buddha, also built-in 1782. The Emerald Buddha is the most important Buddha image in Thailand. It has a height of 66 cm and was made in the 15th century. There are six demon guardians guarding it against all evil spirits.
While you're there, don't forget to see the Phra Mondop or Buddhist library, Phra Siratana Chedi, or Golden Stupa, and the Royal Pantheon.
You can download the map to plan your visit and buy tickets at the Royal Grand Palace.
Wat Pho (The Reclining Buddha)
Wat Pho is the first-grade royal monastery, and it is right next to the Grand Palace towards the South Gate. Here you will find the famous Reclining Buddha, which stands 15 meters tall and 46 meters long.
The Buddha is covered in gold leaf, and leading to it are 108 bowls that represent the 108 good deeds Buddha completed on his way to perfection. It is said that these also represent 108 auspicious symbols. Book here for tickets.
Wat Traimit (Temple of the Golden Buddha)
Unfortunately, the temple is temporarily closed, but keep an eye for when it opens because this temple contains the Golden Image of Buddha, which is 3 meters in height, is made of gold and weighs 5.5 tons. They believe it is either from the 13th or 14th Century and that it came from Ayutthaya and was moved in 1801 by Thai King Buddha Yoda Chulaloke to Bangkok.
Wat Arun
This Buddhist temple is in the Bangkok Yai district, on the West Bank of the Chao Phraya River. Its name signifies "Temple of Dawn", and its tower stands 79 meters tall and is covered in ceramic tiles and coloured porcelain. It is right across the Grand Palace, a royal monastery, and it is open!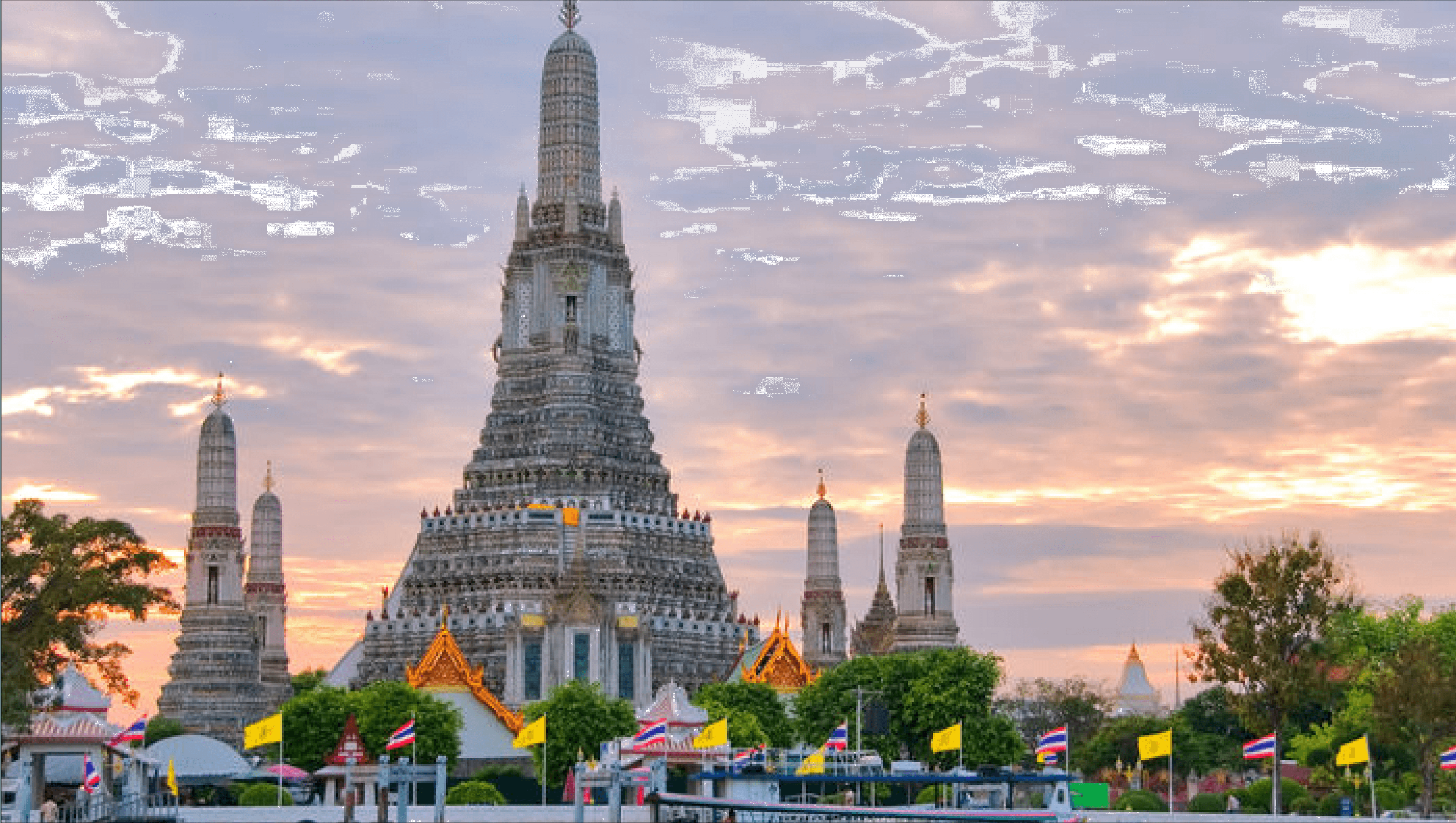 You can buy tickets and see more about the history of the temple by booking here.
King Power Mahanakhon
It is Thailand's tallest building at 314 meters, and if you want to see Bangkok's splendour, there is no better place. Go up to the observation deck with a 360-degree view of the city and enjoy the glass tray floor.
Due to Covid restrictions, they temporarily closed SkyWalk, SkyBar and SkyRides, but check out its website for future opening announcements.
Sathorn Unique Tower
Since the view from the Mahanakhon is temporarily closed, you can adventure to climb a 44 story abandoned skyscraper. It opens from 9 to 5, and all you have to do is pay the guards and step up to see some breathtaking views of the city.
Bangkok National Museum
King Rama V opened this museum to showcase the gifts his father had given him. Now, it exhibits one of the largest collections of Thai Art. You will also be able to see Chinese weapons, Thai puppets, clothing, textiles, and precious stones. Unfortunately, it is temporarily closed, but keep an eye for when it opens.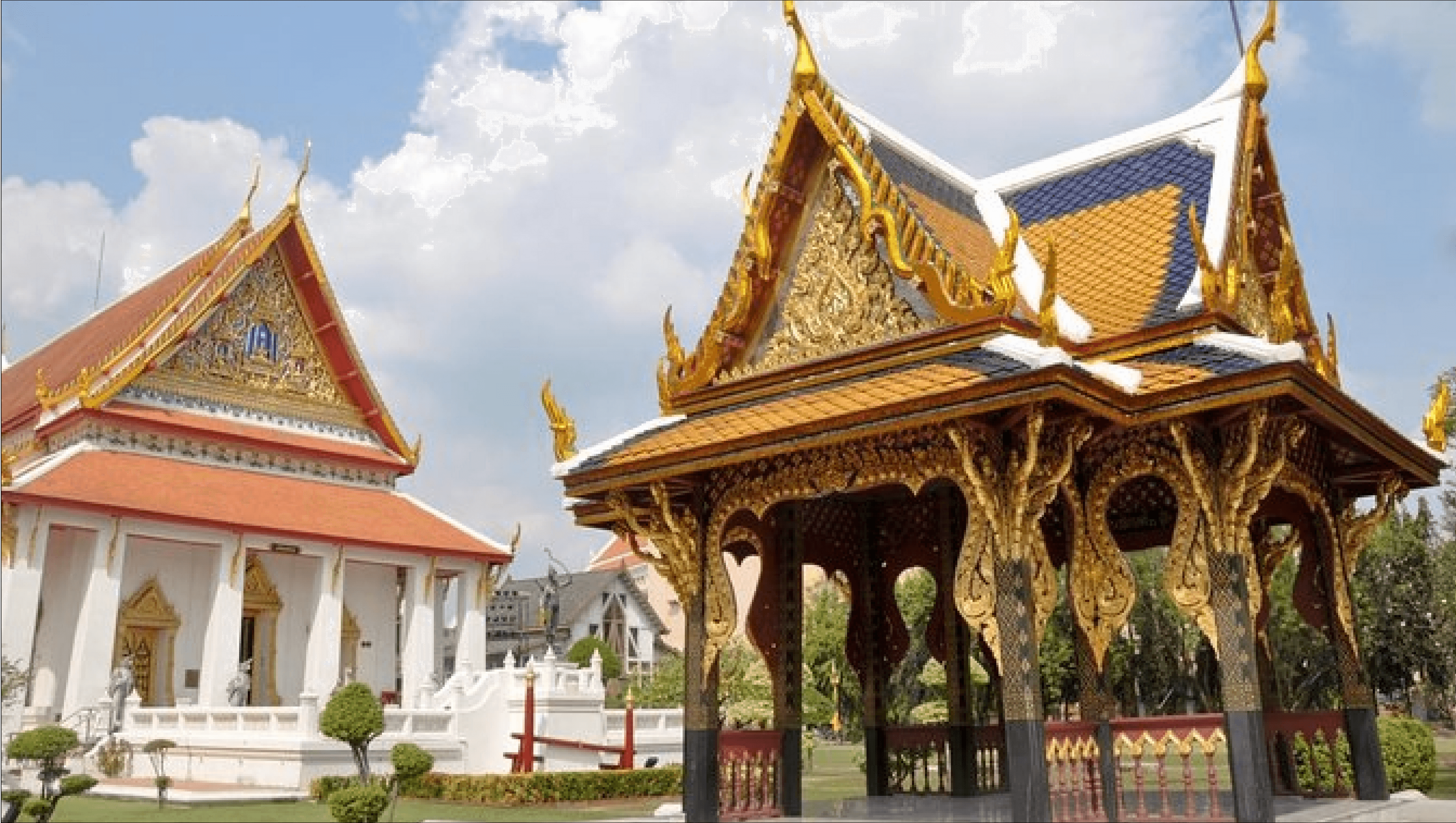 There were guided tours in English every Thursday.
Muay Thai (Kickboxing)
Muay Thai is the national sport of Thailand. Go to Lumpinee or Rajadamnern stadiums to catch a fight. Lumpini is brand new, and it holds 9,500 spectators, and Rajadamnern is open Monday through Friday from 6 pm to 11 pm or from 10 am to 4 pm. Click here to check out schedules and tickets.
Lumpini Park
If you are a green space lover, this is your oasis in Bangkok. This park was founded in 1920 and is one of the biggest in Bangkok, with over 500,000 square meters of peaceful space. Great for jogging, workouts, aerobics, Thai Chi, or just enjoying a quiet sunset overlooking the lake. You can also rent paddle boats and boards.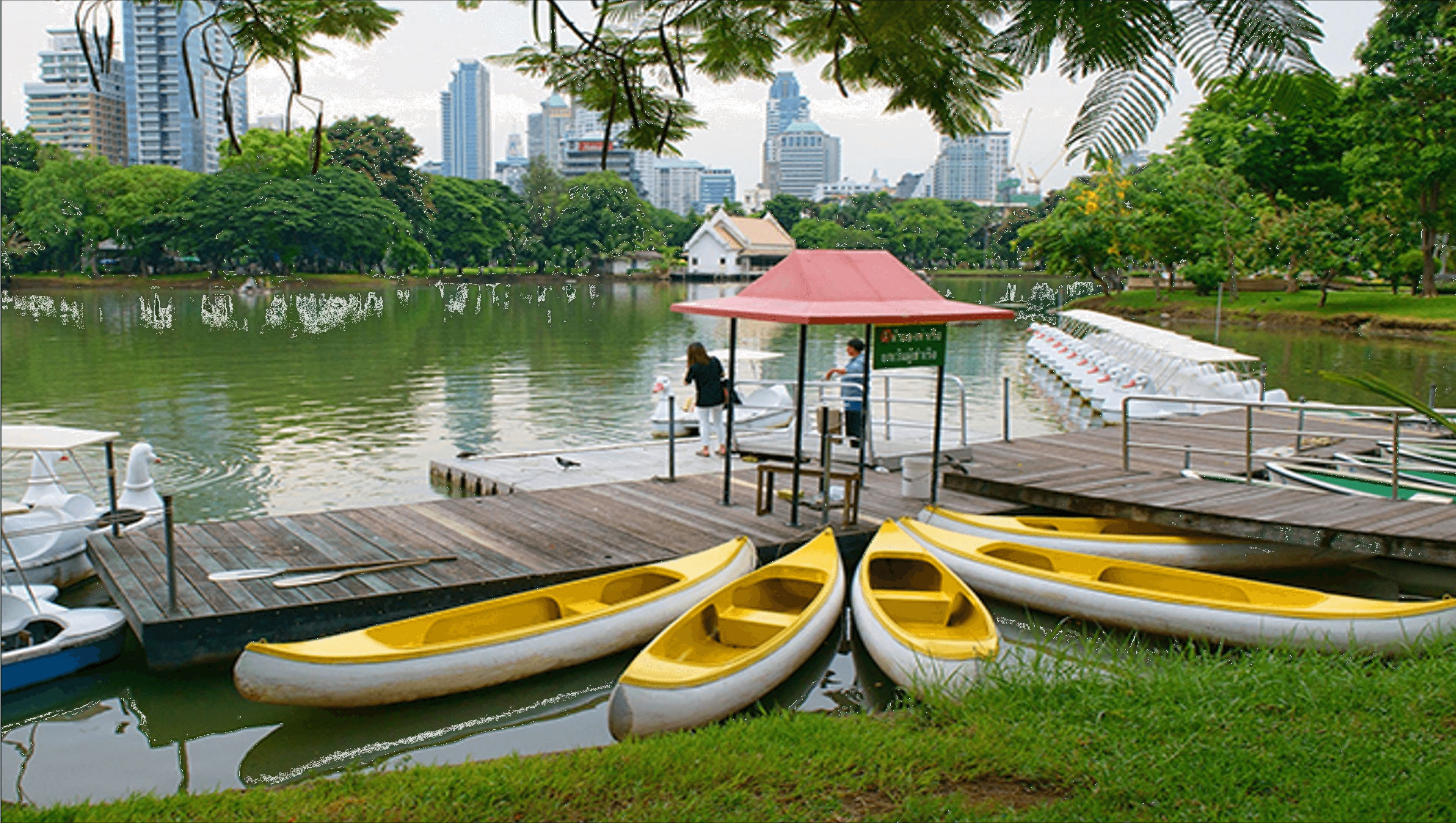 Bangkok Puppet Show
In this show, it takes three people to control each puppet while a live orchestra plays music. Usually, the themes are thai folk tale classics. There are many theatres to choose from, but one of the most popular one is the Askra Theater.
Vimanmek Mansion
This museum is the largest teakwood building in the world. It was built by King Rama V and was his royal residence, but now it exhibits ancient artefacts and photographs. Be mindful there is a strict dress code to visit and you are not allowed to take pictures inside. However, you can take as many pictures of the building outside.
It is temporarily closed for renovations, but you can take a look from the outside and check out the building.
Erawan Shrine
This popular shrine dates back to 1956, and it was uplifted to eliminate the bad karma. It is believed that when they started to construct the hotel next to it they laid the foundation on the wrong date so a series of misfortunes happened and construction was delayed until an astrologer advised them to create a shrine that countered the negative influences.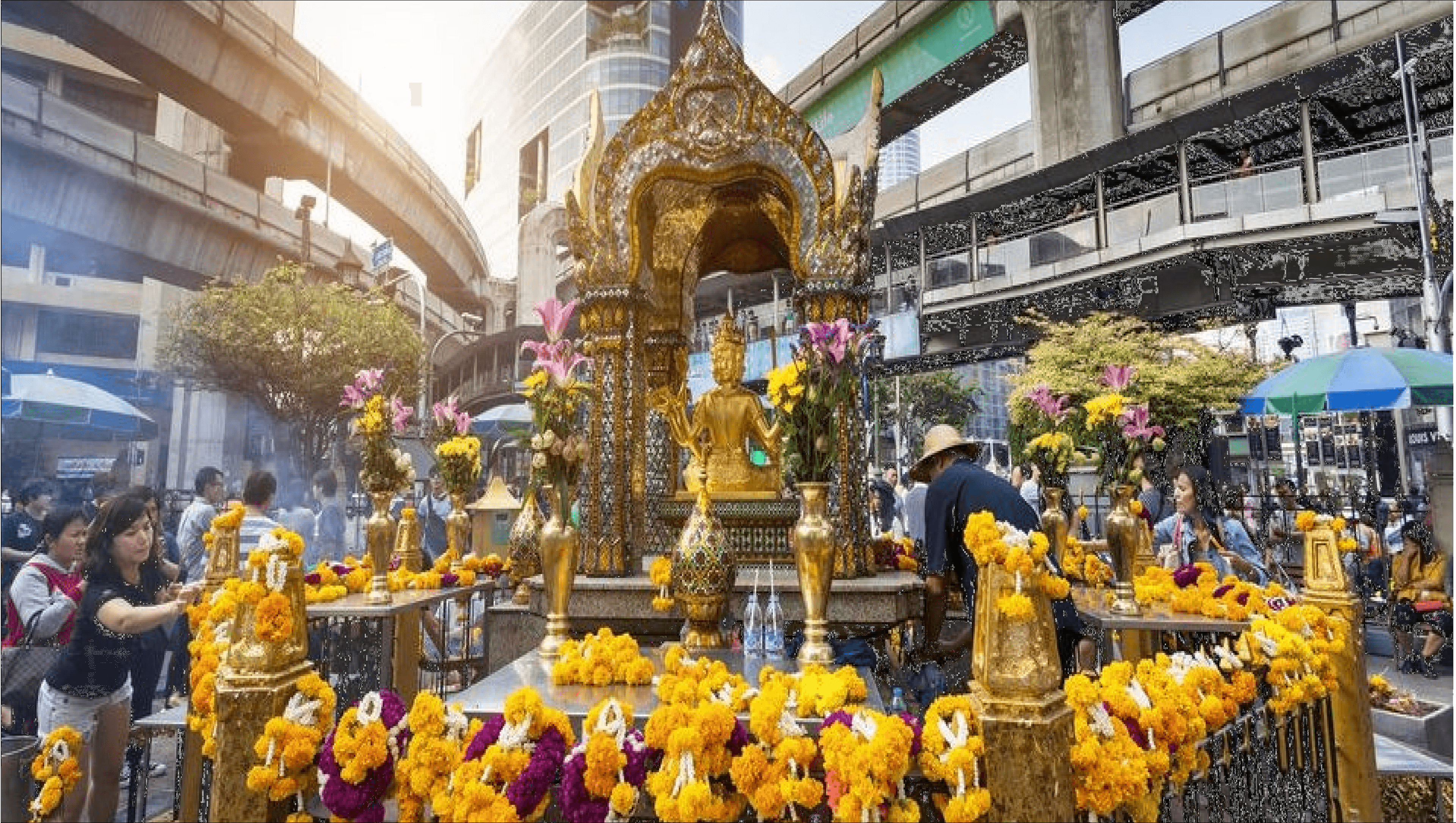 Since the four face Brahma statue has protected the hotel and its people. The original statue was destroyed in March of 2006, but a replica was put in its place in May of that same year. It is usually surrounded by people who lay flower garlands.
Jim Thompson House
If you like silk or are interested in the history of the Thai Silk Company this is the museum you should visit. It also has a great collection of Southeast Asian Art that Jim Thompson collected throughout his life, until his disappearance in Malaysia in 1967. They are open every day and no reservation is required.
Wat Saket
Also called the Golden Mount and it is believed that this is where the king stopped when he returned from war to take a bath and wash his hair before entering the city. It has stunning views from the summit.
New Year's Celebration
The traditional Thai New Year festival is between the 13th and the 15th of April and it has become a full-on water fight. Since Buddhists believe that by sprinkling water your sins and bad luck are washed away. On those days the streets become filled with water guns and smiles.
Where to Shop
If you are a shopaholic, Bangkok is your paradise. Enjoy it!
Siam Paragon
This is the high-end shopper's paradise. It has over 250 shops (including Ferrari and Lamborghini displays). It also has Southeast Asia's largest aquarium, a bowling alley, enough restaurants for your entire stay in Bangkok and a huge cinema multiplex. It is open every day from 10 am to 10 pm. Check out its directory.
Chatuchak Weekend Market
It is one of the world's biggest markets with over 8,000 stalls in over 27 acres of space. Before COVID, it used to have over 200,000 visitors each day. You will definitely find everything you could ever need, want or imagine at local prices. Just be careful and know your surroundings because it is very easy to get lost.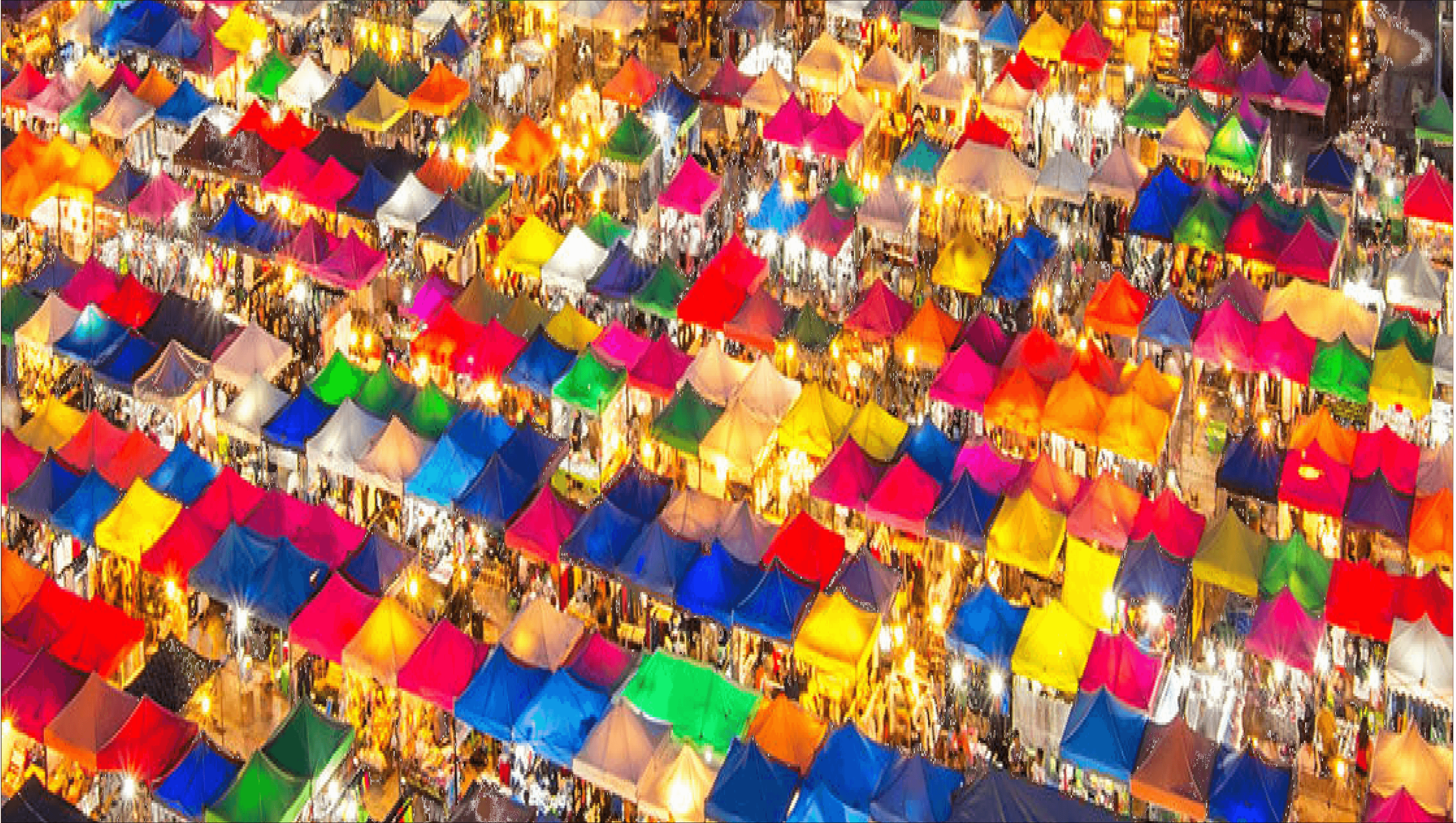 IconSiam
This shopping mall represents the four main regions of Thailand and it has 3,000 stores that sell art and hand craft goods. It also has high-end fashion brands, fine dining, and many more amenities. It is open daily from 10 am to 10 pm. Check out its directory here.
Terminal 21
This is a nine-story shopping centre with international brands, a fabulous gourmet supermarket, and boutique shops. Each floor is decorated as a "world's best known" shopping street, which makes this mall quite unique. It is open daily from 10 am to 10 pm. Check out its directory here.
ASIATIQUE The Riverfront
One of Bangkok's hippest places, it is both a market and a shopping mall. It is located on the old docks of the East Asiatic Company, on the banks of the Chao Phraya River. There are more than 1,500 shops and 40 restaurants and street stalls. You will find the Asiatique Skywheel which, at 60 meters tall, is the largest in Thailand. Don't miss the Calypso ladyboy show or the Muay Thai Legends spectacle. The Sirimahannop Tall Ship is the newest landmark and there is a fantastic restaurant and bar inside it. Check all ASIATIQUE has to offer here.
Khlong Lat Mayom Floating Market
Reserve one weekend to go to the floating market. It is an incredible experience where you will see vendors in wooden boats buying food and souvenirs at great local prices. It opens Saturday and Sunday from 8 am to 3 pm.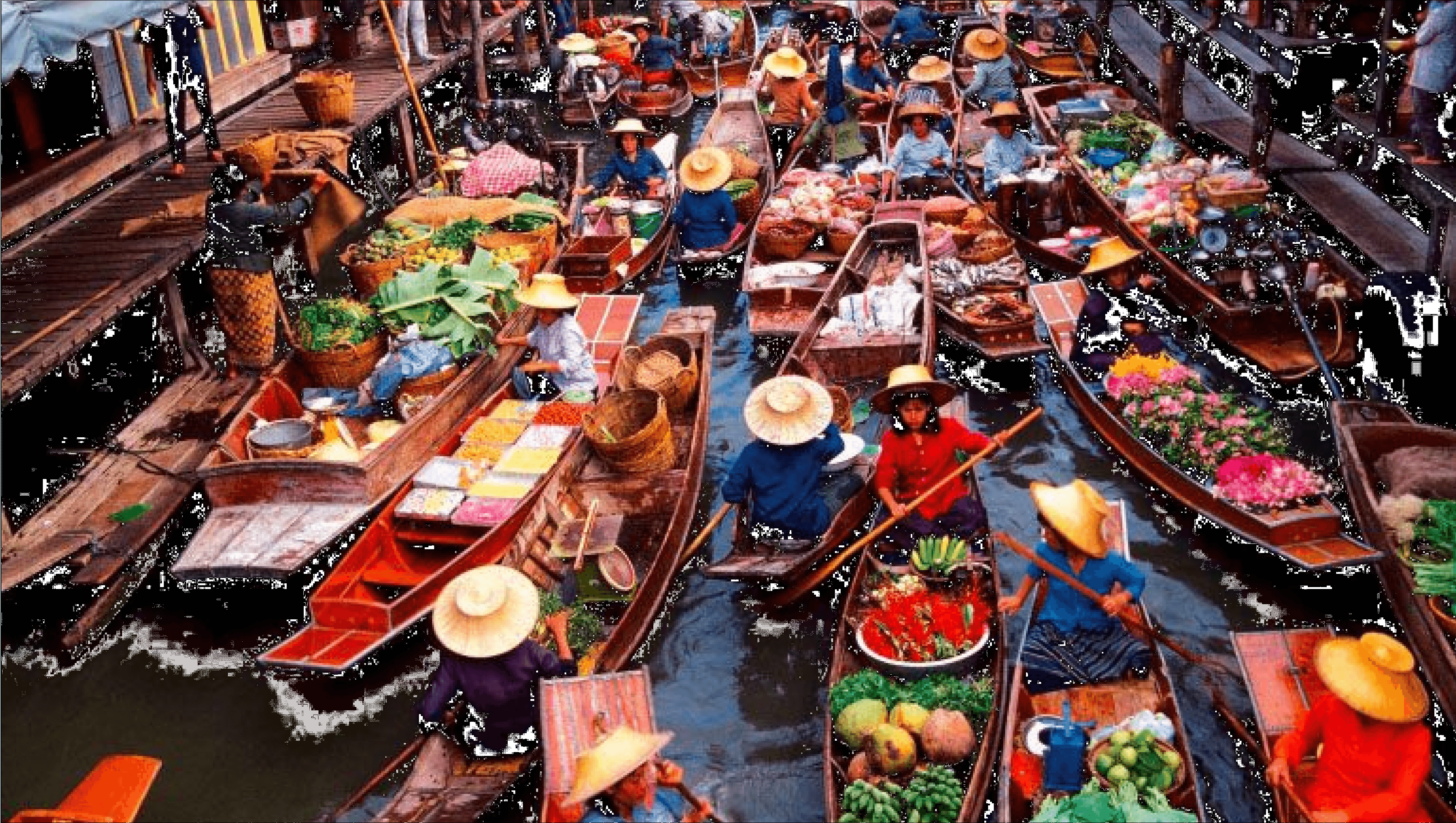 Chinatown
Cross those ceremonial Chinese gates, and you will be transported to China. This is definitely the best place to buy gold, souvenirs and find the most exuberant restaurants at great prices.
Where to Eat and Drink
Thailand is world-famous for its street food, but we want you to try the best of them. Bon appetite!
Raan Jay Fai
This was the first street food vendor to receive a Michelin star. Its owner and chef is 76 years old, Jay Fai, and is considered "the best cook in Thailand". This place has, by far, the best street food in Bangkok. If you don't have a reservation, you can wait up to 5 hours to be served. Her signature dish is the crab omelette.
If you don't want to wait, send an email to jayfaibangkok@gmail.com. They take reservations two months in advance. Important info, it is cash only.
Charoen Saeng Silom
Here you should try the Khao Kha Moo (pork legs and rice). The pork is braised for several hours in a delicious gravy with spices. Just imagine the meat coming out off-the-bone super tender.
Wattana Panich
Imagine a gigantic cauldron that has never been turned off in over 40 years and that slowly cooks every day a slow-braised beef with coriander, herbs and spices. Stewed for 8 hours daily this beef is just as tender as they get.
Polo Fried Chicken (Soi Polo)
This is THE place to eat gai yang (grilled chicken) with Thai papaya salad. We highly recommend.
Pe Aor Tom Yum Goong and Khao Gaeng Jake Puey
Both of these street restaurants are featured in Street Food Asia. The first is ideal to eat Tom Yum Goong, which is one of Thailand's national dishes (along with Pad Thai). The second one is considered a Bangkok institution and they expect you to know what you want when you reach the front or they will send you back. To be safe, just order the curry of the day.
Because you also need to drink and cheer for life with your new classmates, here are some of the best bars in the city.
Bars in Bangkok
Vertigo Moon and Bar
On the 61st floor of the Banyan Tree Hotel is one of Bangkok's best bars. It has a 360-degree view of the city. Grab a drink and enjoy the views.
Bar.Yard
On top of the 40th floor, this terrace is, as they now call it, "an Instagrammers' paradise" because every corner is designed for you to take a photo with your friends and show it off in your stories. They specialize in tiki-style cocktails and mock-tails.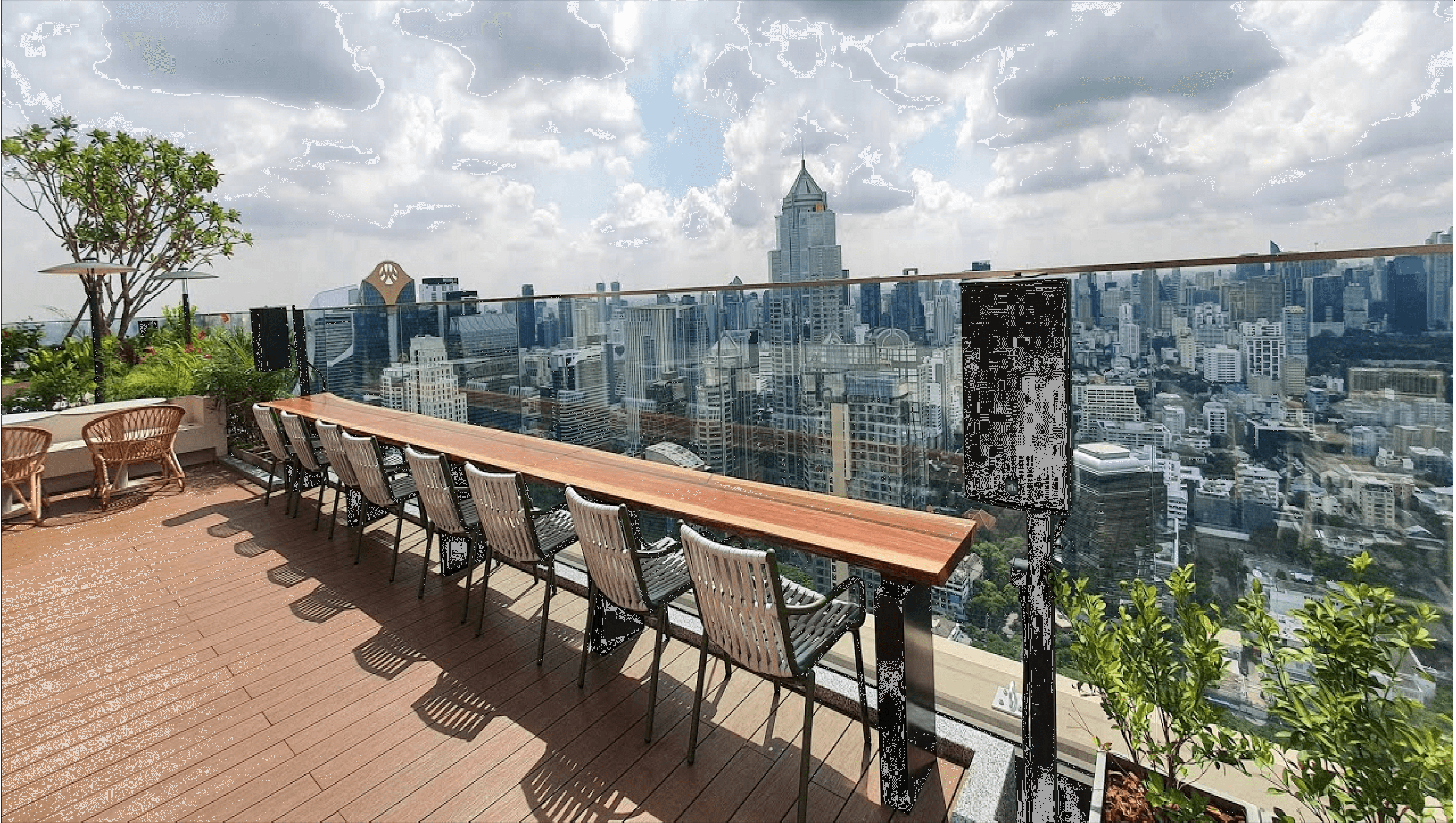 Q&A Bar
This speakeasy bar is set in a vintage train carriage. Outside has just a little sign, so don't expect it to be easy to find. They change the cocktail list every month so you can keep on trying new things every time.
The Rooftop at Sala Rattanakosin
This bar is at the top of Sala Rattanakosin, a boutique hotel. It has the best spot to admire Wat Arun (the Temple of Dawn).
Siwilai City Club
Located in the heart of downtown, this club has six different zones that go from just a tapas bar to a very cool sports bar. Choose your zone and enjoy your night.
The Bamboo Bar
If you like jazz this is your place. Ray Charles, Duke Ellington and Louis Armstrong used to play here. Iconic, this bar at the Mandarin Oriental is the place to be for music lovers.
Sing Sing Theater
More than a bar, this is just one of the most forward, bold nightclubs you will ever visit.
How to Move Around the City 
Bangkok SkyTrain
There is simply no better and more comfortable way to move around the city than the elevated, air-conditioned, rapid transit system in Bangkok. Check here to find out card info, stations, maps, and safety information.
Boat ferries and taxis
Some people call Bangkok "The Venice of the East" because the river and its canals connect the capital. It is not as comfortable as the SkyTrain, but you should definitively experience it.
Motorcycle taxi and Tuk-tuk
Are you adventurous? Or just in a hurry? Unlike the classic Tuk-Tuk, a motorcycle taxi will take you on its back to anywhere you want to go.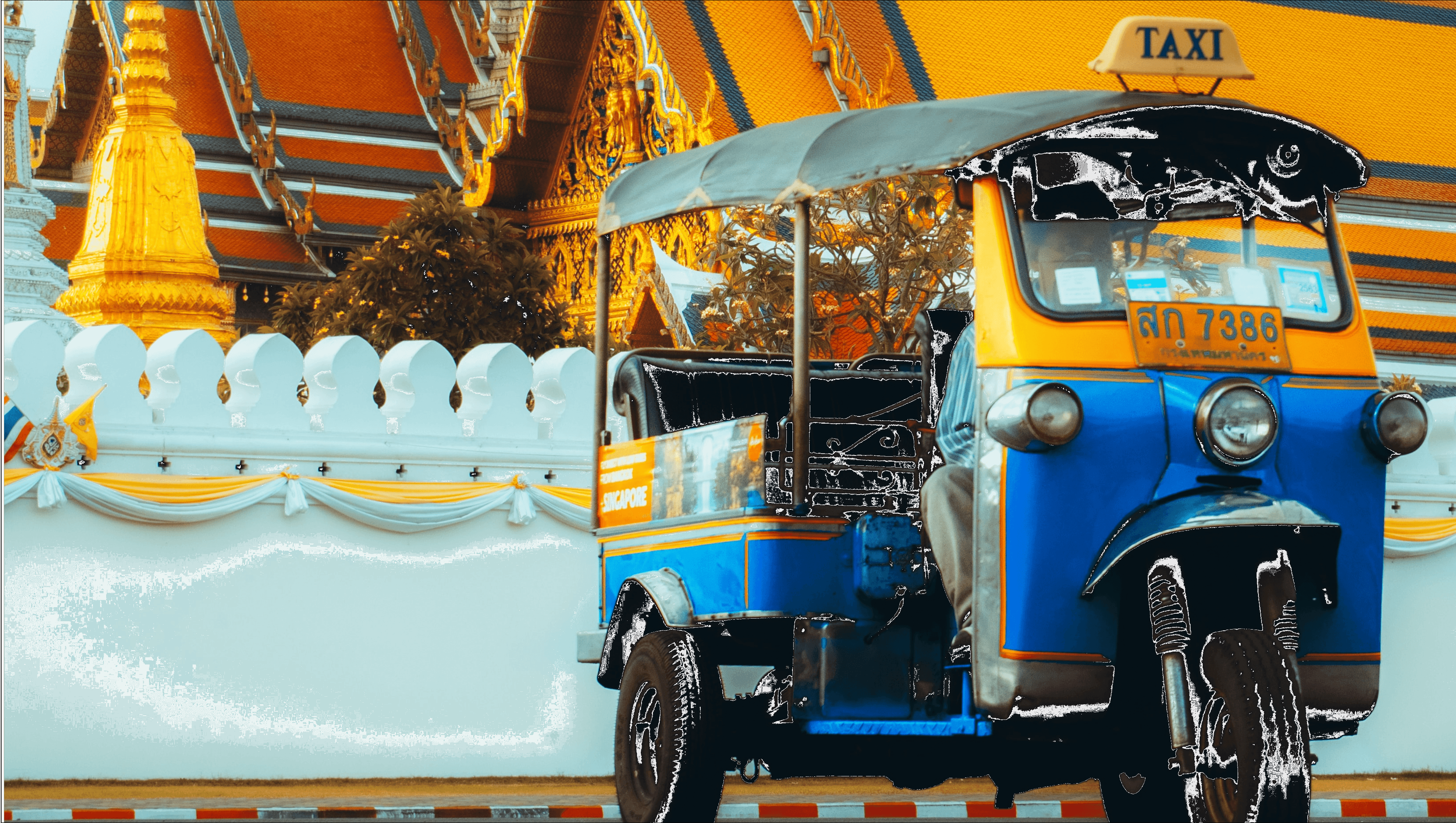 Expect the ride to be bumpy and filled with adrenaline and emotions.
For the cost of living and other useful tips check out this blog: Study abroad in Barcelona and Bangkok: the Ultimate Guide for an International Learning Experience.
That concludes our guide in Bangkok! Inspired to immerse yourself in the city? With Harbour.Space University opening up a campus in Bangkok you can do just that!
We're always looking to provide our students with opportunities to broaden their horizons. If you have any more questions or would like to know more about how you can experience your own eye-opening the Harbour.Space adventure, get in touch - we'll be glad to help :)
All of Harbour.Space's curriculum is taught by remarkable leaders in the industry. The teachers and peers will be your right hand when it comes to excelling for your future. Please take a look at our website to learn what your future could look like at Harbour.Space. Also, get in touch with us at hello@harbour.space to let us know your thoughts!
Thanks for reading
If you're interested in further growth, take a look at our website to learn what your future could look like at Harbour.Space. Lastly, get in touch with us at hello@harbour.space to let us know your thoughts!
Share article:
Loading...