A Health and Wellness Guide to Barcelona
With more than 500 outdoor activities, tons of green spaces, an amazing Mediterranean climate, and delicious locally produced food, Barcelona is the best place to lead a perfectly balanced lifestyle.
November 05, 2021   ·   5 min read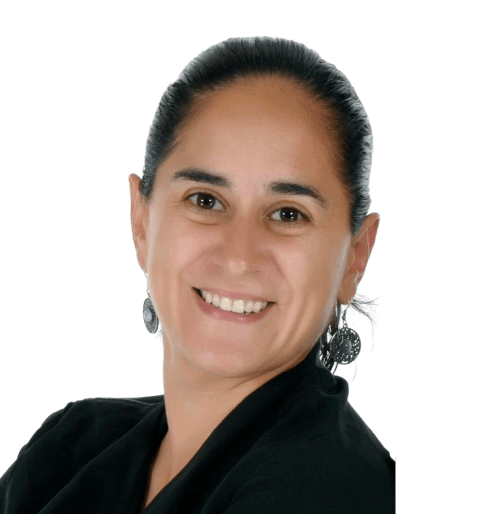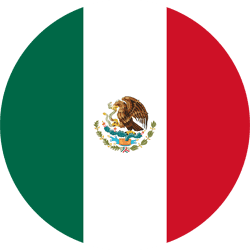 Montserrat Ruiz
Writer at Harbour.Space University
With more than 500 outdoor activities, tons of green spaces, an amazing Mediterranean climate, and delicious locally produced food, Barcelona is the best place to lead a perfectly balanced lifestyle.
November 05, 2021   ·   5 min read
Barcelona always pops into everyone's mind when they think of the top cities in the world to lead a healthy lifestyle. High quality of life and Barcelona go hand in hand- according to the Economist Intelligence Unit Global Liveability Index which ranks more than 140 cities in five areas (stability, health, education, culture and environment, and infrastructure), Barcelona is ranked 5th in the world. Why? It is easy to live in, has more than 500 outdoor activities with tons of green spaces, more than 2,591 hours of sunshine a year in the amazing Mediterranean climate, over 300,000 trees throughout the city's streets and avenues, and delicious locally produced food. 
Now that you are beginning your programme in this marvellous city, we want to show you different activities to do and places to go so that you can enjoy an invigorating lifestyle in Barcelona.
Walking, Cycling or Skating
Even though Barcelona's public transportation is one of the best in the world, its size is so perfect that you always have the option to walk, bike or skate to and from any point in the city. 
If you decide to walk, ensure you've got a good pair of shoes so you can appreciate the surrounding architecture and city landscape while on the move. It will usually take 20 to 30 minutes and, even on hot summer days, it's an enjoyable activity. 
Barcelona has one of the best networks of bike lanes of any European city and there are several options to cycle (or skate) because it is recognised as the most sustainable way to get around. 
For those who have an N.I.E. (which is a foreigner's ID in Catalunya), Bicing is a company that provides bicycles available to rent.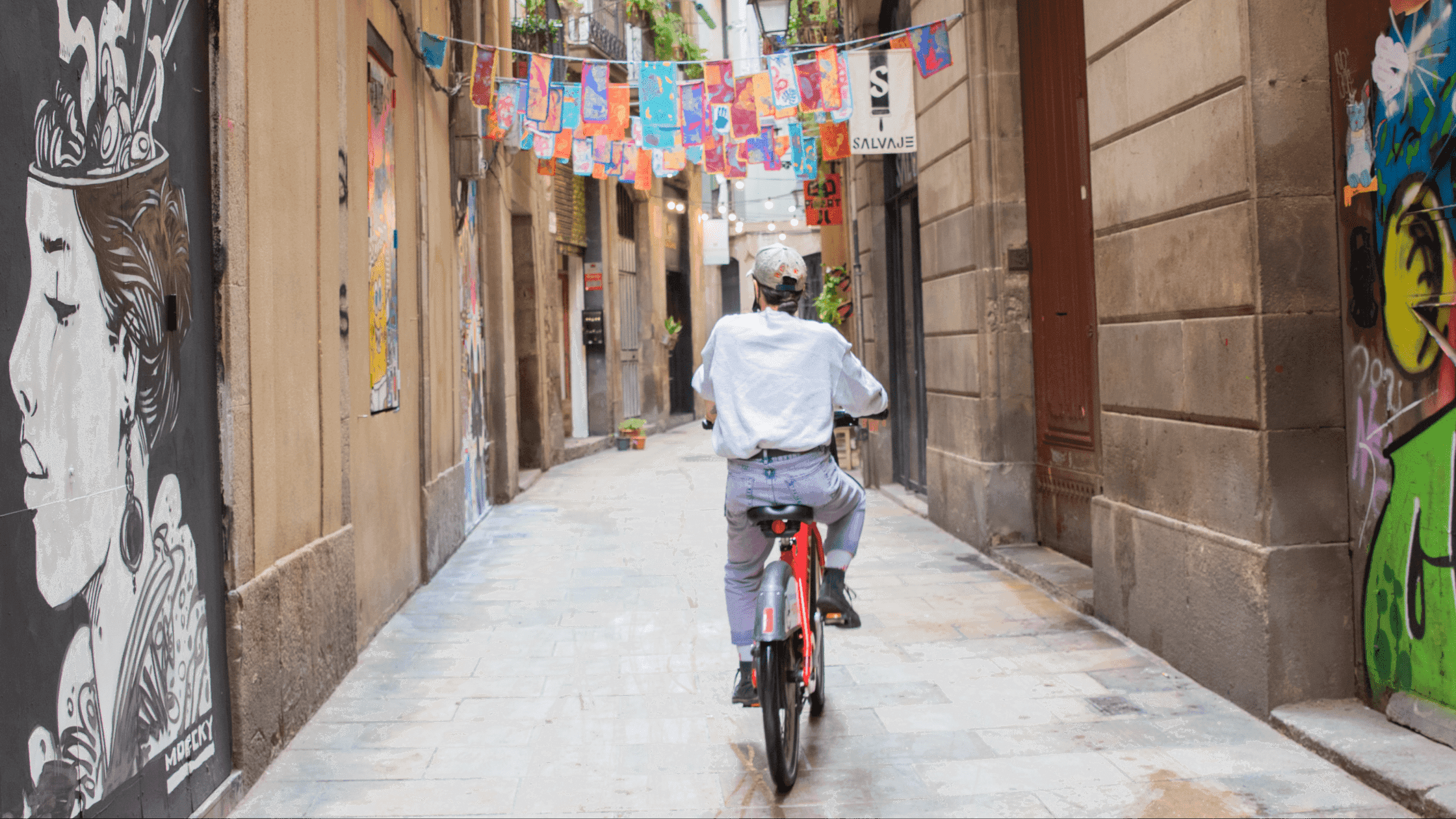 Those without an N.I.E. don't have to worry, though, because there are also Donkey Republic bikes and RideMovi. Just download their apps, check availability at the various stations around the city and start riding.
If you want to do something more active, you could purchase a pair of skates instead and make your way through the streets and lanes. Don't forget to wear a helmet and follow the traffic signs! 
Parks, Parks and More Parks
Ciutadella Park You will find that this metropolis has many inner-city green havens to take a stroll, take part in an outdoor fitness class or have a picnic with friends. The biggest one (which happens to be right next door to Harbour.Space) is Ciutadella Park.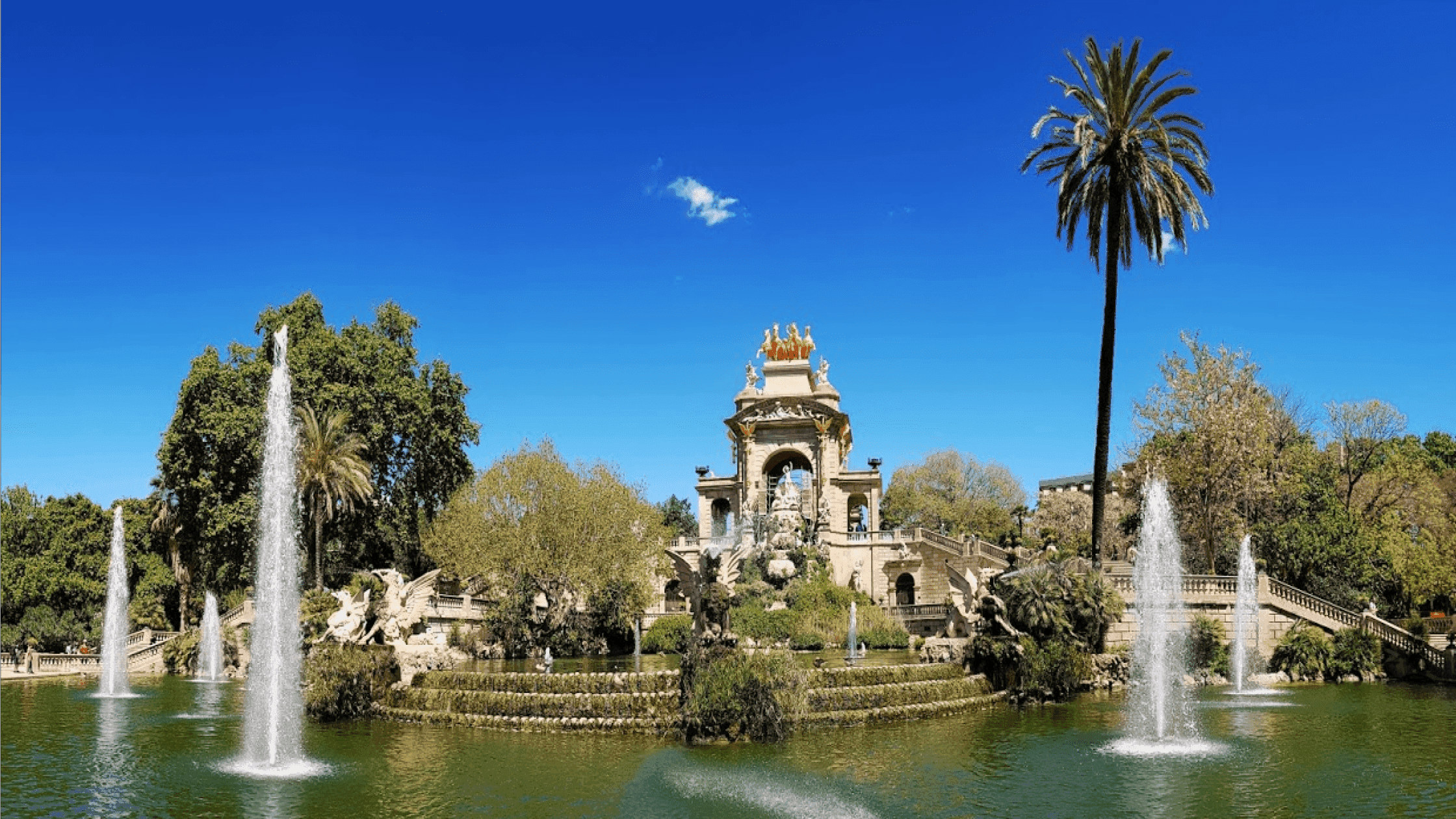 It has over 17 hectares where you can cycle, walk, run, rent a boat to row, take a dance class at the kiosk or just hang out with your classmates!
Tibidabo
As the highest peak in Barcelona, Tibidabo provides impressive 360° panoramic views. The Cathedral del Sagrat Cor (Temple of the Sacred Heart) is a particularly picturesque tourist attraction that we recommend visiting, as well as the amusement park next to it which has plenty of entertaining rides and attractions for everyone.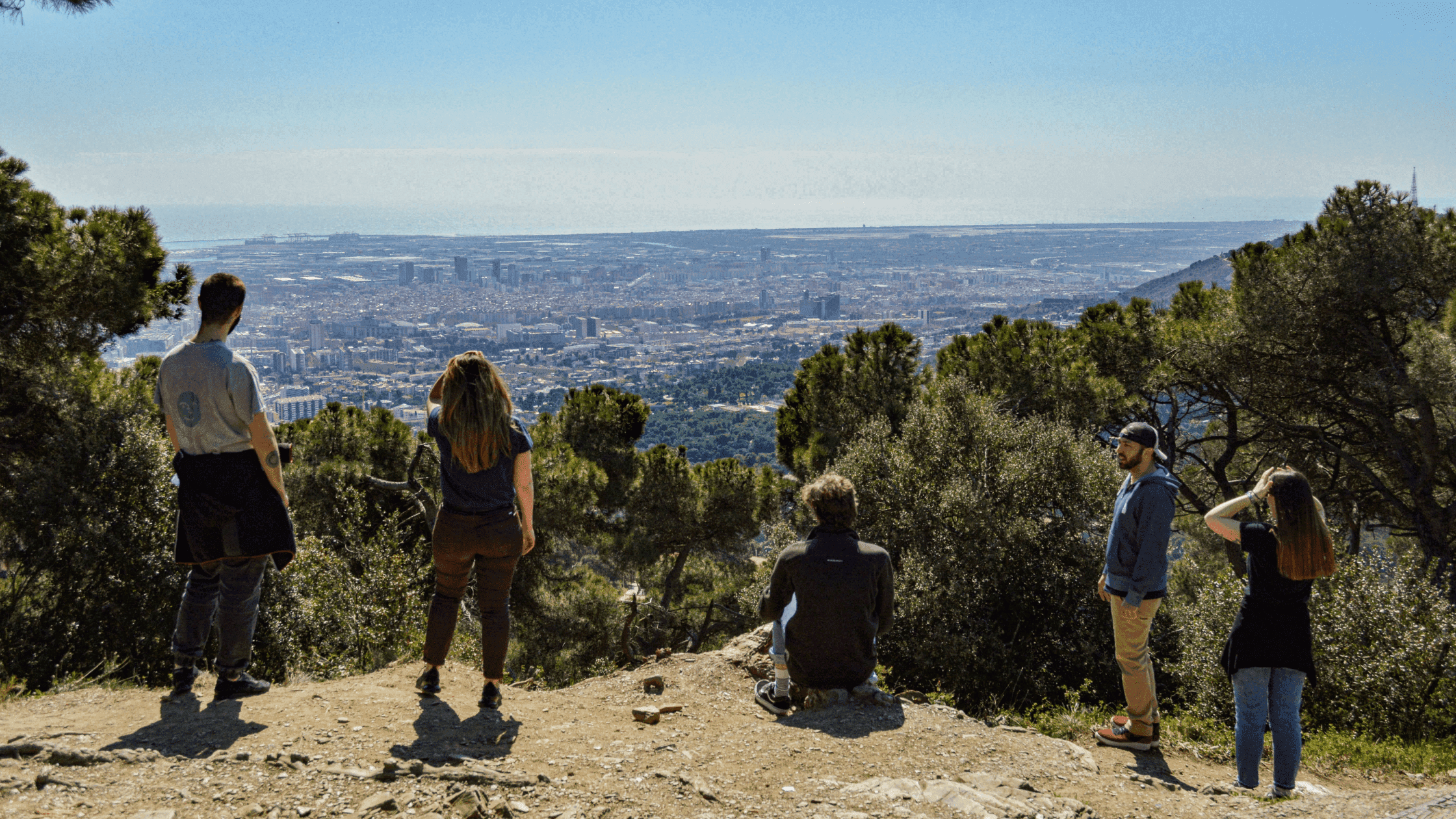 Other highlights include the Fabra Observatory, the Tower of Collserola, the Convent of Valldonzella, the Casa Muntadas, and the Collserola Natural Park. Get there by taking the historic Tramvia Blau to the bottom of the Tibidabo Funicular which will take you up to the top, or you can hike!
Park Güell
After Ciutadella Park, one of the most famous parks in Barcelona is Park Güell. Developed by Antonio Gaudi between 1900-1914 it is a UNESCO World Heritage Site, and with over 17 hectares it is one of the most beautiful places to simply take a breather and enjoy the stunning view of Barcelona it provides. 
You're only charged for entry in specific areas of the park- where Gaudi built wonderful works of architecture and where he lived (yes, his house is right there!). However,  enjoying the surrounding nature in other parts is of course free.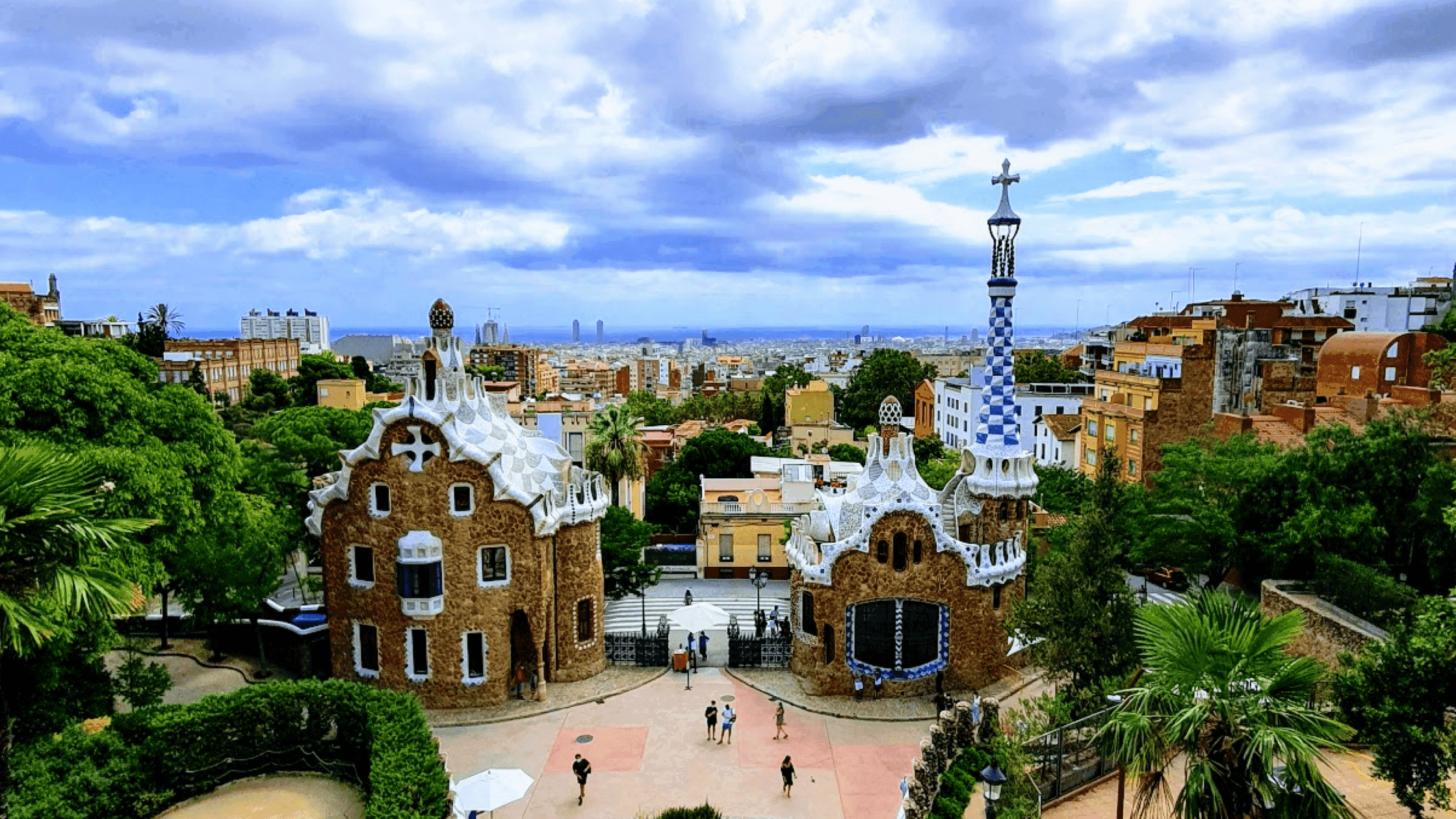 The Horta Labyrinth Park
If you want to explore and have fun, we recommend going to The Horta Labyrinth Park. This place is a little bit far away (a few metro stops), but it has the most amazing cypress maze designed by Domenico Bagutti in 1791. There is also a stream, a waterfall, and plenty of paths to walk. If you go on a Wednesday or Sunday, entry is free. 
Guinardó Park
If you are up for a hike Guinardó Park is the place to go. Find the Carmel Bunkers and enjoy one of the best views of the city (arguably even better than the one from Tibidabo). 
Montjuic
For hikes that are closer to the city, Montjuic is the best option. There you will find several beautiful green spots including the historical botanical garden as well as the Laribal Gardens. Montjuic has lots of areas to explore so you can go many times to explore it and have a good exercise.
Poblenou Central Park
For a more modern look, visit and explore Poblenou Central Park. Designed by world-famous architect Jean Nouvel, this five-hectare park has quite an avant-garde style and is the perfect place to have a ping-pong tournament. 
Vitamin Sea
One of the features that make Barcelona special is its coastline. Barcelona's beaches stretch over 4 kilometres and offer snorkelling, diving, kayaking, paddle boarding, parasailing, beach volleyball, and many other fun outdoor activities. 
The most famous beaches include Barceloneta, Nova Icaria, Mar Bella and Nova Mar Bella. If you look on a map, you'll see that Harbour.Space is just a three-minute walk away from the beach!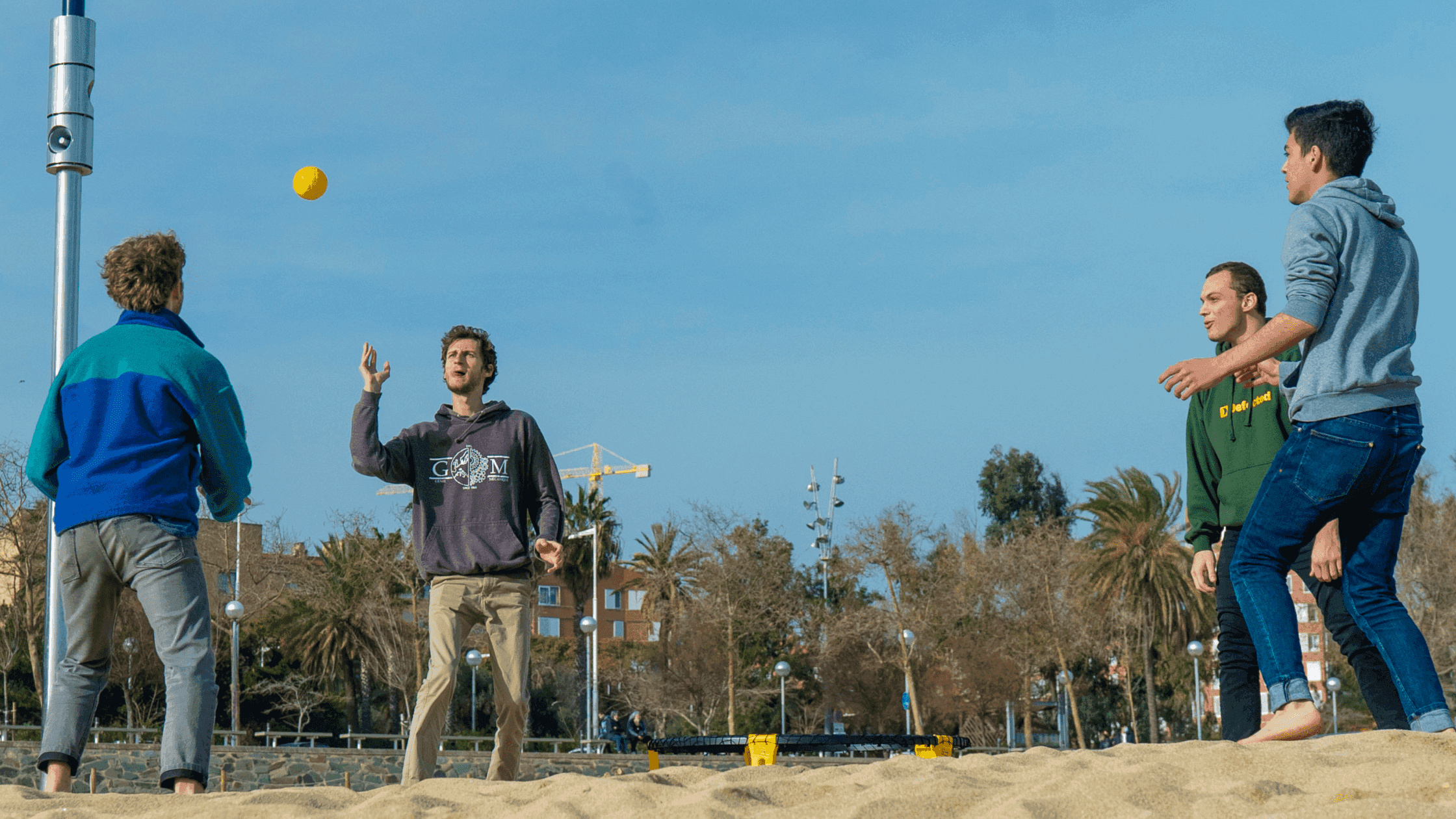 Explore, soak up the sun, and find an activity you love!
Wholesome Activities With Harbour.Space
Every year during the first module, Harbour.Space students and staff get together and go on a hike to Montserrat. 
We take the train to the base of the most impressive mountain in the city and hike to Sant Jeroni (the highest peak), which at 1,236 meters makes you feel like you conquered the world. Not only is it a great form of exercise, but as we make our way to the top we also chat, get to know one another, and enjoy the views. Come prepared with water, hiking shoes and your camera. 
At Harbour.Space we also have a football team formed by students and staff that anyone is welcome to join.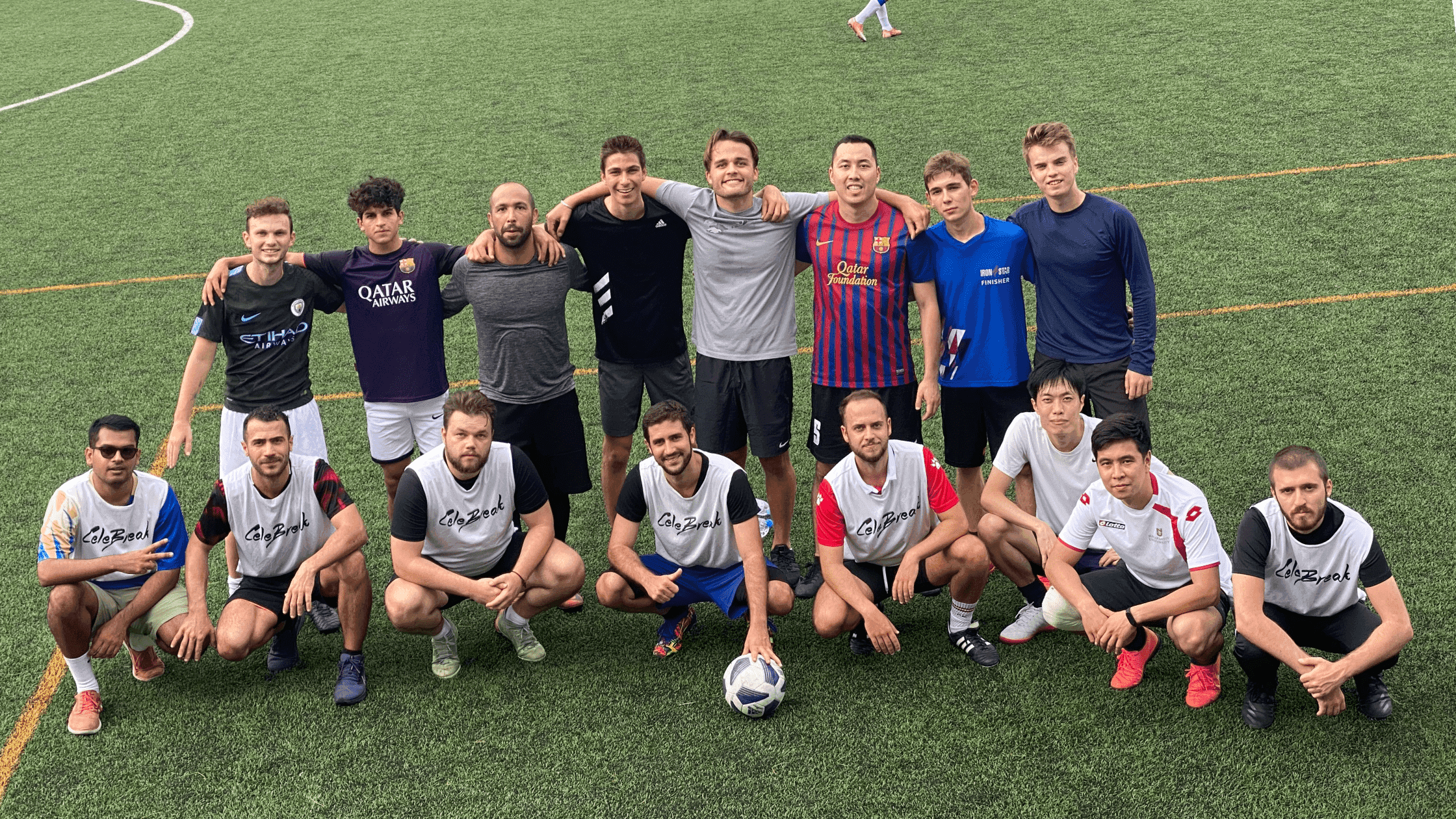 We play football two times a week. There is a training session during the week as well as a public game on the weekend at various locations in Barcelona
We are planning to join the university league in Barcelona next year
We have some ex-professional players amongst our students
Our Interaction Design students are working on a jersey design for the team
Our Favourite Healthy Restaurants
Barcelona has some of the best organic, km0, vegetarian and vegan restaurant options in the world. Below are some of our favourite healthy restaurants that will keep your body fuelled and your stomach full:
Flax & Kale Run by the healthy chef Teresa Carles whose motto is "Eat better, be happier, live longer", this place is a vegetarian and organic paradise- 80% of the dishes are plant-based and the other 20% use fish.
The Green Spot This is one of Barcelona's most popular restaurants for vegetarians and vegans. This trendy place offers a large and diverse menu, but we recommend the fried cauliflower or, for the pescatarians, the calamari.
Honest Greens This restaurant appears in four spots around Barcelona, making it hard not to miss. There are paleo, gluten-free, meat, vegan AND vegetarian dishes available, so this is a great place to munch on a salad or dig into a steak.
Sopa As you may be able to tell from the name, this restaurant specializes in making the tastiest healthy soups. It's perfect when you want to eat something warm during the winter.
Picnic Although small, you can enjoy a delicious and healthy brunch at this wonderful restaurant. In our opinion, it has the best Bloody Mary's and eggs Benedict in Barcelona!
Healthy Kitchen by Xavier Pellicer This is not the cheapest option, but it is definitely the best. The talented chef has crafted dishes that change with the seasons, so you will always have something new to try each time you go. You need to try his Formula50 menu, and if it's your first time you've got to order the cauliflower soup, the Ajo Blanco, and the beet gazpacho.
Can you see yourself immersed for a year abroad in Barcelona? At Harbour.Space we're always looking for top talent to join our community! See what we are about by checking out our Instagram or website. If you're ready to jump right into the application process, click here.
All of Harbour.Space's curriculum is taught by remarkable leaders in the industry. The teachers and peers will be your right hand when it comes to excelling in your future. Also, get in touch with us at hello@harbour.space to let us know your thoughts!
Thanks for reading
If you're interested in further growth, take a look at our website to learn what your future could look like at Harbour.Space. Lastly, get in touch with us at hello@harbour.space to let us know your thoughts!
Share article:
Loading...