Madrid or Barcelona - Which City Is the Best to Study Abroad?
If you're thinking of studying abroad in Spain, you've made the right decision. But that's just the beginning; now you need to decide which city you want to start your journey. So, what's it going to be - are you going to study in Madrid or Barcelona?
October 08, 2020   ·   5 min read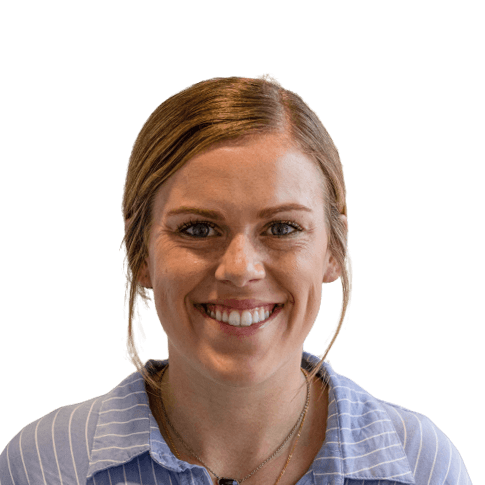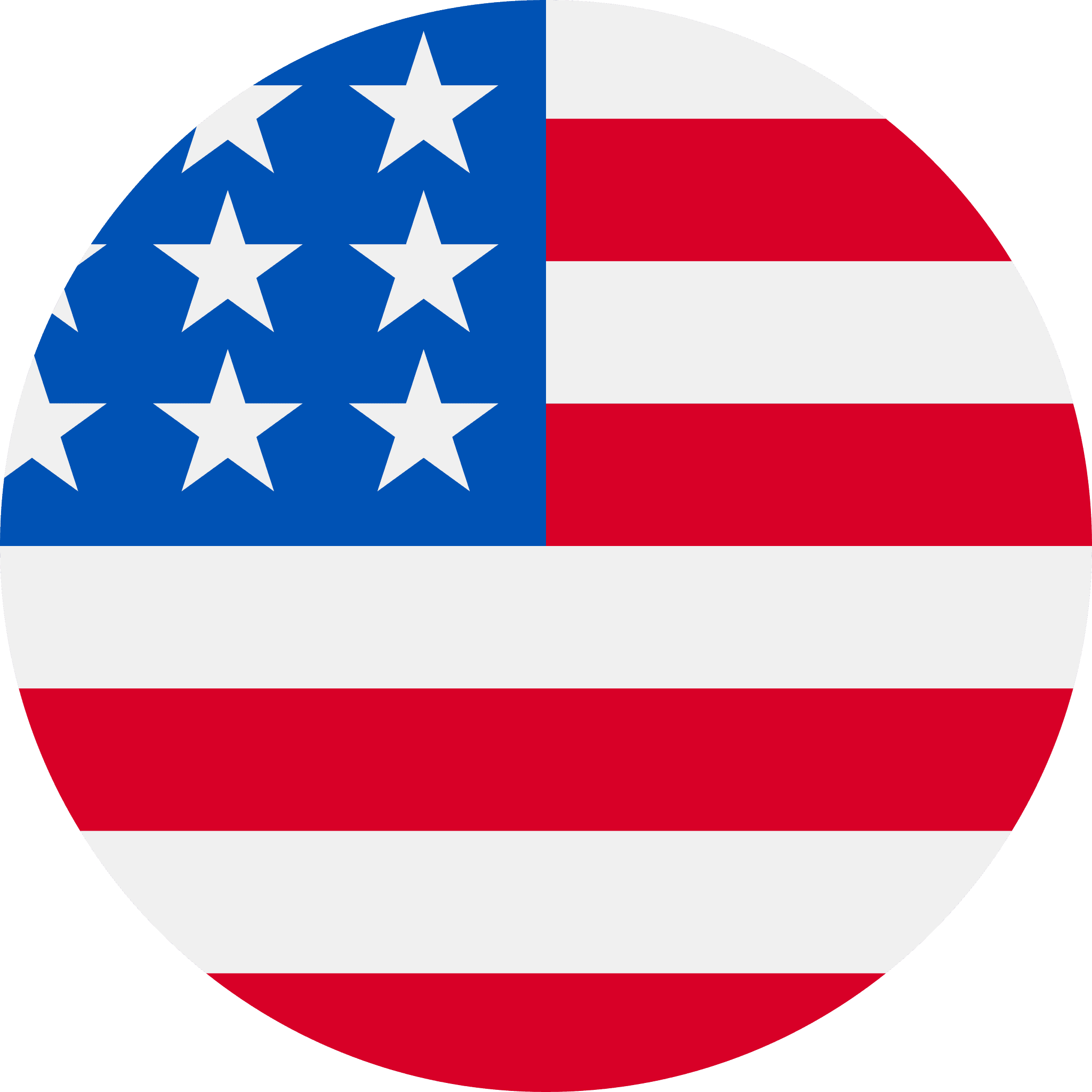 Annie Frische
Copywriter at Harbour.Space University
If you're thinking of studying abroad in Spain, you've made the right decision. But that's just the beginning; now you need to decide which city you want to start your journey. So, what's it going to be - are you going to study in Madrid or Barcelona?
October 08, 2020   ·   5 min read
Spain is known for its unique cities, late nights, reputable universities, endless paella, and exceptional quality of life. Spain consistently ranks as one of the most popular places to study abroad. So if you're thinking of studying abroad in Spain, you've made the right decision. But that's just the beginning; now you need to decide which city you want to start your journey. So, what's it going to be - are you going to study in Madrid or Barcelona?
Both Madrid and Barcelona are full of character and unique charms. It's up to you to choose which scene aligns more with your style; studying in an energized technology creative hub surrounded by sunny beaches? Or in a bustling city known for its style and flair of the art scene? 
We've broken down the details to help you decide whether to study in Madrid or Barcelona.
Outlined are the cultural characteristics of each city including living costs, languages, desired places to see, popular international programs, and what life looks like after your studies. 
Madrid Vs. Barcelona:
Madrid
Madrid is the capital of Spain, located at the geographic heart of the Iberian Peninsula. Unlike many European Capitals, Madrid has a mountain environment an hour away from the city center. The proximity to the mountain range Sierra de Guadarrama is responsible for the capital's dynamic weather patterns. 
This mountain range makes Madrid undergo cold crisp winters while the summer is hot and dry. But this also means you get the best of both worlds; you can enjoy winters skiing Madrid's mini alps, and have an amazing summer experiencing open-air cinemas. 
But above all, the people and arts make Madrid the cosmopolitan city it is today, holding and absorbing all who live there. 
Newcomers once came for jobs in the financial center. But now, the city's endowed artistic masterpieces have inspired novice artists to share the wealth of modern film, theater, and music. This imperial art scene is evident in Madrid's new contemporary culture.
Madrid is the cosmopolitan city where tradition and modernity coexist in harmony.
As an international student, you will be charmed by the city's contrasting styles and expressions of its own identity. You won't be the only one, as 17,000 international students call Madrid home every year. 
Tourist Map of Madrid, Spain by ES Madrid
Barcelona
Barcelona is the capital of the Catalonia region, located on the Mediterranean coast. It's the second most populated city in Spain and one of the more compact cities in Europe. This makes Barcelona's flux of international neighborhoods easily accessible without a car - you can get from the old quarters of Gothic to the tech hub of Poblenou within a matter of minutes via public transportation. 
As Barcelona holds this universal identity, it also takes first as the leading spirit and attraction for the Catalan culture. This culture is unique to the Catalonia region of Spain. But as the intersection of influences, wealth, and political differences grew within the area, so did the venture of locals wanting independence from Spain. 
Catalans stand proud of their culture. You see that spirit in the Catalan flags hanging off balconies in narrow streets. And you feel that energy in locals' smiles as they drink Estrella Damm and eat pan con tomate at 9 am. 
That same determination and energy follow with the hustle of international travelers looking for opportunities in the entrepreneurial ecosystem. Barcelona has created its framework for digital companies, making the city the most active startup hub in Spain. 
Barcelona Startup Ecosystem by Apiumhub
Barcelona has become the place where imagination flourishes, turning dreams into reality. 
As an international student, you can breathe the city's startup culture while enjoying the sunny beaches. You won't be the only one - Barcelona is home to some of the most prestigious business schools, which attract high-potential fresh talent to the city's shores. 
Languages Spoken in Madrid and Barcelona: 
Spanish, also known as Castilian Spanish or written as Castellano, is the official language of Spain. This Spanish is similar to Latin Americans' mother tongue, with a few key differences. The biggest standout is the accent, but you will also notice different uses of vocabulary and grammar. 
Living in Madrid, you hear locals speak Castilian Spanish, but this is different in Barcelona. In the region of Catalunya, where Barcelona is located, locals also speak the Catalan language.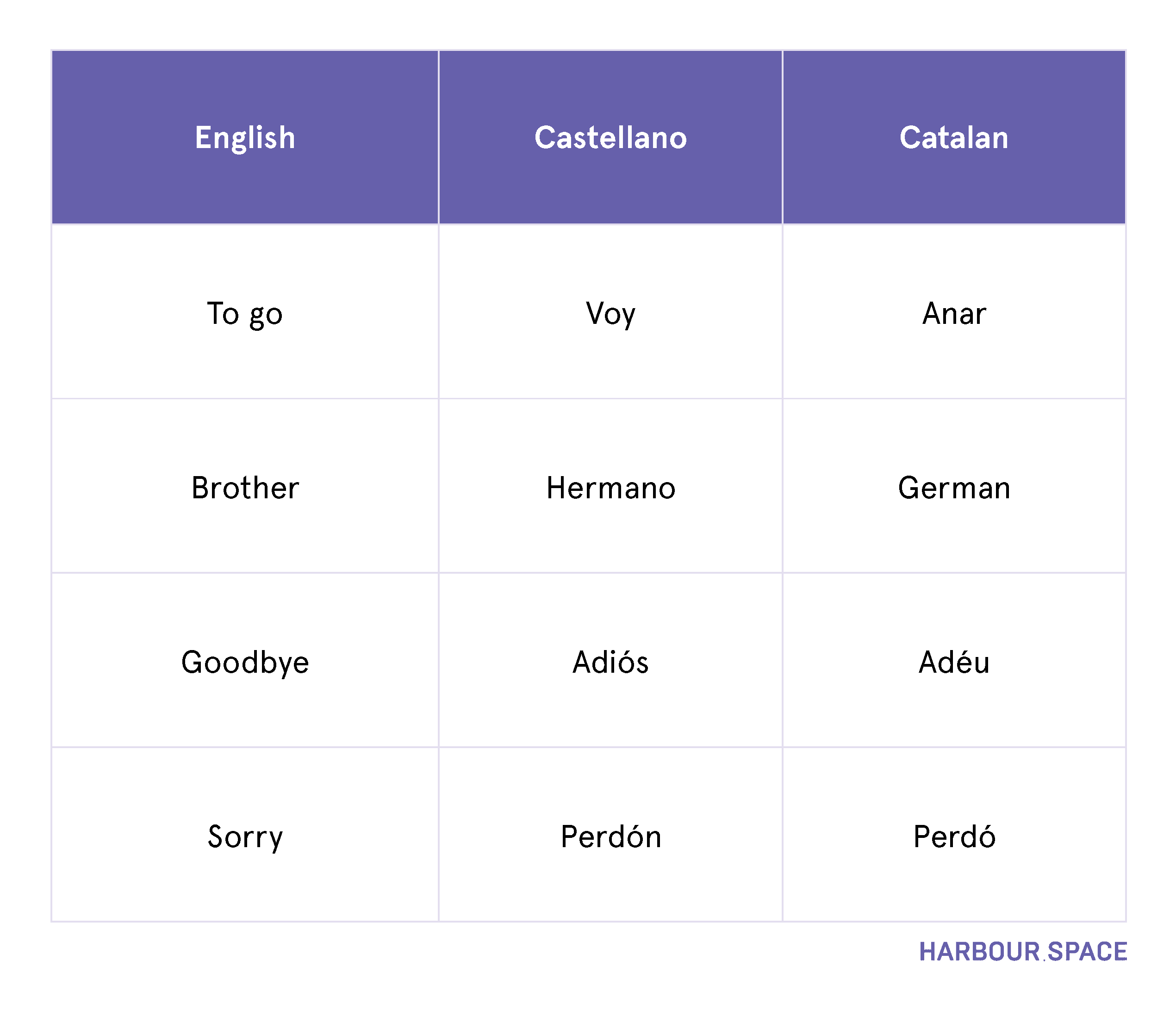 Don't let this difference determine where to live - Barcelona locals you interact with will also know Castilian Spanish. If you're new to the language or want to speak conversational Spanish before the end of your studies, learn Castilian Spanish. 
The Spanish language has the second most native speakers in the world, after Mandarin Chinese, and is the official language in 21 countries. Learning this skill is valuable as it enables you to gain meaningful insight and makes you competitive in the workforce.
But how easy is traveling and living without knowing the language? 
As a tourist, everyone has a different experience with the level of English spoken. Barcelona is a more prominent travel destination than Madrid, making English more common at unmissable landmarks in the city, in the streets, and smaller restaurants and cafés.
However, living in Madrid or Barcelona is a different story. 
Both cities have many expats and immigrants who come for university or job opportunities and end up staying because of the rich quality of life. In addition to the Spanish language, there are large foreign communities where English and Arabic are very popular. 
But, let's not forget that Spain is home to the Spanish dialect. So, even though locals may know English, they always love it when newcomers make an effort to learn the language. 
Cost of Living for a Student in Madrid and Barcelona
It's essential to know how much money you will need as an international student for daily and monthly costs. This can vary depending on your lifestyle, but we want to put forth all expectations to help you make the best choice.
Housing in Madrid and Barcelona
The average cost of housing in Madrid and Barcelona is anywhere between €350-600/per room for a student. This cost depends on the neighborhood and size of the apartment. Note that the limitation of flats cuts short around September due to the wave of students arriving. So, your best chance for finding a good deal is planning ahead.
The bills in Madrid and Barcelona favor students when it comes to Wi-Fi. You can cut a deal for €30/per household with unlimited bandwidth (depending on the company) when you present your acceptance letter. Bills for your flat can vary from €80-150/per house. However, you can find housing with bills included in the price, making things easier. 
Groceries in Madrid and Barcelona
There are plenty of grocery options in Madrid and Barcelona that will help you save costs while eating fresh food. Those include Condis, Lidl, and Mercadona. Other, fancier markets such as Carrefour have a bigger selection, especially for western produce, but come with a higher price. 
Another option is the local farmers' markets. They are well known among tourists and popular among locals for their fresh selection. 
The most popular markets in Madrid include: 
El Rastro 
Mercado San Miguel
Mercado De La Paz
The most popular markets in Barcelona include: 
Mercado de La Boqueria
Mercat de la Concepcio Barcelona
Mercat dels Encants de Barcelona
On an average, plan to spend anywhere from €150-220/per month on groceries in either city. 
Transportation in Madrid and Barcelona
Transportation in Madrid and Barcelona has many options. For example, you will notice different scooters on the street you can rent through an app. The good side, these scooters are easily attainable and will get you anywhere quickly. The downfall is they're only available to those with an EU or international driver's license. 
Lucky for you, the two biggest transportation options in Madrid and Barcelona are still easily accessible and affordable. 
Madrid's popular transportation methods:
Metro - 10-journey pass for the metro (single zone): €12.20
Biking - Annual BiciMAD subscription: €25
Barcelona's popular transportation methods:
Metro - 10-journey pass for the metro (single zone): €11.35
Biking - Annual Bicing subscription: €50 or €35 (depends on the plan)
Depending on your length of stay, you can also choose to invest in a scooter or bike. Just be mindful to invest in proper locks to prevent theft. 
Living in Madrid or Barcelona costs about the same. On average, Madrid is a little more expensive when it comes to the monthly rent. However, Barcelona has higher expenses when it comes to leisure activities.
Again, the amount of money you spend is dependent on your lifestyle. So below, we listed the basic breakdown of the average student monthly costs.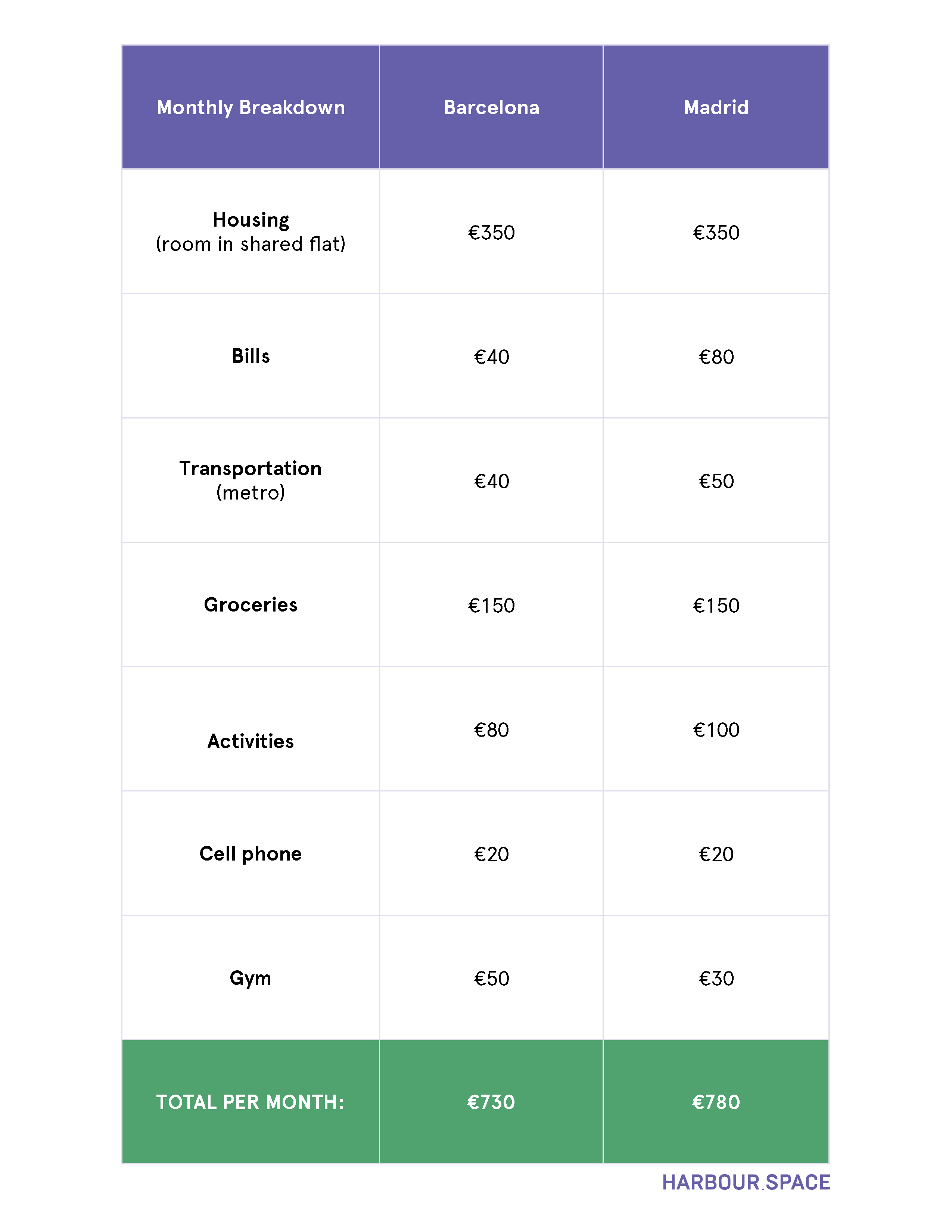 Universities in Spain for International Students: 
Every year Spain opens borders to about 600,000 international students seeking higher education. Spain alone positions nine out of 10 in the world to study abroad in 2020, and for good reason. 
Education.com conducted a survey with 30K international students about the Top 10 Places in the World to Study Abroad. The results showed that students actually pick the country before the program while considering these factors:
Achieve career goals
Develop personally
Experience a new culture or lifestyle
Access higher quality teaching
Have an adventure
Make new friends or widen my professional network
Learn a new language
From this survey, Spain ranked sixth amongst all European countries, third for adventure, and first for experiencing a new culture or lifestyle. 
So as Spain is famous amongst internationals looking for these factors, what programs do Madrid and Barcelona offer? 
Both cities offer programs for all industries and in English. But, both attract an international audience for different reasons.
Madrid's world-famous art and cosmopolitan modernism persuade international students to come for the impressive universities. Some of Madrid's most sought-out programs are focused on business, communication, liberal arts, and humanities.
Barcelona's cultural diversity and digital ecosystem attract prospects worldwide. International students come eager to learn from innovative educators and collaborate with like-minded individuals. Popular programs Barcelona offers are usually in the fields of design, entrepreneurship, and technology. 
The best place to filter through your search involving different programs, price range and preferences is through these portals: 
Lifestyle Overview in Each City:
Madrid
The Spanish Capital is a pleasure to explore, from world-class art and historical gems to the fantastic food scene. But a real treasure for art lovers is the infamous "The Golden Triangle of Art." These three unmissable landmarks are a must-see when visiting Madrid:  
Prado Museum
Reina Sofía Museum 
Thyssen-Bornemisza Museum
However, as a student, you have time to get familiar with Madrid's art scene. So, let's talk about lesser-known hidden gems of Madrid. 
Listen to local artists in the central park of El Retiro.
Enjoy the sunset from an Egyptian temple at, Templo de Debod.
Get in the rhythm of the Spanish culture at La Latina while drinking a beer.
El Retiro Park brings Madrid to life, literally. Some call it the lungs of the city because the park is a mix of culture, leisure, and sports. It's also the place where you find some of the city's most important architectural and historical elements.
El Retiro Park from
Surrounded by gardens and beautiful fountains, you find the Egyptian temple from the second century, Templo de Debod. This temple is a great place to hang out at sunset while enjoying a panoramic view of the Manzanares river banks.
Templo de Debod from Canva Pro Video
La Latina is the synonym for drinking in Madrid. This barrio is jam-packed with Spanish culture, locals, and tourists, especially on the weekends. Prowl the night grounds enjoying music and specialty drinks with classmates. 
La Latina from © Catarine Belova/Shutterstock
Barcelona
You can't mention sights in Barcelona without discussing the city's most prized possession - Gaudi's art. The Spanish architect is known for his one-of-a-kind style that's often imitated but never matched. 
So, if you want to experience some of the city's unusual but iconic landmarks, here are three popular places for Gaudi's work: 
Sagrada Familia 
Casa Mila 
Park Güell
But you don't want to spend all your weekends waiting in tourist lines - let's talk about the hidden treasures Barcelona offers all year round.
Take a short nature hike to see epic panoramic views of BCN from Bunkers. 
Explore all nine beaches that stretch across the mediterranean sea. 
Hangout at the grungy street scene of the Museum of Contemporary Art. 
The old Spanish Civil War bunkers are a real hidden gem in Barcelona. A quick bus ride and a short, uphill walk are worth the awesome panoramic views overlooking the city and its major landmarks. 
Bunkers from Canva Pro Images
Barcelona has nine beaches full of sand-artists, young adults playing beach volleyball, and singing beer salesmen. It's the most active stretch of sand you will see along the Mediterranean coast. 
Beach in Barcelona from Canva Pro Images
The Museum of Contemporary Art, MACBA, embodies the Barcelona Skate scene. While you can purchase a €5 ticket for the arts inside, the real action is outside. Grab a slice from Pizza Circus and enjoy the gnarly vibes. 
MACBA GIF taken by Harbour.Space Interaction Design student, Roee Cohen
Life After Studies in Spain:
Spain is a favorite study abroad destination. However, the potential of a fantastic future is what might drive you to extend your stay. 
If you happen to end up in this position (which is likely), one of the most fundamental questions you'll ask is, how easy is it to obtain a job in Madrid or Barcelona? 
Something important to take into consideration is that obtaining a work visa means accepting a job position. If you're a non-EU citizen, it may be harder, but that doesn't mean it's impossible. You just need to have better credentials than your competition. Don't worry - you are fresh to the market as a newly graduated student, which makes you a standout. 
The best way of looking is by searching LinkedIn, joining one of the 150+ coworking spaces in Barcelona and Madrid, or downloading the app, Meetup. All three of these cater to all tastes and professional dispositions in the cities. You are bound to come across an opportunity suited for you. 
However, don't hesitate to reach out to your school and teachers for recommendations. For this reason, many universities have partnerships with companies to recruit top talent. Also, your teachers have connections, if not their own company, but networks from past work experiences. 
There's a life after university. The best guidance is networking and using the city to your advantage. 
Let's explore the advantages of working in Madrid or Barcelona:
Madrid
As the capital of Spain, Madrid attracts foreign investment and is the main headquarters for multinational corporations. Though the city's largest economic sector is the service industry, the best performing sectors are corporate services, transport, communications, real estate, and financial services. And more popular for expats employees, these industries include IT, finance, skilled labor, and engineering.
On average, expats are likely to find more job opportunities in Madrid, but competition is much higher. So candidates who can speak Spanish or are willing to learn will find themselves at an advantage. 
Barcelona
Barcelona has a vast startup scene, so it's not uncommon to find more English-speaking jobs in Barcelona than Madrid. Barcelona also has a greater number of jobs in technology, as it holds the second-highest number of professional developers in European cities. The total adds up to 72,500 developers. 
Because the demand is high, competitive salaries start annually in Barcelona at €40,000. To put it in perspective, locals and expats live comfortably even at €15,000 annually. 
The relatively low rent prices and access to high-quality tech talents, business and marketing gurus are a hit for startup founders. This means if you have an entrepreneurial spirit, Barcelona is the place for you.
Of course, these areas of work are not the only ones in the city- like any metropolis, the fields of work are endless. These recommendations are more accessible and popular amongst big companies in both cities.
Conclusion:
Choosing to live in Spain is the easy part. But, choosing to live in Madrid or Barcelona comes down to what lifestyle suits you more. 
Both cities have plenty to offer, but where can you see yourself immersed for a semester to a year abroad? 
Let's bring together all the details to help you decide.  
Study in Madrid if you:
Want to spend weekends hiking the Cercedilla trail
Don't mind crisp winter air
Picture yourself going on day trips to Toledo and Salamanca 
Can immerse yourself in the modern contemporary architecture
Favor famous art museums
See yourself living amongst traditional imperial art that brings out the vibrant atmosphere of Madrid. 
Want to cheer on Real Madrid
Study in Barcelona if you:
Enjoy taking a dip in the Mediterranean 
Don't mind 300 days of sunny weather
Picture yourself going on day trips to Sitges and Girona
Fancy impressive Gaudi architecture
Want to spend summer weekends at beach festivals
See yourself living amongst the free spirits and creative art scenes that bring Barcelona to life. 
Want to cheer on FC Barcelona 
What are our thoughts about living in Madrid or Barcelona? Let us know what you think! Please leave your thoughts, comments, and feedback below.
Thanks for reading
If you're interested in further growth, take a look at our website to learn what your future could look like at Harbour.Space. Lastly, get in touch with us at hello@harbour.space to let us know your thoughts!
Share article:
Loading...