Students From Harbour.Space Barcelona Win Top European Informatics Competition
Harbour.Space takes over SWERC by winning gold and silver for the first time in its history and will go to the ICPC World Finals. Congratulations to all of our participants and coaches that made this a reality!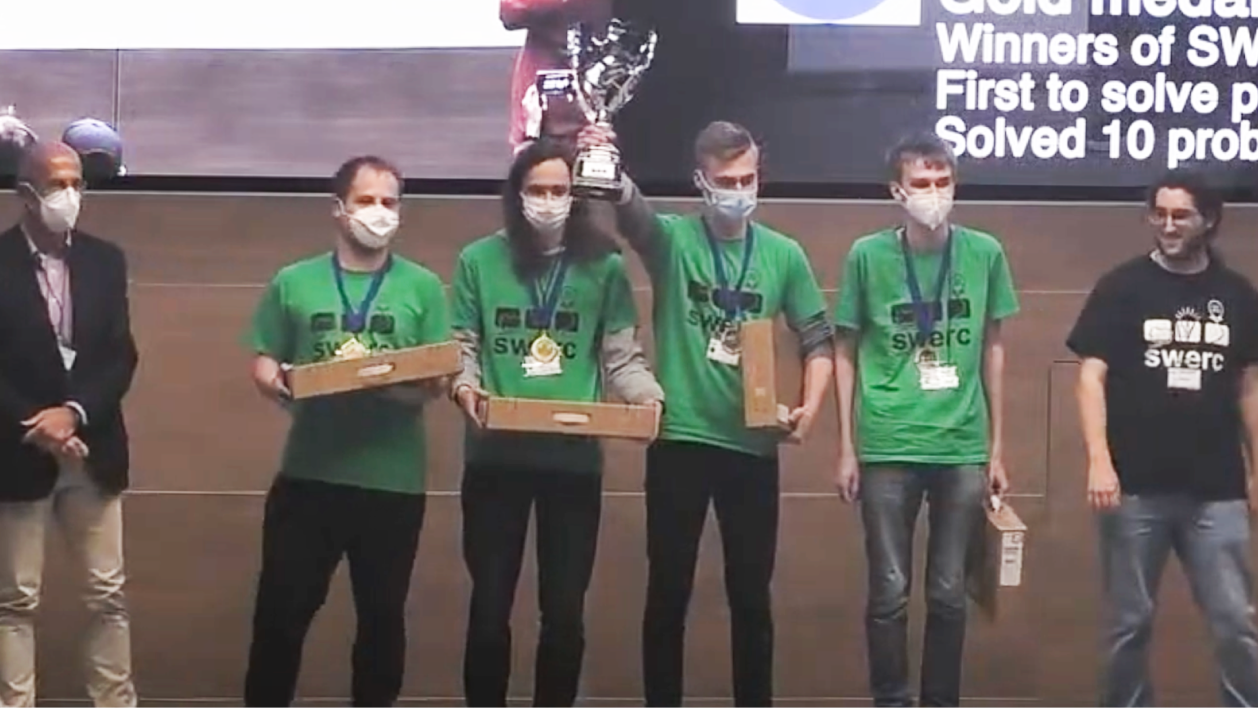 Since its creation, one of Harbour.Spaces's goals has been to win SWERC and compete at a high level in the ICPC globally. Last Sunday (April 24th), that objective was accomplished when RAW POTS (STOP WAR when read backwards), the team represented by Maksym Oboznyi from Ukraine, Marco Meijer from the Netherlands, and Danil Zashikhin from Russia won the gold medal and the overall contest against Southwestern Europe's top contenders by correctly solving ten problems. Maksym resolved 3, Daniil 3, and Marco 4; it was true teamwork.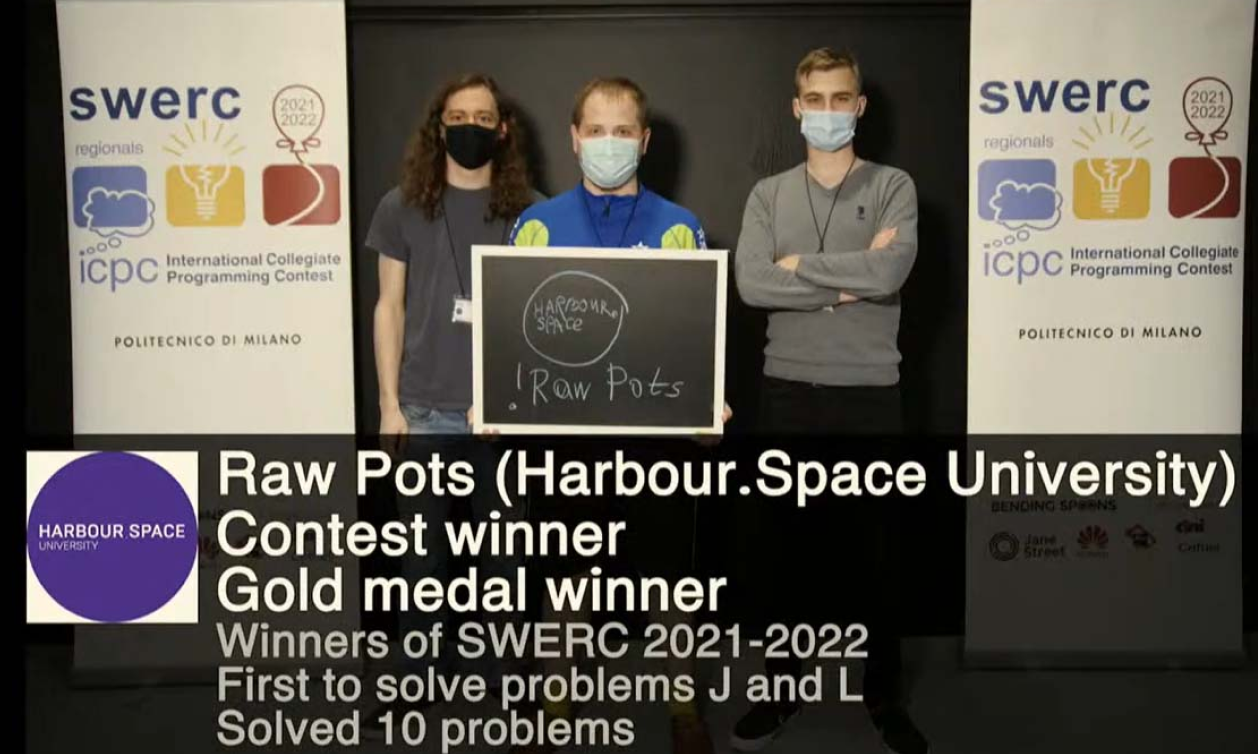 Harbour.Space students and SWERC winners: Marco Meijer, Danil Zashikhin and Maksym Oboznyi
As Svetlana Velikanova, Harbour.Space's co-founder and CEO, states: "It is the first time that Harbour.Space becomes SWERC's champion, and also the first time that we win a gold and a silver medal at the same contest. It's a dream come true. [We achieved this] through lots of hard work, teamwork, and a clever selection of young talent. We are now at the center of IT education. Harbour.Space has come to stay and excel."
SWERC, the Southwestern Europe Regional Contest, is one of the most important programming competitions in Europe. It's a 5-hour long contest where teams, made up of 3 students, solve algorithmic problems and do practical coding. This year, it was organized by the Politecnico di Milano and the two winning teams automatically advance to the ICPC World Finals to compete against the top squads from all over the world. Last year more than 50,000 of the brightest minds in computer disciplines attended that competition. This year, after coming first in SWERC, Harbour.Space's RAW POTS will be battling against squads from all over the world at the end of the year!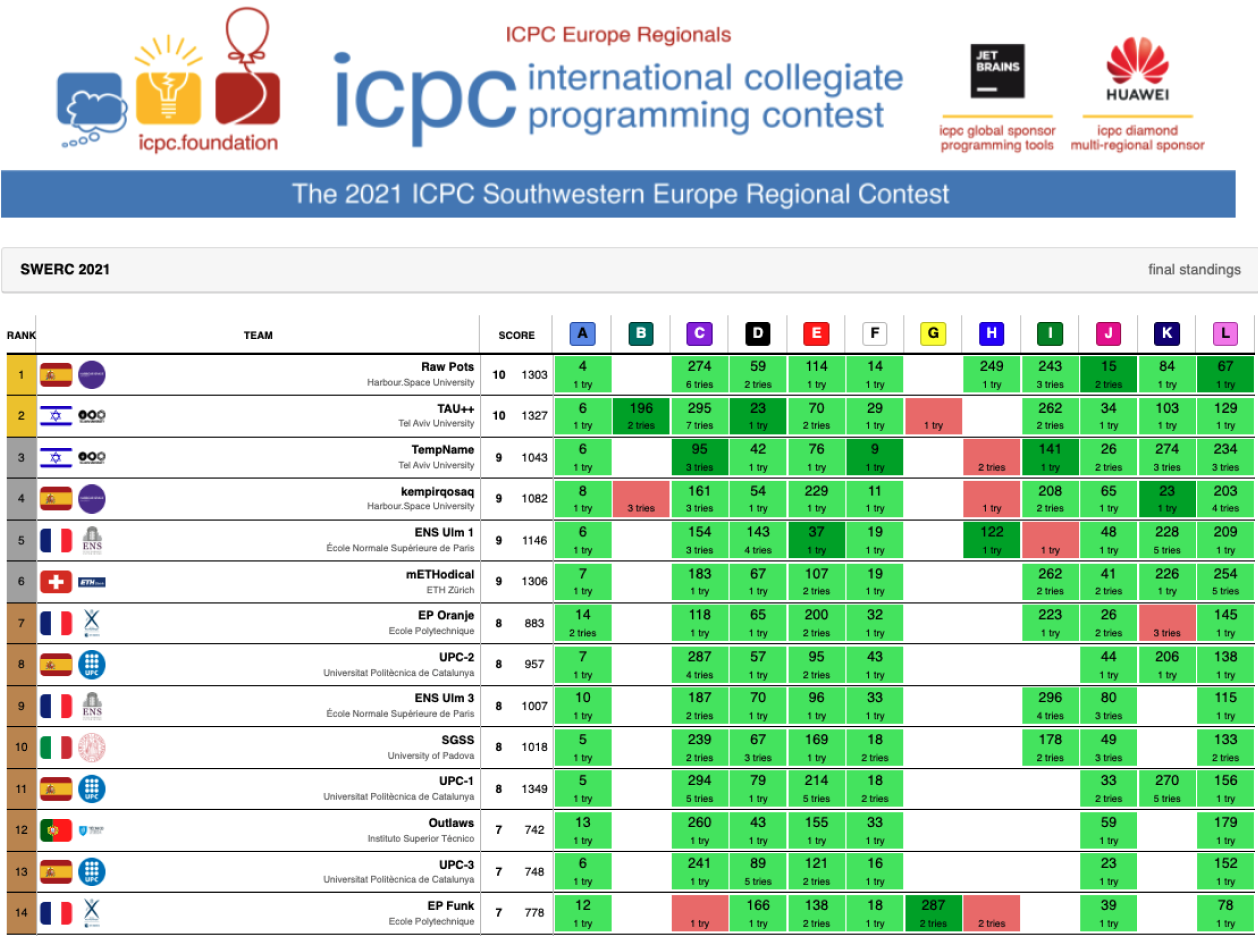 Our other teams also had great results in the competition (the full ranking is available here):
Team Kempirqosaq, represented by Temirlan Baibolov, Dinmukhamed Tursynbay, and Amanbol Kanatuly, ranked 4th and won a silver medal. 
Team Harbour.Backspace, represented by Anier Velasco, Fadi Younes, and Ekaterina Podruzhko, ranked 27th.
Yahor Dubovik, the team's ICPC coach is ecstatic by the results and also surprised by the outcome: "I expected pretty good results, but not so good because we knew that there were other strong teams out there. And until they announced the result of Tel-Aviv University's submission we were sure that we had second place. So, when the results came out, we were very happy and excited."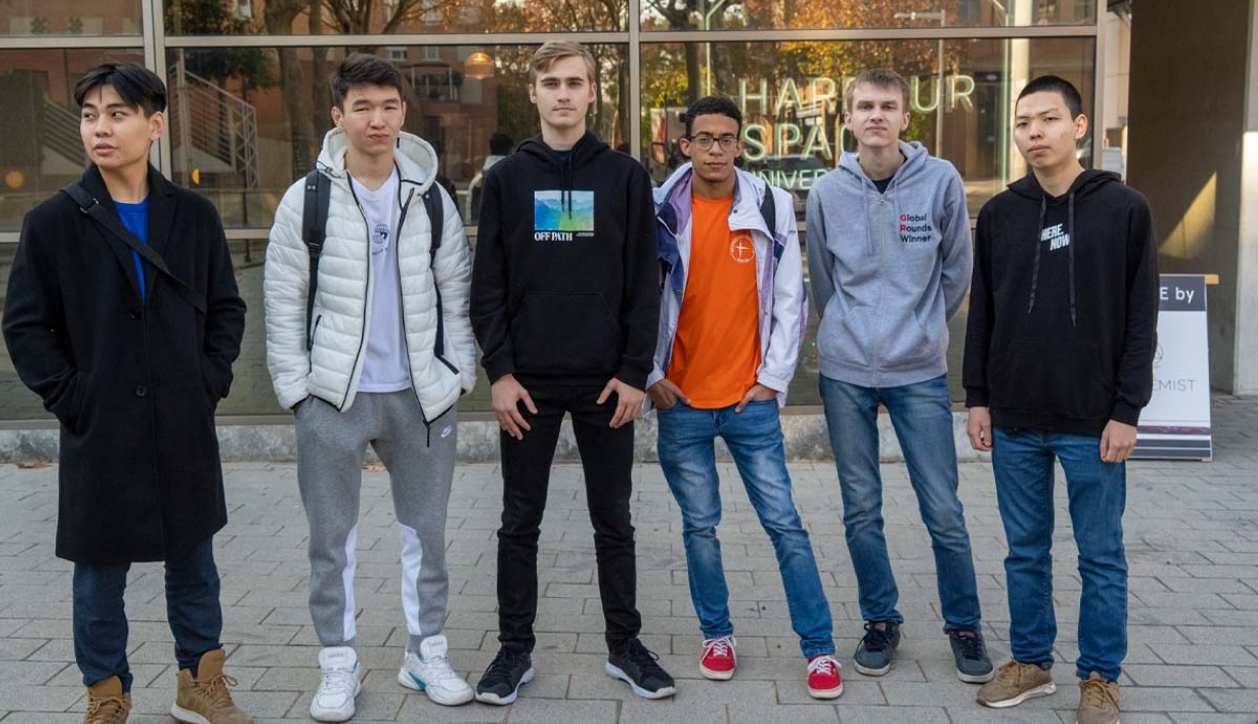 Dinmukhamed, Amanbol, Maksym, Anier, Yahor and Temirlan
The faculty, current students, alumni, and everyone involved with Harbour.Space would like to congratulate the winners and participants at SWERC 2021-2022 for their wonderful performance and hard work.
A total of 97 teams from more than 40 different universities across the region (France, Switzerland, Spain, Italy, Portugal, and Israel) participated in this year's contest. With such stiff competition, Harbour.Space is ecstatic to have brought home the gold and become the first Spanish university to win SWERC since 2015 and only the fourth to have ever won it all.
Congratulations to all of our participants and winners!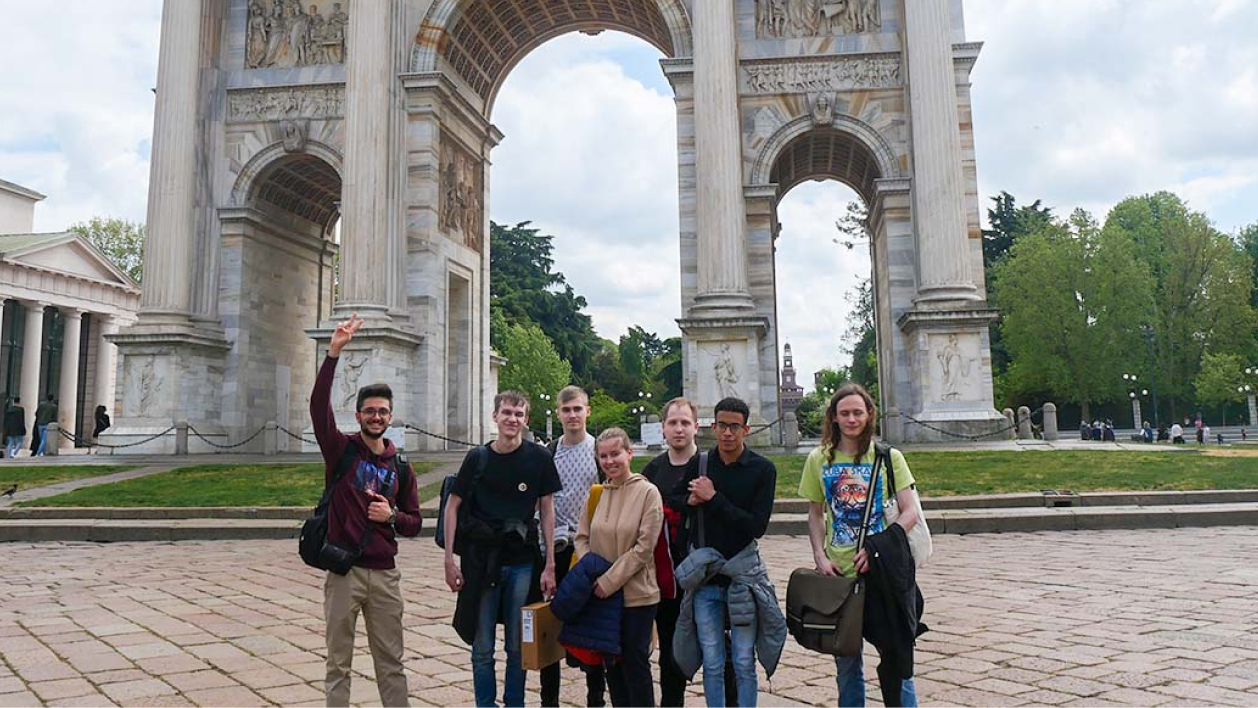 Harbour.Space SWERC participants: Fadi, Yahor, Maksym, Ekaterina, Danil, Anier and Marco
----
If you are interested in our Computer Science or Data Science programmes, take a look at our website to see which one might help your professional development. If you have any inquiries or thoughts, you can write to us at hello@harbour.space. 
Learn more about Harbour.Space checking out these blogs: