6 Marketing Trends to Follow in 2020
2020, a new year full of advancing trends. In the marketing world, powerful visuals and personalization strategies are being executed using tech and it's all the buzz! There is a flux of new technology so it's no surprise powerful marketing trends are starting to take notice. ​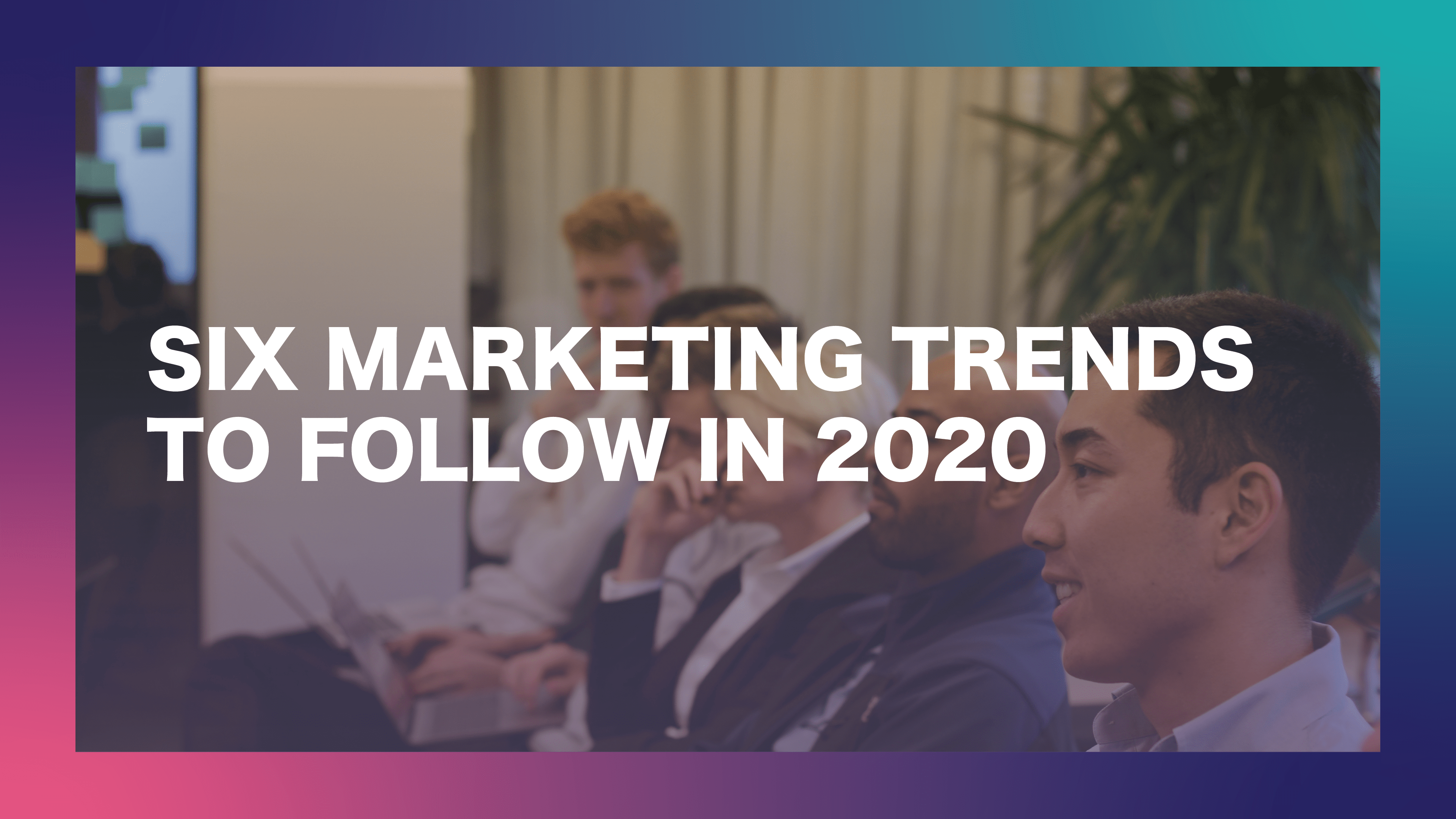 These six trends establish real results and engage digital consumers with brands. 
Here's how and WHY marketing teams are adopting these trends to elevate their companies in 2020:  
1. Visuals are the new text
A popular way to present information and create attention is through visualization. A presentation through visuals, like pictures and graphics, is easier on the cognitive process by 20 percent, in contrast to the same information presented by heavy text, according to Strunk Media Group. This is creating less work for the consumer to understand and retain the information given. 
Another visualization tactic to tie in emotion is video content. According to Dreamgrow, short videos get more than 40 percent engagement on social platforms and 83 percent of businesses claim videos provide good ROI. 
Consumers are always in a hurry and on the move. So remember, a picture is worth a thousand words and video content will create impact a company needs to be memorable. 
Another helpful tip: If the presentation is data overload, not to worry! Reduce the stress of information by engaging the audience using a bar chart race. Learn how to make a bar chart race with our step by step tutorial. 
2. Personalization makes consumers feel special
Being digitally social is like a game of dodgeball. As consumers, we are hounded with email spam and irrelevant products through advertisements, and spend our time trying to dodge, duck, dip and dive pointless products. So let's get personal in 2020 to stand out! 
Personalization is important. It gains 75 percent of consumers' attention as they prefer to buy a product through a company that knows their name and recommends other products based on purchase history, according to Vibetrace. 
The key to personalization is to be compelling, not pushy. Think of the mantra - right audience, right channel, right time. So embrace social media, pursue feedback and market people, not numbers. The goal is personalization, not creating content for mass appeal.
Use marketing efforts such as geographic location, interest groups, and purchase history to grab the customer's attention in the best way. But how to define these efforts that best fits? Number three on our list will be the number one go-to for 2020. 
3. Artificial Intelligence will see the future
Having customers look for products is sooooo 2019. Be on the frontend and know what consumers want, before they even know what they want. How? Artificial intelligence. AI solutions such as Emarsys will provide deeper information helping articulate a perfect persona(s) for brands. This will help companies know what the persona does, thinks, and feels in real-time. So real talk...AI modifies messaging to reach the greatest brand effectiveness. Keep an eye out for this soon - there's a lot more to come!
4. Shoppable Posts will take over ecommerce
eMarketers, listen up. All social lovers jump for joy when they come across an efficient page on Instagram. Meaning, updated URL in bio, simple posts with digestible captions and posts that are shoppable. If the eCommerce company is using social, there is no rhyme or reason for not using shoppable posts. 
With an Instagram business profile, it's simple to set up and add tags to the products. If in 2020 the audience is generation Z, 73 percent say Instagram is the best way to reach them for new products and promotions, according to Hootsuite. Since 75.3 percent of businesses will use Instagram in 2020, then stand out by making stoppable posts a priority in your 2020 marketing strategy. This is a direct line to brands and company revenue.
5. Search Engine Results Page Position Zero
Today, search engines have broadened past typing what we want to know. Now we have the opportunity to use voice assistants, like Google Home and Alexa. To reflect that, search engines have expanded how they deliver results - SERP Position Zero.
Position zero is the featured block at the top of the Google results page. Position zero helps the consumer get quick and fast results based on SERP. The information within the featured block includes the summary from a webpage and the URL, according to the Learning Center. 
Optimizing content for position zero means staying competitive. Also, delivering the best answers to the customer first. 
6. Google Ads Smart Bidding for brand engagement
Library? Don't know her. Google is the future and number one go-to for information. "Just Google It" has made way into human vocabulary like Google Ads made its way into a marketing strategy to gain momentum for brand engagement. 
Smart bidding is in the subgroup for automated bid strategies. First, an automated bid strategy is "a machine learning to optimize for conversions, a feature known as "auction-time bidding,"" according to Google Ads Help. Yet, smart bidding saves the company time and boosts ROI. Smart bidding has four main benefits: advanced machine learning, a wide range of contextual signals, flexible performance controls, and transparent performance reporting, according to Google Ads Help.
So, to help meet those end-of-the-year goals - utilize the customization and target performance settings smart bidding has to offer. 
Conclusion 
Consumers want content, companies want revenue, and marketers want engagement - and they want it fast. This commonality is within each trend linking together to create this goal. 
As consumers are filtering through information, it's a marketer's responsibility to be in that funnel of content engagement. So as we enter 2020, use technology and take control of the digital world. Approach the new year with a fresh strategy using these trends to take a business to the next level.
Harbour.Space's digital marketing program is taught by remarkable leaders in the industry. Take a look at our website to learn about our marketeers and fine-tuned program! Also, get in touch with us at hello@harbour.space to let us know your thoughts!