Living in Barcelona: the City That Has It All for Master's Students
Discover how Barcelona's vibrant culture, affordable living, and global networking opportunities can shape your future career.
October 31, 2023   ·   15 min read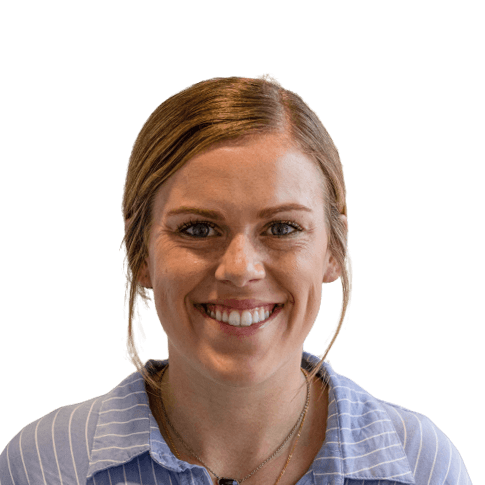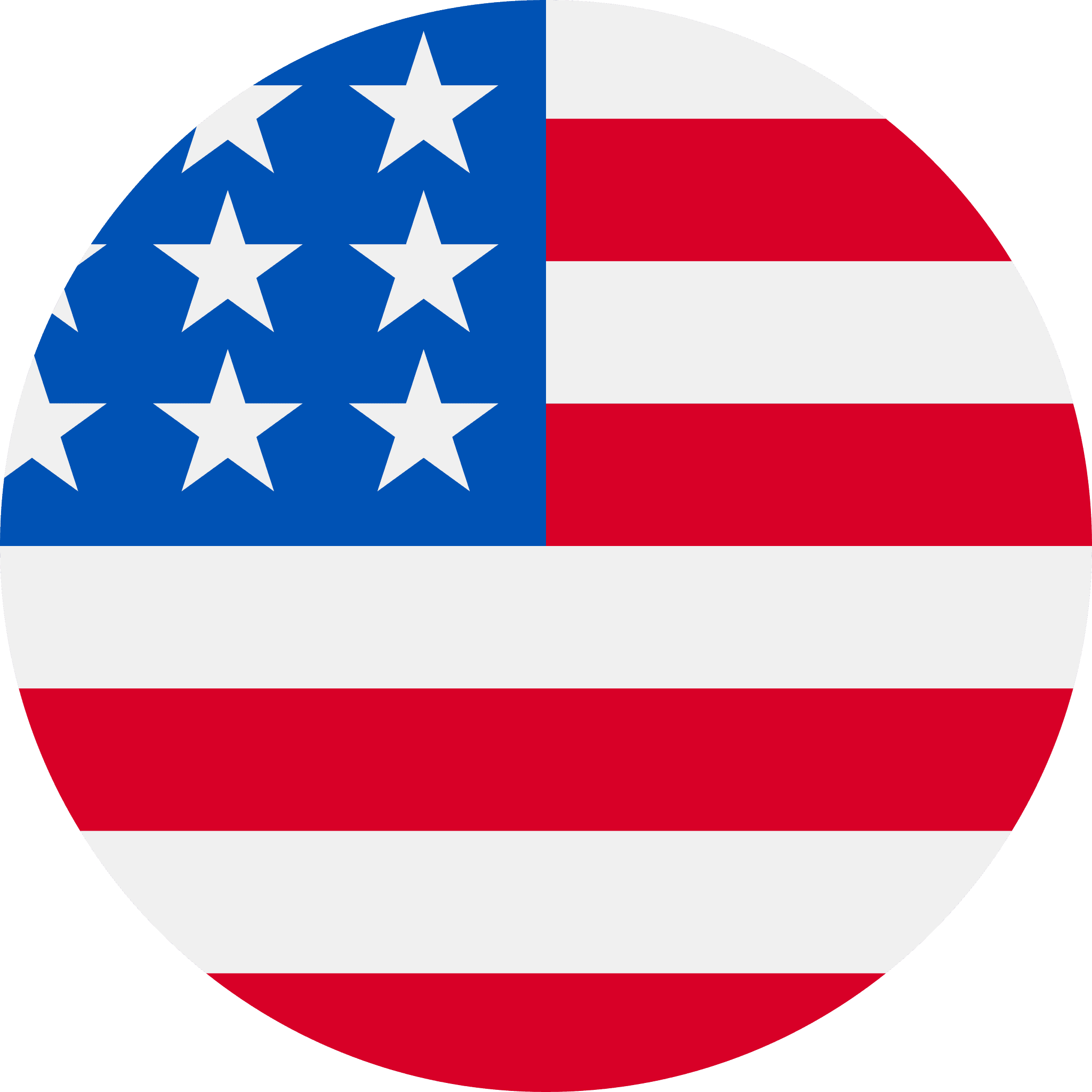 Annie Frische
Copywriter at Harbour.Space University
Discover how Barcelona's vibrant culture, affordable living, and global networking opportunities can shape your future career.
October 31, 2023   ·   15 min read
Are you a young professional seeking to switch careers or gain more leverage in your desired field? Barcelona, Spain, is known for its vibrant culture and thriving career opportunities making it a popular study destination and the key to unlocking your potential.
In this article, we give you all the knowledge and understanding you need to feel excited to call Barcelona your home, maximize your experience, and give you the confidence to embark on a transformative journey that will shape your future career.
We cover everything you need to know, from the culture, cost of living, weather, and language to transportation methods, safety and the job market, and career opportunities.
Barcelona eagerly awaits you, ready to offer endless possibilities and open doors to new horizons. Let's get into it!
Vibrant Catalan Culture & History
We can't write an article about living in Barcelona without starting with its spirited culture. Barcelona has a rich and fascinating culture and is home to many unique Catalan traditions, such as the Castellers (human towers), La Mercè (the city's patron saint festival), and neighborhood festivals. These traditions are a great way to learn about Catalan culture and history and offer a unique and unforgettable experience.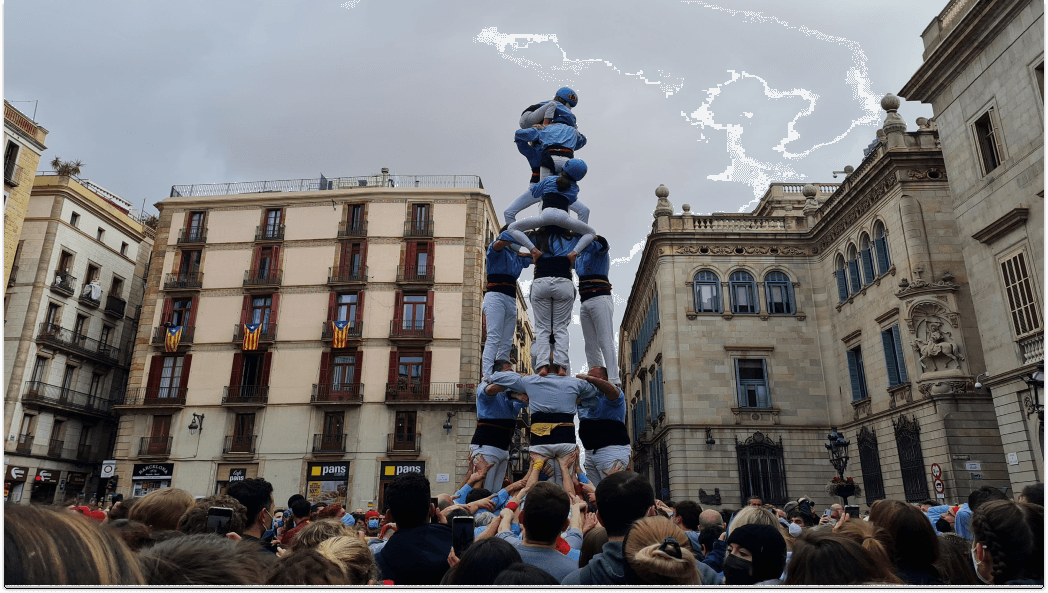 In addition to its traditional culture, Barcelona is a major center for food, art, and music. The city is home to a number of Michelin-starred restaurants, world-renowned museums, and a vibrant music scene. It's also a major hub for tech conferences and startups (more on this later). If you're interested in these areas, you will find the city an exciting place to live.
Lastly, Barcelona is a city with a history that spans over 2,000 years. The Romans founded the city in the 1st century BC, and it has been ruled by many different cultures over the centuries, including the Visigoths, the Moors, and the French.
This rich history is evident in the city's architecture, which includes a mix of Roman, Gothic, and Catalan styles. It's evident when walking the narrow streets of the Gothic Quarter or gazing up at the Sagrada Familia (a UNESCO World Heritage Site), considered to be one of the most important works of Catalan Modernism.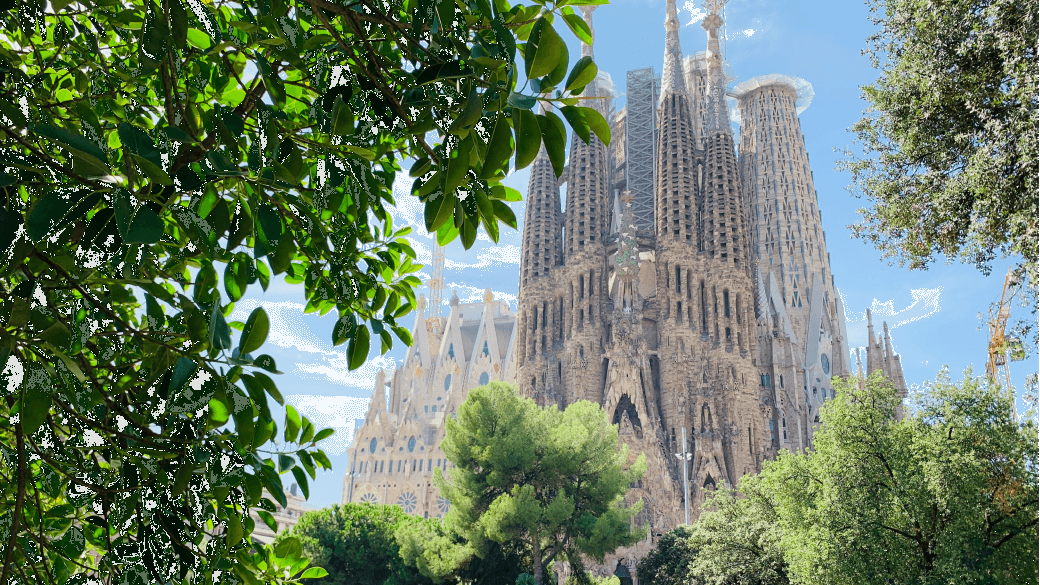 The Barcelona Lifestyle
The Barcelona lifestyle is a great example of the Spanish way of life. It is a relaxed, laid-back lifestyle emphasizing community, family, and friends. If you are looking for a city where you can slow down and enjoy the simple things in life, then living in Barcelona is the perfect place.
When not working, locals enjoy time at the beach, socializing at a local café, having a long lunch, or in a Plaça (Catalan for plazas) with family and friends. Plaças are public squares that are found all over Barcelona. They're a great place to relax, people-watch, or picnic - and a popular spot for street performers and musicians.
The city has a strong sense of community, and people are generally friendly and welcoming. There is a strong emphasis on work-life balance, and the people are known for long lunches and a love of siestas.
Siestas are traditional afternoon naps that are very common in Spain. It's a way for locals to refresh and recharge during the day's hottest hours. So don't be surprised when local shops are closed from 2 p.m. to 4-5 p.m. (sometimes even later for restaurants).
To adapt to this, consider scheduling your activities accordingly, allowing for a break in the afternoon. If you're pressed to go somewhere, don't always rely on Google Maps for the times. It's always better to call beforehand to ensure they're open.
Late dining hours are also a cultural norm in Barcelona, with many locals enjoying dinner around 9 p.m. or even later. This norm is also why many sit-down restaurants open at 8- 8:30 p.m. But the night doesn't always end at dinner. Barcelona also has a lively nightlife scene known for its diversity and energy. There is something for everyone in the city, from trendy clubs to laid-back bars.
Plan your day and weekends accordingly to fully embrace this leisurely pace, with a lighter lunch or snacks to energize you until dinnertime. By adopting siestas and late dining hours, you'll have a more authentic and enjoyable experience while living in Barcelona.
Affordable Cost of Living in Barcelona
We understand that moving comes with a high price tag. But know that Barcelona offers a more affordable living cost than major American cities.
While cities like New York, San Francisco, and Los Angeles are notorious for their high rent expenses, the cost of living in Barcelona provides a more reasonable and budget-friendly option, allowing you to experience a comfortable lifestyle without breaking the bank.
So let's review all the major expenses:
Housing in Barcelona
Here's the breakdown of the *cost of a one-bedroom apartment in Barcelona vs. New York, Boston, Chicago, Austin and Los Angeles.
One bedroom apartment
| | | | | | |
| --- | --- | --- | --- | --- | --- |
| Barcelona | New York | Boston | Chicago | Austin | Los Angeles |
| €850 - €1,300 per month | $2,800 - $3,500 per month | $2,400 - $3,000 per month | $1,800 - $2,200 per month | $1,400 - $1,800 per month | $2,200 - $2,800 per month |
*Please note that the costs mentioned above are approximate and can vary depending on the specific neighborhood, amenities, and the current rental market.
Additionally, the currency used for Barcelona is Euros (€), while the currency used for the American cities is the US Dollar ($). The data is based on average rental prices as of the time of the response and may be subject to change over time.
However, renting a room in the city is common amongst students and, typically, an even cheaper option. The average cost of a room is anywhere from €350-600. The final cost depends on the neighborhood, amenities in the building and the apartment, and the size.
Note that the limitation of apartments cuts short around September due to the wave of students arriving. So, your best chance of finding a good deal is planning ahead. Even if you want to live alone, renting a room for the first two weeks you're here until you find something is a great option!
Monthly Bill Cost for Students
The bills in Barcelona favor students when it comes to Wi-Fi. When you present your acceptance letter, you can cut a deal for €30/per household with unlimited bandwidth (depending on the company).
Bills for your flat can vary from €80-150/per apartment. However, you can find housing with bills included in the price, making things easier.
Cost of Groceries in Barcelona
Plenty of grocery options in Barcelona will help you save costs while eating fresh food. Those include Condis, Lidl, and Mercadona. Other, fancier markets, such as Carrefour, have a larger selection, especially for Western produce, but come with a higher price tag.
Another option is the local farmers' markets. They are well known among tourists and popular among locals for their fresh selection.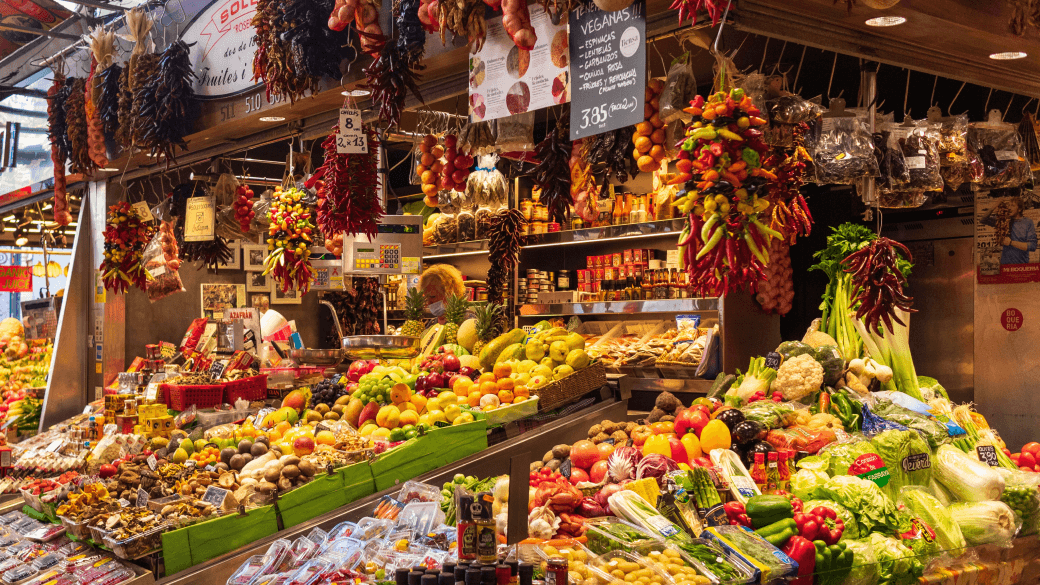 On average, you will spend anywhere from €150-220/per month on groceries.
Extra Spendings Monthly in Barcelona
Activities in Barcelona are reasonable but can be the biggest unknown. Here is a list of typical activity prices:
A cup of coffee: €3
A glass of beer: €2.50-5
Cinema ticket: €6.50-12
Museum ticket (free first Sunday of the month): €5-30
Monthly gym pass: €30-80
Club entry (usually free before 2 am): €12-20 (includes a drink)
Again, the amount of money you spend depends on your lifestyle, but adding everything up, we calculate the average student's monthly costs in Barcelona as €940.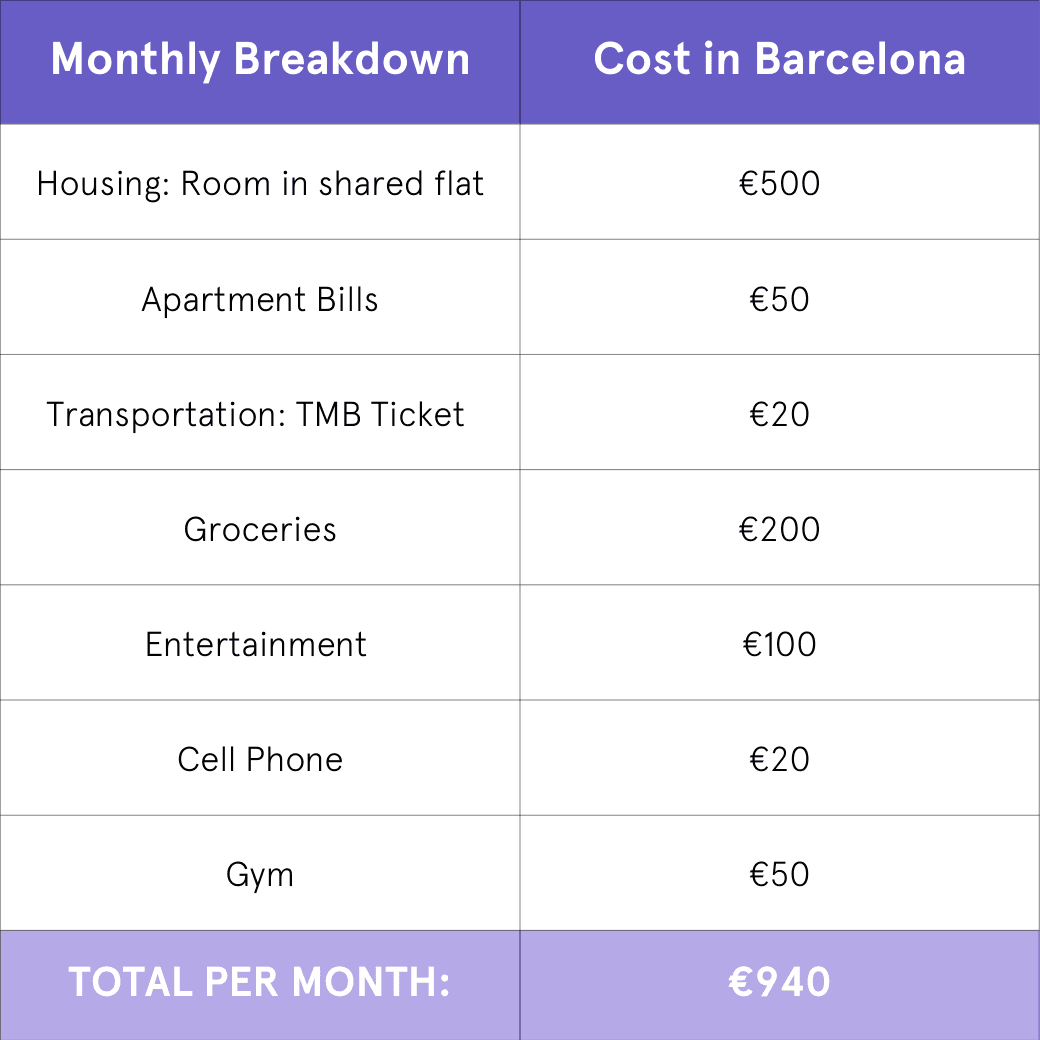 In summary, Barcelona's affordable cost of living presents an attractive alternative for those seeking a more economical lifestyle compared to major American cities.
Transportation Methods
Getting around in Barcelona and the metropolitan area is effortless, thanks to the many public transportation options, making your commute a breeze. This includes the metro, trams, buses, and even suburban trains, all prioritizing clean energy.
To ensure an eco-friendly experience, Barcelona also includes a public bike option, Bicing, with over 200km (124 miles) of bike lanes and 400 stations distributed all over the city, making this option one of the most popular.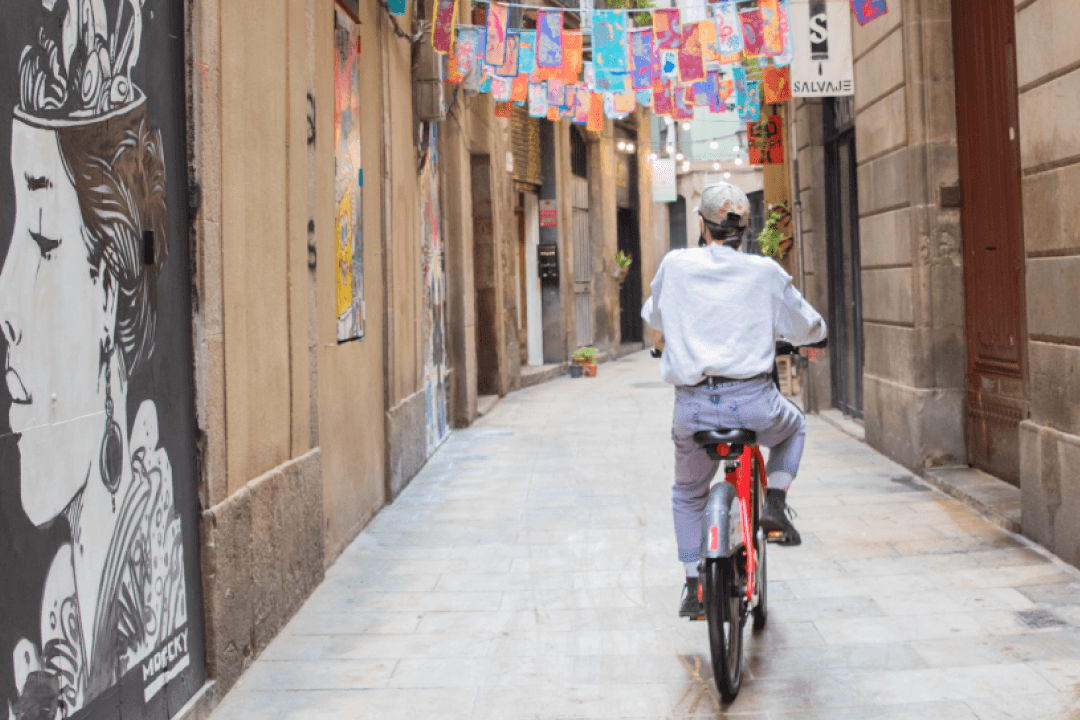 However, you must have an NIE (Foreigner Identification Number, which you get with your student visa) to get a subscription. If you want to explore other options, you can enjoy private regulated bikes like Donkey Republic, easily accessible through an app.
Lastly, you can rent scooters parked on the street with an app. The good side, these scooters are easily attainable and will get you anywhere quickly. The downfall is they're only available to those with an EU or international driver's license.
Below is the cost breakdown of all popular transportation methods in Barcelona:
TMB Ticket - This covers the Metro, Tram and Bus for one zone (10-journey pass): €11.35
Bicing - Annual Bicing subscription: €50 or €35 (depending on the plan)
Walking: FREE
Taxi: €2.30 is the starting cost, but can vary depending on the time of day, the day of the week, and if an important holiday or going to the airport (which starts at €4.30).
Depending on your length of stay, you can also choose to invest in your own scooter or bike. Just be mindful of investing in proper locks to prevent theft.
Mediterranean Weather & Climate
Barcelona has a Mediterranean climate with hot, dry summers and mild, wet winters. The average temperature in Barcelona is 21°C (70°F), and the warmest month is August, with an average temperature of 28°C (82°F). The coldest month is January, with an average temperature of 12°C (54°F).
The weather in Barcelona is also very sunny, with an average of 255 days of sunshine per year. This means that you'll be able to enjoy the outdoors year-round, even in the winter.
Take a look here at all the outdoor activities the city has to offer.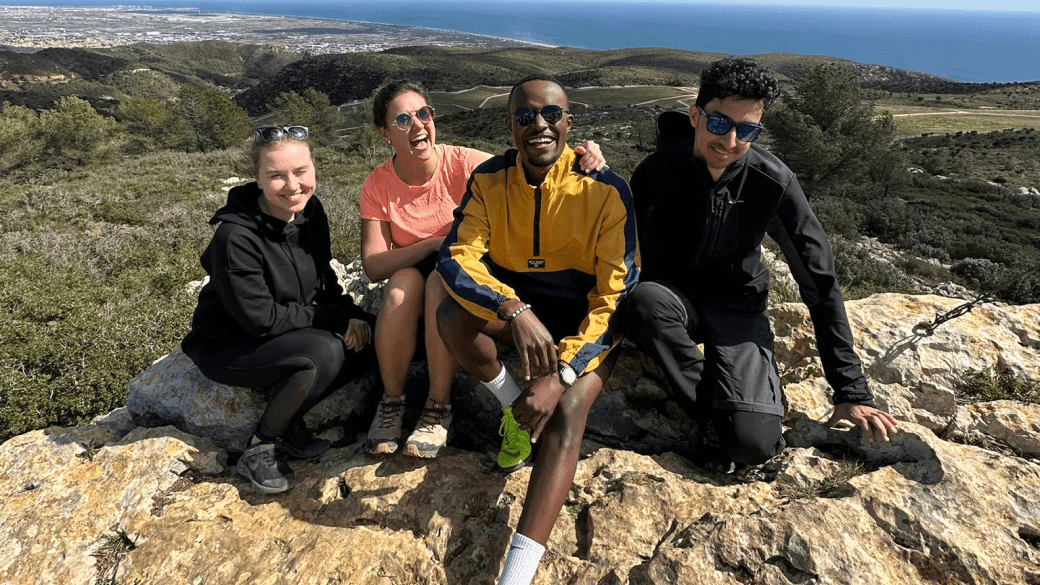 Of course, there are some downsides to the Barcelona weather. It can rain occasionally, especially in the fall and winter. And the humidity can be high, which can make it feel muggy. But overall, the weather in Barcelona is very pleasant, and it's one of the reasons why so many people love living here.
Additionally, here are some more details about the Barcelona weather and climate that might be interesting for you:
The average humidity in Barcelona is around 70%. This means it can sometimes feel muggy, especially in the summer.
The windiest month in Barcelona is March, with an average wind speed of 15 km/h (9 mph).
The snowiest month in Barcelona is February, with an average of 1 day (if that!).
Language Spoken in Barcelona
Barcelona is home to a large international community where you can overhear up to 300 languages spoken in the streets. But the two official languages in Barcelona are Spanish and Catalan.
For a bit of background, Catalan is a Romance language derived from Latin and shares similarities with Spanish, French, and Italian. It is spoken by the majority of the population in Catalonia and is considered the region's official language.
Catalan holds significant cultural and historical importance to the people of Barcelona and is a symbol of regional identity. While Catalan and Spanish are both widely spoken in Barcelona, it is important to note that they are distinct languages with their own grammatical structures, vocabulary, and pronunciation.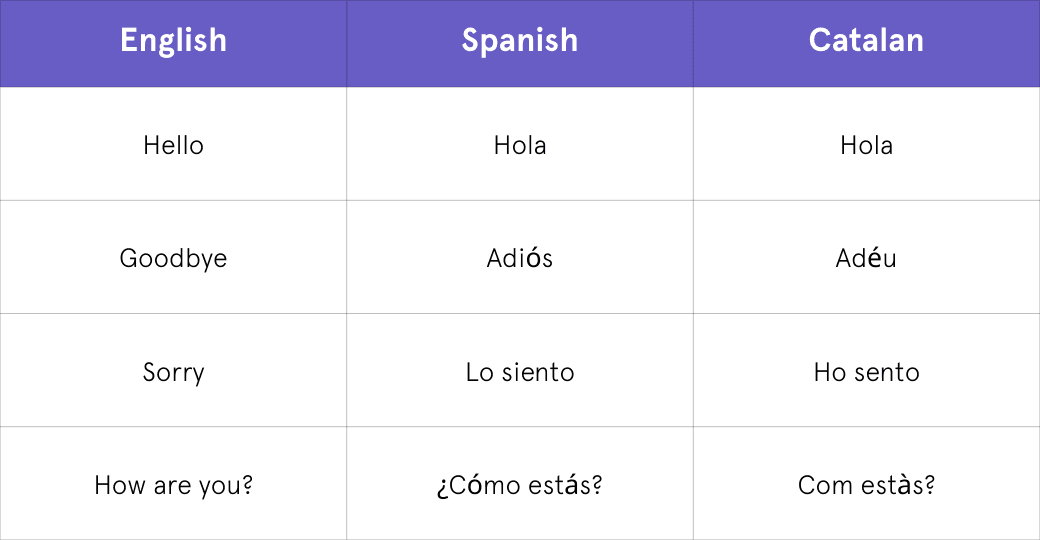 Many residents of Barcelona are bilingual and fluidly switch between Catalan and Spanish depending on the context. The coexistence of these two languages reflects the multicultural and diverse nature of the city.
However, a considerable part of Barcelona's population includes immigrants or descendants of immigrants from other parts of Spain who speak Spanish as their mother tongue and main language. So, if you speak Spanish, you can communicate with locals as soon as you arrive.
If you don't speak Spanish, don't worry. Barcelona welcomes 8.5 million visitors yearly, so locals and government officials are used to speaking with people who don't speak the language. However, meeting them halfway by coming a little prepared is a huge plus. The locals are patient and always appreciate your effort to speak their language.
If you want to take advantage of your time here to improve your Spanish, we have provided a list of five language schools in Barcelona (all recommended by our students!).
Barcelona's Healthcare
Barcelona has a universal healthcare system, meaning all city residents have access to healthcare, regardless of income or employment status. They also have private health insurance available for those who want to have more choices of doctors and hospitals.
This option is affordable, generally starting at €37.35/month for students, and provides coverage for medical expenses, hospital stays, prescription medications, and emergency services.
Know that if you're moving to Barcelona on a student visa, you must obtain private health insurance for the full coverage of your stay.
Safety and Security
Barcelona is generally a safe city with only two issues to be mindful of: sunburns and pickpocketing. Here are a few general safety precautions to help protect yourself and your belongings.
First, to avoid sunburns, always apply sunscreen and carry it in your bag to reapply. Even on cloudy days, those are the times it will sneak up on you the most. You can easily find sunscreen in any pharmacy on every street corner.
The second thing to be mindful of is pickpocketing. This is the most common issue in the city, generally occurring in tourist areas, crowded group settings (festivals, clubs, neighborhood parties, etc), and especially the beach. However, pickpocketing is avoidable when you take the right precautions.
For one, never leave your bags or items unattended. So, if you're alone at the beach or café, kindly ask a neighbor to watch your things. It's also a good idea to keep your bag in front of you when taking public transport or walking in tourist areas to avoid any trouble.
Additionally, familiarize yourself with emergency contact numbers, including the general emergency line (112) and the tourist police (088). By staying alert and taking necessary precautions, you can enjoy your time in Barcelona while ensuring your safety and peace of mind.
Global Networking and Career Opportunities
Studying in Barcelona, Spain offers many advantages if you want to expand your global network and access exciting career opportunities.
As a bustling international business hub, Barcelona attracts companies and professionals worldwide. This cosmopolitan environment enriches the academic experience and opens doors to a vast network of industry experts and potential employers.
The city's strategic location at the crossroads of Europe and the Mediterranean makes it an ideal gateway for international trade and commerce. Barcelona has a business-friendly environment that attracts multinational corporations and fosters innovation and collaboration.
The city also has a thriving start-up and entrepreneurial ecosystem that young entrepreneurs worldwide tap into.
As a student in Barcelona, you'll have the opportunity to attend conferences, workshops, and networking events where you can interact with professionals from various industries and gain valuable insights into the global market.
You'll also be able to connect with individuals from diverse cultural backgrounds and gain exposure to different business practices. Additionally, you can acquire valuable entrepreneurial skills and establish connections with mentors, investors, and fellow aspiring entrepreneurs.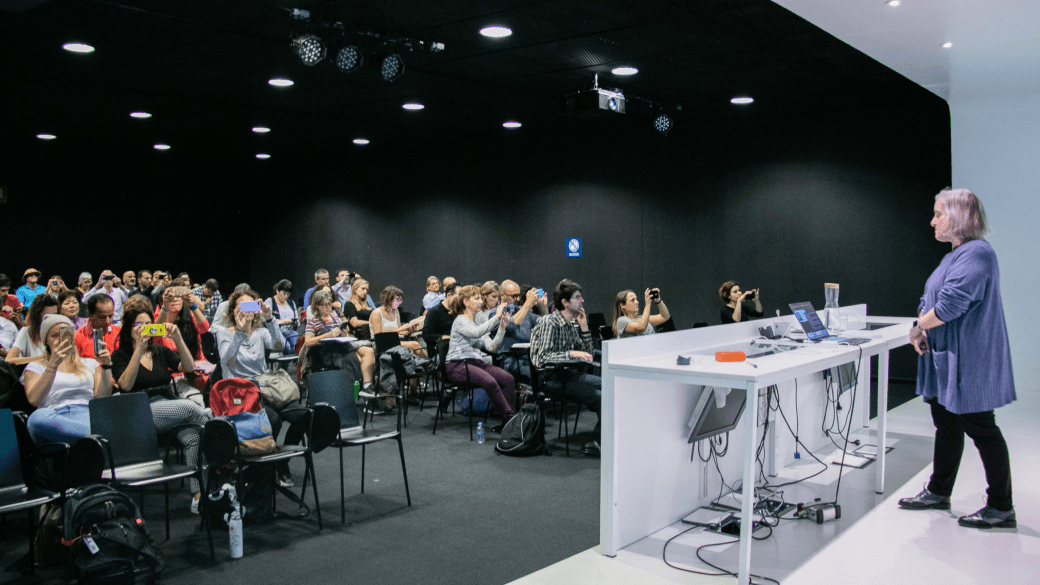 Finally, you can foster professional growth and global connectivity in a vibrant and enriching environment. That's why studying in Barcelona is a great option to expand your global network and access exciting career opportunities.
Conclusion: Why Barcelona Is Your Key to Unlocking Your Potential
Barcelona, a city woven with vibrant traditions, a laid-back lifestyle, and affordable living, awaits your arrival as a potential student for a promising future. From the captivating traditions and lively celebrations to the relaxed lifestyle that emphasizes community and balance, Barcelona offers an experience deeply rooted in its heritage and open to the possibilities of tomorrow.
The affordable cost of living further enhances this experience, presenting a more budget-friendly option than major American cities, allowing you to enjoy a comfortable lifestyle without financial strain. From housing to groceries and activities, the city caters to your budget while providing an enriching experience. The Mediterranean climate, marked by sunny days and mild winters, offers year-round outdoor exploration.
Navigating the city is a breeze, thanks to an extensive public transportation network and the option of eco-friendly modes like Bicing. And the Mediterranean climate, with its abundant sunshine and mild winters, complements outdoor exploration, fostering a year-round sense of well-being.
Moreover, Barcelona's multilingual atmosphere, where Spanish and Catalan coexist, provides a unique opportunity to immerse yourself in various linguistic and cultural perspectives. The city's welcoming nature extends to its healthcare system, ensuring access to medical services for all residents, including affordable private health insurance options.
Embracing global networking and career opportunities, studying in Barcelona opens doors to a thriving international business hub, an abundant ground for innovation and collaboration. Whether seeking industry connections, entrepreneurial insights, or a platform to expand your professional horizons, Barcelona's cosmopolitan environment paves the way for your growth.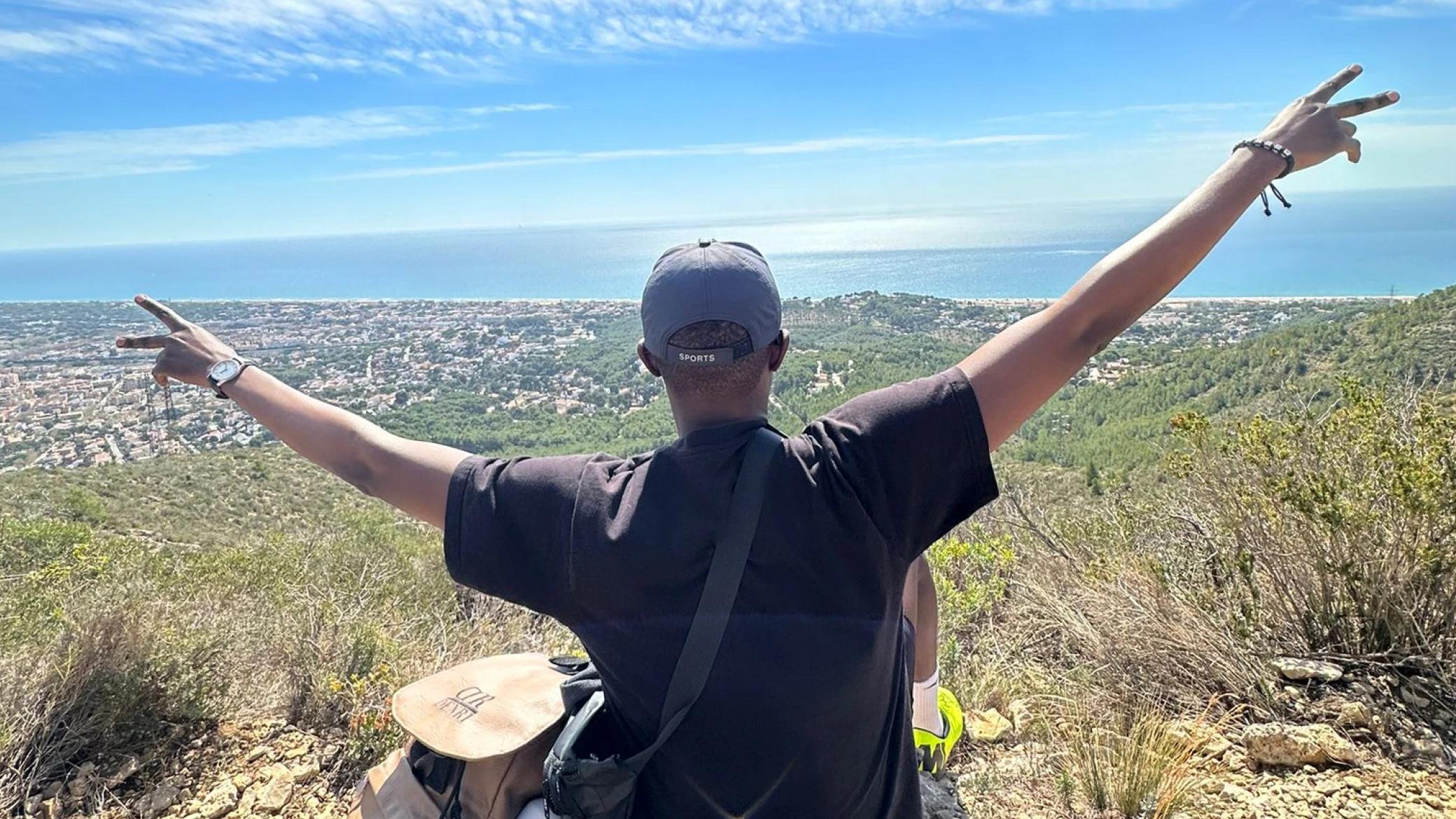 As you enter the Barcelona experience, remember that it's not just a city; it's an immersion into a lifestyle, a blend of traditions, and an embrace of growth. Your master's journey here will be a symphony of culture, affordability, and international connectivity.
So, seize this opportunity and let Barcelona be your canvas for academic and personal transformation. Your future in Barcelona awaits with open arms and a tapestry of experiences ready to be woven into your story.
---
Ready to make Barcelona your next stop on your transformative journey to shape your career? At Harbour.Space University, we offer 10 progressive Master's programs that accelerate your career. Master the most in-demand strategies, skills, and channels in one year learning from the top practitioners in Barcelona.
Don't let cost hinder you from pursuing your dream! We offer up to 50% Scholarship opportunities for highly qualified applicants. Apply now and ignite your career at Harbour.Space Barcelona.
And when you're officially ready, we also offer a complete blog for how to move to Barcelona. Click here and bookmark it for later!
Thanks for reading
If you're interested in further growth, take a look at our website to learn what your future could look like at Harbour.Space. Lastly, get in touch with us at hello@harbour.space to let us know your thoughts!
Share article:
Loading...