Creating Your Dream Job Has Never Been Easier
Imagine six-year-old you, not a worry in the world. Spending hours dreaming of life as an artist, politician, astronaut, or a ninja. If we were truly ambitious, we imagined ourselves being all four in our lifetime. It's funny to think about how there were no limitations to what we wanted to be. So, is anything really stopping you from creating the job of your dreams?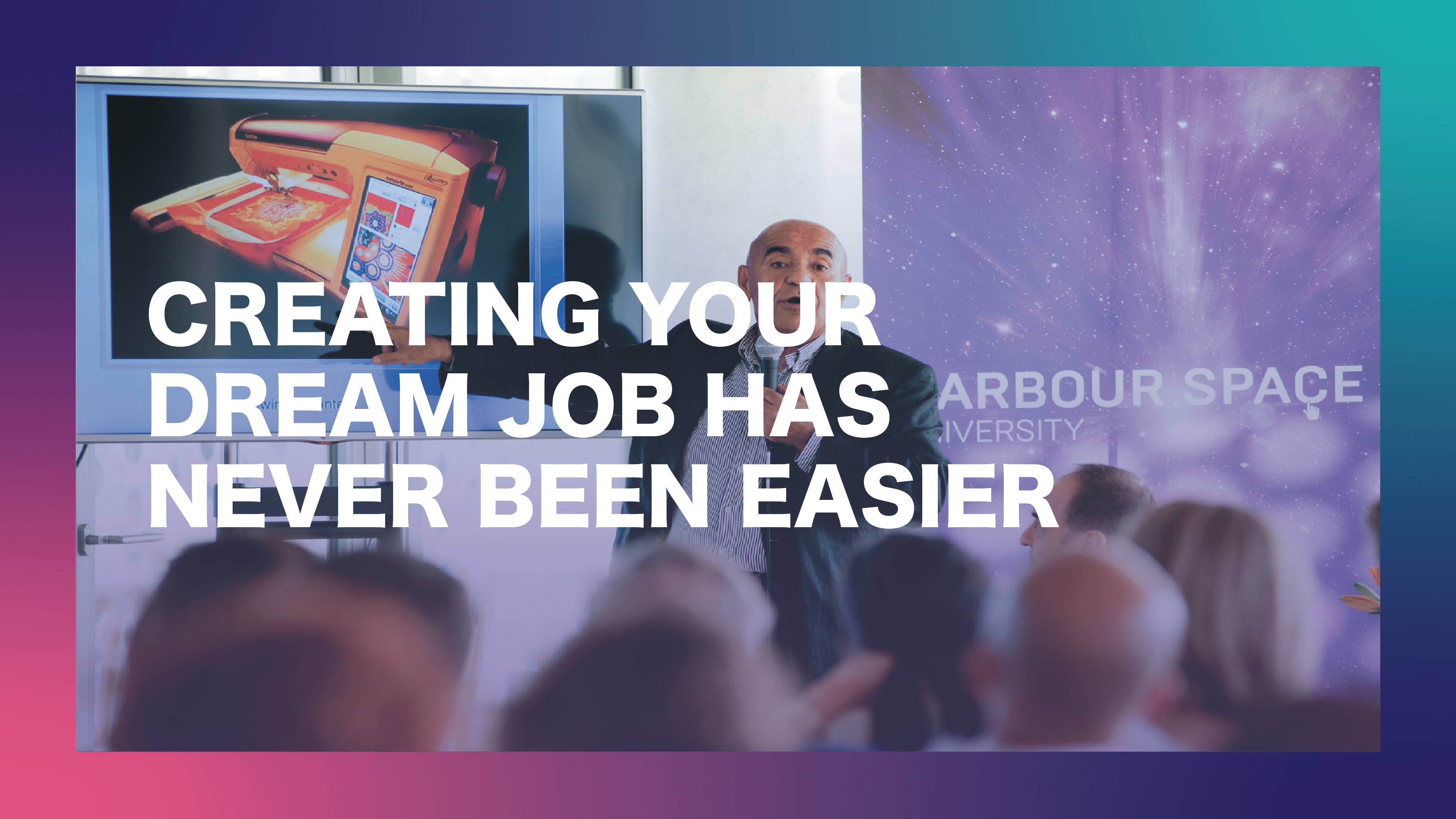 Our perspective of the future changed when we realized that jobs are more than just finding the right match for our passion - they're a necessity. We learned when acquiring a job, we could face the reality of inequality. We learned how job descriptions can be misleading. Also, we learned how having a 'fixed mindset' can leave us distraught and confused. 
As a young adult, we came to terms with the social convention involving employment. But as we were fixing to cross off the role of Karate Kid from our list of jobs, our generations started breaking down the barriers of traditional normalities. That's when we started building up a path for entrepreneurial success. This made room for the imagination we used to have as a child.
Now in a diversified generation, we see more traditional customs on the decline. We notice work situations being multi-layered with cross-pollination between different disciplines and fields coming together.
So how are these upcoming work normalities becoming echoed in our world?
Classic disciplines are getting integrated with technology and it's changing the game. For instance, a graphic designer's focus was only on the graphic elements of products. Now they rely on technology to create animations, websites, etc.
We also see the creation of new job titles as artificial intelligence and robotics revolutionize our productivity, efficiency, and convenience. Several years ago we never heard of a software developer - a computer programmer who creates computer software. Why? The computer was only featured in homes and businesses within the last twentieth century.
We now see software developers as a classic discipline. They will only evolve as technology advances.
According to smartasset, Todd Rhoad, managing director of Atlanta-based career consultancy BT Consulting states,
"As the level of complexity grows, so does the future for software engineering. Software engineers will continue their rollercoaster demand for the next 50 years."
The proliferation of digital technologies is continuing to gain momentum. We see it all the time on social media with low barrier entry jobs. People are making real income on the internet, from creating videos for Youtube, getting likes on Instagram, to becoming life coaches. As a bonus, these jobs will allow you to work remotely, giving you a flexible schedule.
Many people are breaking away from classic professions altogether. This transformation will empower us to adapt to the change and create our own dream job.
There are several resources within our reach to create something magical. Let's have a look.
How to Make Your Dream Come Alive:
Starting out as an entrepreneur can be overwhelming. From the general idea to the financial details. No need to take out a loan or beg parents for money. There are programs, Kickstarter for starters…to bring people's innovative projects to life. As a crowdfunding program, the creator will set a deadline and a goal for the public to invest. This is a great way to kick start the momentum of your business and raise awareness. All while gaining funding at the same time. 
Similar platforms are available for anyone to use. To name a few: Indiegogo, Fundly, and Patreon.
Networking
Networking is also an invaluable opportunity to build business connections. It has never been easier to reach potential clients or talent to join your team.
Take the idea of six degrees of separation for an extreme example. According to Live Science, six degrees of separation is the idea of how we connect to everyone through a five-link chain. This isn't a theory for business - it's a reality. Ask someone you know who landed a job they wanted. It's almost always because they knew someone who knew somebody. This is why it's important to use these connections to your advantage.
Social Media
Another way to connect is through social media. There are hundreds of platforms that make it easy to connect to like-minded individuals. Here are a few that are helpful for entrepreneurs. To start, LinkedIn is a platform for managing professional identity. You can connect to leading professionals, hire or get hired. Another more professional driven platform would be Eventbrite. This platform connects you to events and conferences within your industry.
If you are looking for people of the same interests, download Meetup. This platform will help you meet people and learn new things that support your passions.
For example, "a group of 250,000 women gather in Meetup groups around the world to sharpen their software development skills."
What's mentioned does not compare to the number of apps on the market. These applications provide you the opportunity to connect with people in your niche. Seek as many that fit your needs as an entrepreneur and start connecting!
Workspaces
Lastly, workspaces. A hurdle for businesses, but an exciting change for entrepreneurs.
Becoming an entrepreneur is picking and choosing what fits your best interests. How does your bed sound? A coffee shop where your barista attends to your caffeinated needs? A coworking space with other creators?
A coworking space is a low-cost commitment with a big impact. They provide the office-type environment without the feel of a typical desk job. They allow you to avoid isolation, be apart of a community, and cultivate connections. 
According to Robert Conrad, Co-Merge Workspace from Small Business Trends. He explains why coworking is the future:
One, technology enables it. With all that technology offers, beyond face-to-face interaction, there's no reason to have an office. It's much more effective to have people work wherever is most productive for them.
It's important you choose a place that boosts productivity. Create the perfect balance, because you C A N.
We have the most accessibility to our ever-changing technology. Why not be apart of this change and become a creator? Now is the time - become an entrepreneur, become a designer, or create a dream job yourself. 
According to Will King, King of Shave from The Guardian. He encouraged small business owners to, "embrace change and always keep being the best that you can be."
Inspired? Your future starts now. Explore our website to see how we can help your career be more fulfilling, exciting and meaningful. Also, get in touch with us at hello@harbour.space to let us know your thoughts!