EMAIL MARKETING 101: QUESTIONS AND ANSWERS FROM JESSICA BEST'S WEBINAR
This week, an audience of over 600 marketing enthusiasts joined Jessica Best in the second episode of our Space.Talk webinar series, where she addressed the Good, the Bad and the WOW of Email Marketing.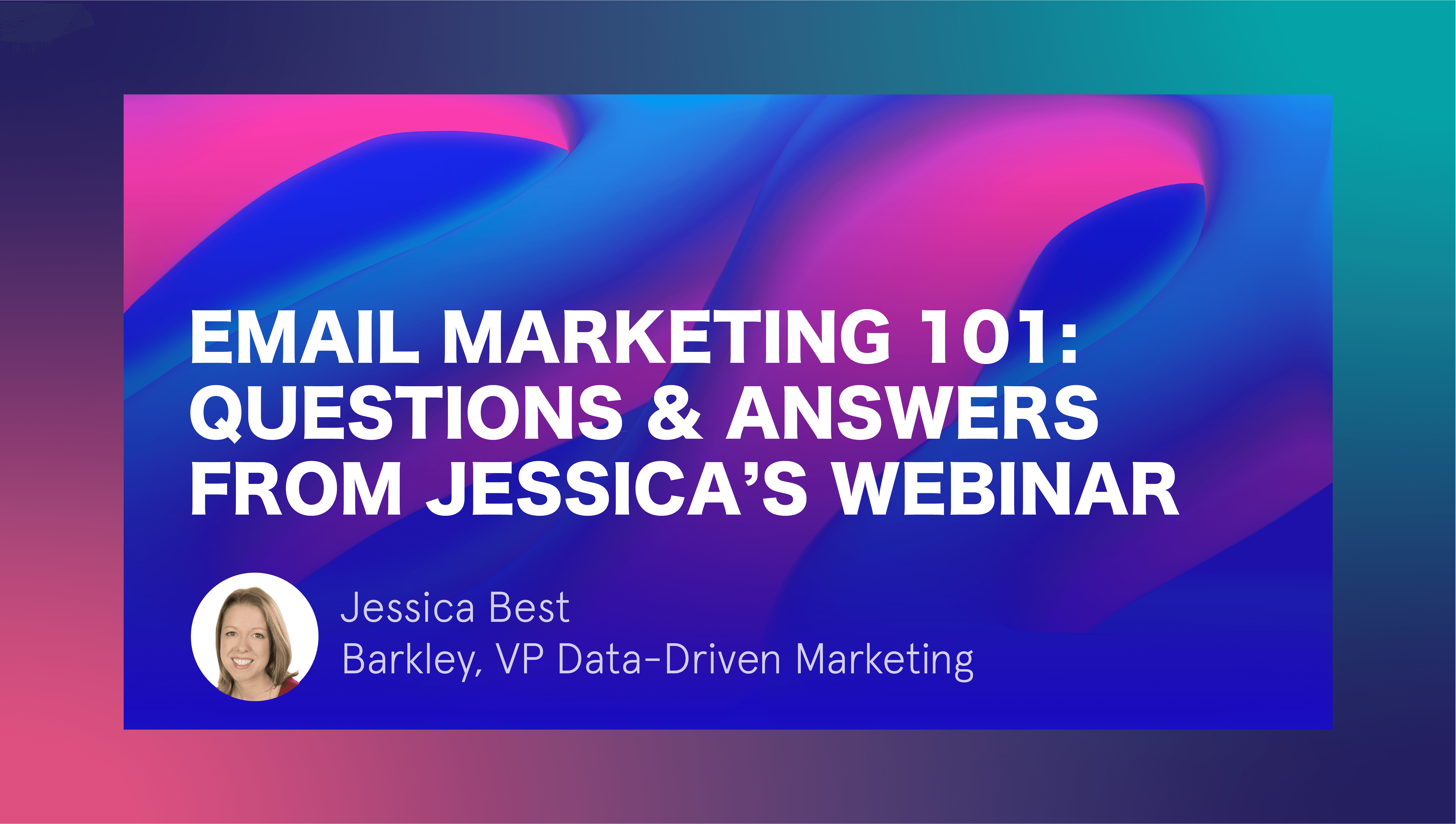 To start, Jessica is an email and data-driven marketing expert. She acts as a strategic consultant and subject matter expert for brands and businesses internationally. She's been quoted in numerous articles and trade publications, followed by many awards such as the top 50 Awesome Marketing Women to Follow, Direct Marketer of the Year, and one of DMNews magazine's 40 Direct Marketers Under 40. 
Jessica is also a part of Harbour.Space's Digital Marketing program as an all-star faculty member spreading her expertise for data-driven marketing.
Although we learned much-valued comprehensive knowledge during her Space.Talk, we want to leave you with two powerful takeaways that will help you build relationships with prospects, leads, current and past customers using email marketing. 
Email marketing is (STILL) so powerful.
Today, email marketing is just as important and relevant as it was initially, especially in today's quarantine world. Email marketing is a direct channel that uses data to automate fast, personalized and relevant information to your customer. 
In just one minute, there is an increasing amount of 22% of emails sent compared to mobile text messages and a 2% increase of search queries for the top search engine in the world, Google. 
We even know countries where mobile is more prevalent and more available than desktop computers, and email still wins at owning the identity for how to receive and sign up for messaging online.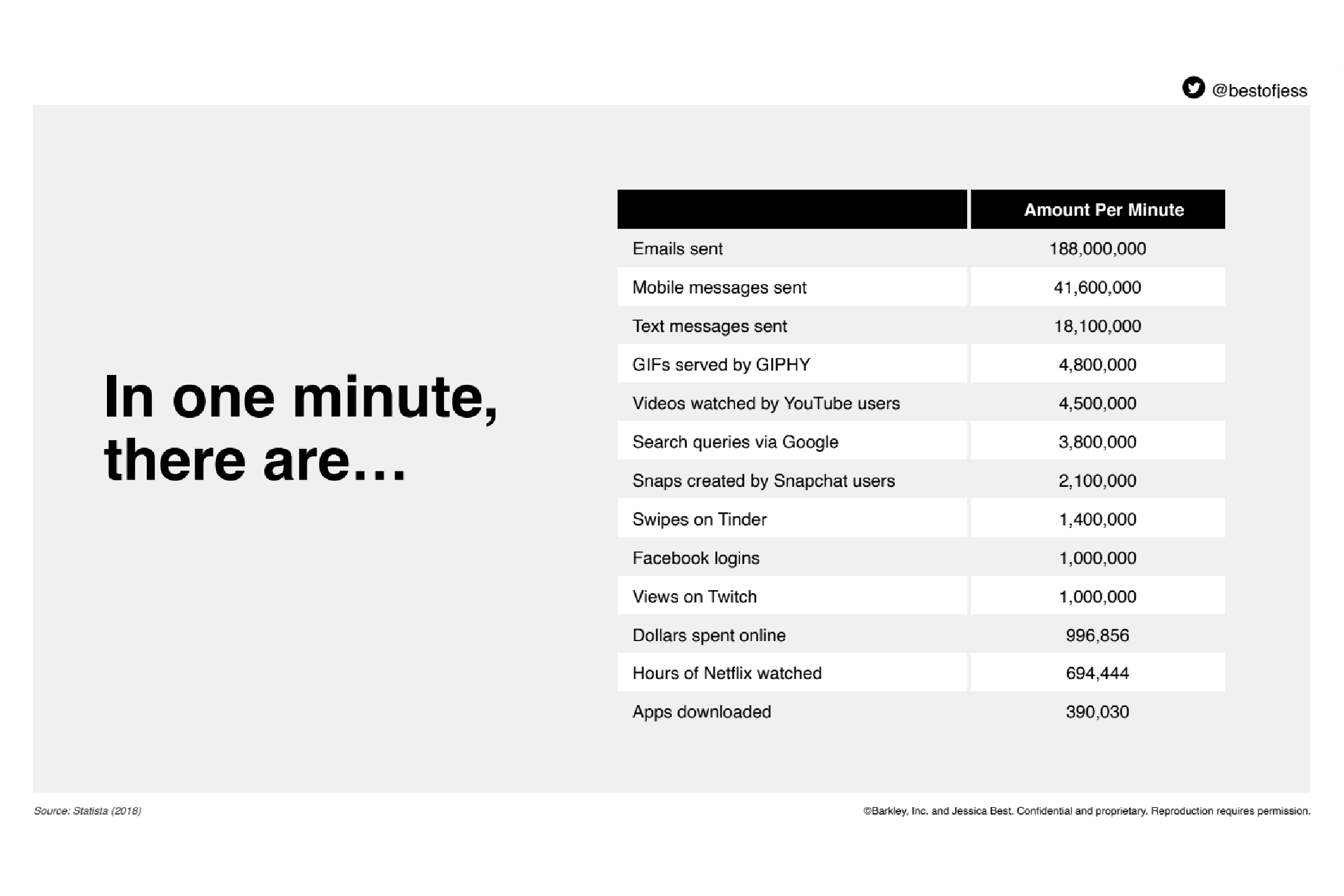 There's no better way to directly connect and stay in contact with your audience than putting an email marketing strategy into place. If your customers can't come to you, meet them in their inbox with the information they want to see. 
But to build up or maintain an audience using such a powerful tool, you need permission. This brings us to our second point: 
Good email marketing requires permission.
By permission, we mean an opt-in for subscribers to check before you start using their information and gain access to their emails. Not only is having an opt-in button a good practice everywhere globally, but it's also the law for countries under GDPR requirements. 
This requirement is also in accordance with the laws against harvesting email addresses. Harvesting goes against all good practices and threatens your brand reputation and trust with potential leads and customers. 
So leverage the best practices when asking for permission and set expectations on the frequency of communication. Don't leave them surprised by a daily newsletter - this action could leave you in the spam folder or even blocked forever. 
Also, offer a value that's appropriate for your audience. This value could shape the form of a discount, free trial, downloadable guide, etc. Having this type of incentive is how you earn your way into their inbox.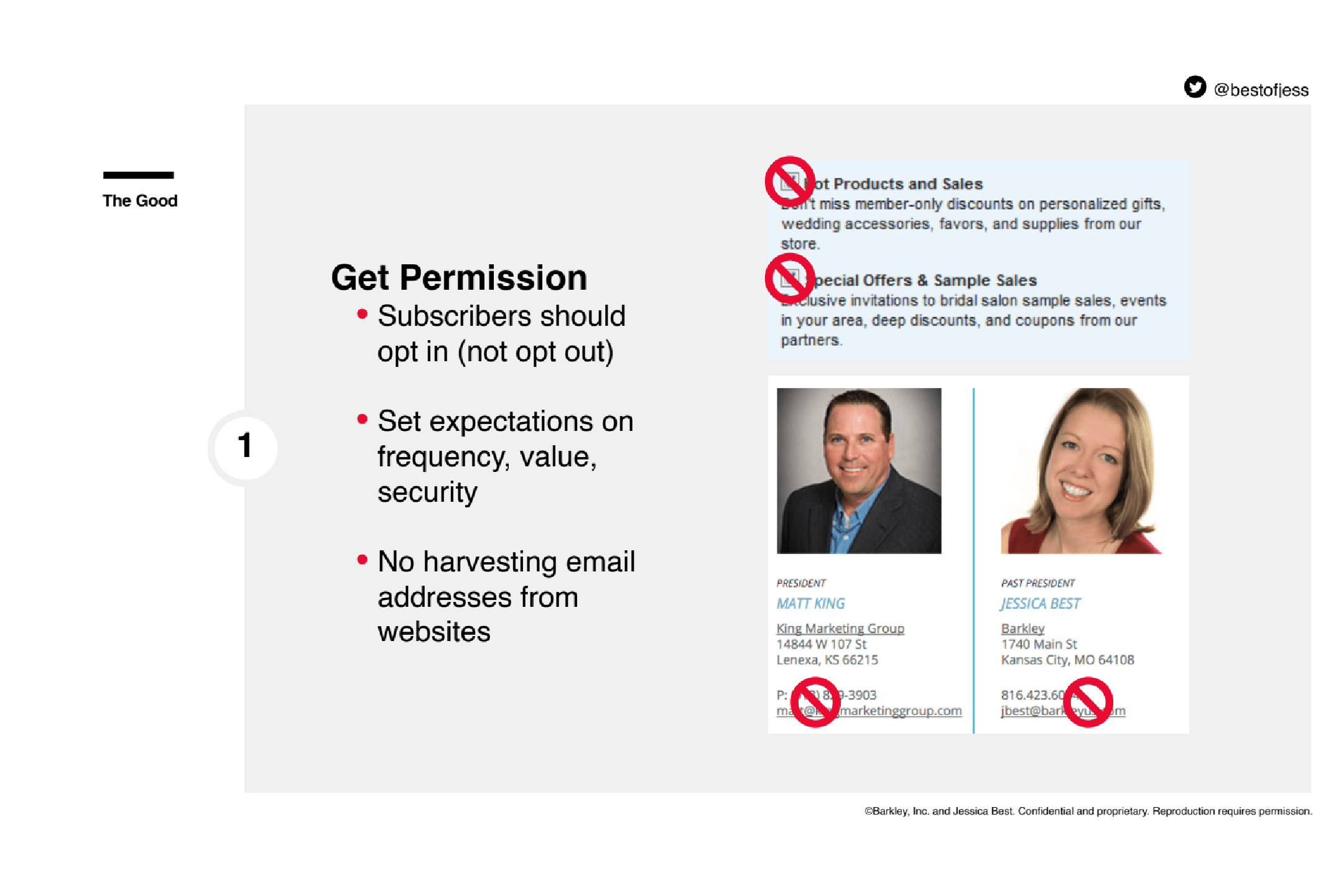 Email marketing is connecting with people who want to connect with you.
Speaking of connecting, some members of the audience from Jessica's Webinar were left with questions that were still unanswered...we haven't forgotten about you! 
To leave you fulfilled and full of email marketing expertise, here are the answers to your inquiries:
Q&A 
Is there any data showing that CTA rate is higher when opening from desktop compared to mobile? 
It depends on your product/industry and even more so on what the click is asking someone to do. If you want someone to fill out a long form or buy something that is more than a few clicks, your clicks and conversions will likely be lower than if the click is to watch something, see the price on something or other 1-click task. 
Is there a way to control if your email goes to promotions or primary tabs in the inbox? 
There isn't really, and frankly - that's ok! While email marketers saw an initial down turn in open rates due to the Promotions Tab, the click through rates really never suffered. When people are in Promotions, they're ready for... Promotional Mail :) And now, it's all sort of normalized anyway. Think of it as organization for those who leave it on. As long as you're delivering the value you promised when someone signed up for your emails, they'll find you whether you're on primary or promotions tab.
Do you do AB Testing in one newsletter (splitting up your recipients into multiple groups) or over multiple newsletters? 
It depends on your list size. If you have 10K or more recipients on your list you should really be doing an A/B split on one deployment: 50% get A and 50% get B, and you should set up testing so that you can learn WHY something worked so you can apply that to a future campaign.  
If you have more like 100K recipients, you can try another kind of test: 10/10/80. 10% of your list gets A, 10% gets B and after a certain number of hours (or days), the winning version is deployed to the remaining 80%, so your actual test findings can be put immediately to work!
If you have fewer than 10K recipients, though, you may have a hard time getting statistically significant results splitting your list. (Check your statistical significance here.) In that case, you may need to test over time instead of using an A/B split. You might try putting your offer in the subject line in 4 of 12 emails in a year and see how they perform as a whole compared to those emails that HAVE an offer but don't reference it in the subject line. (Spoiler alert: if you have an offer, put it in the subject line...)
What is the difference between most opens and most clicks? And which one is the better measurement? 
It depends! On what the goal of your email marketing campaign (or whole program) is. If you want more impressions/eyeballs or just want folks to know what you have to say, Opens may be fine for success. For example, in long-term sales (Business-to-Business, etc.), you probably don't ask someone to "click to buy now" in every email, but opens mean they're engaged. But if you're more interested in clicks through to purchase or take another action immediately, Clicks will be a better indicator of success for you.
Email marketing is still not very popular in my country. Many customers are still not in the habit of opening emails. Are there any ideas to improve that condition? 
My best advice is to never try to change the behavior of the public. It's far too big a task for one brand/company to tackle :) But if you're offering value -- something that a prospect or customer finds value in -- then those that sign up for your emails should be engaging with them, because you're delivering on the value you promised. That could be discounts or offers, it could be new products, it could be strategic guidance, if you're a service provider. Find what your value is and deliver it in bite-sized chunks via email and people will open as long as it's valuable to them.
What is the average salary of an email marketer? 
I'm sure this varies quite a bit by country, but in the U.S., with just 2 years of experience, you can make $80,000 -- a VERY strong salary compared to other marketing roles with the same level of experience. And it makes sense: there's no "degree" in email marketing and most universities (besides Harbour.Space!) don't teach email marketing. So the only way someone learns is by "hard knocks" and that's something companies are willing to pay for, to find a good email marketer who has learned a lot and can keep learning.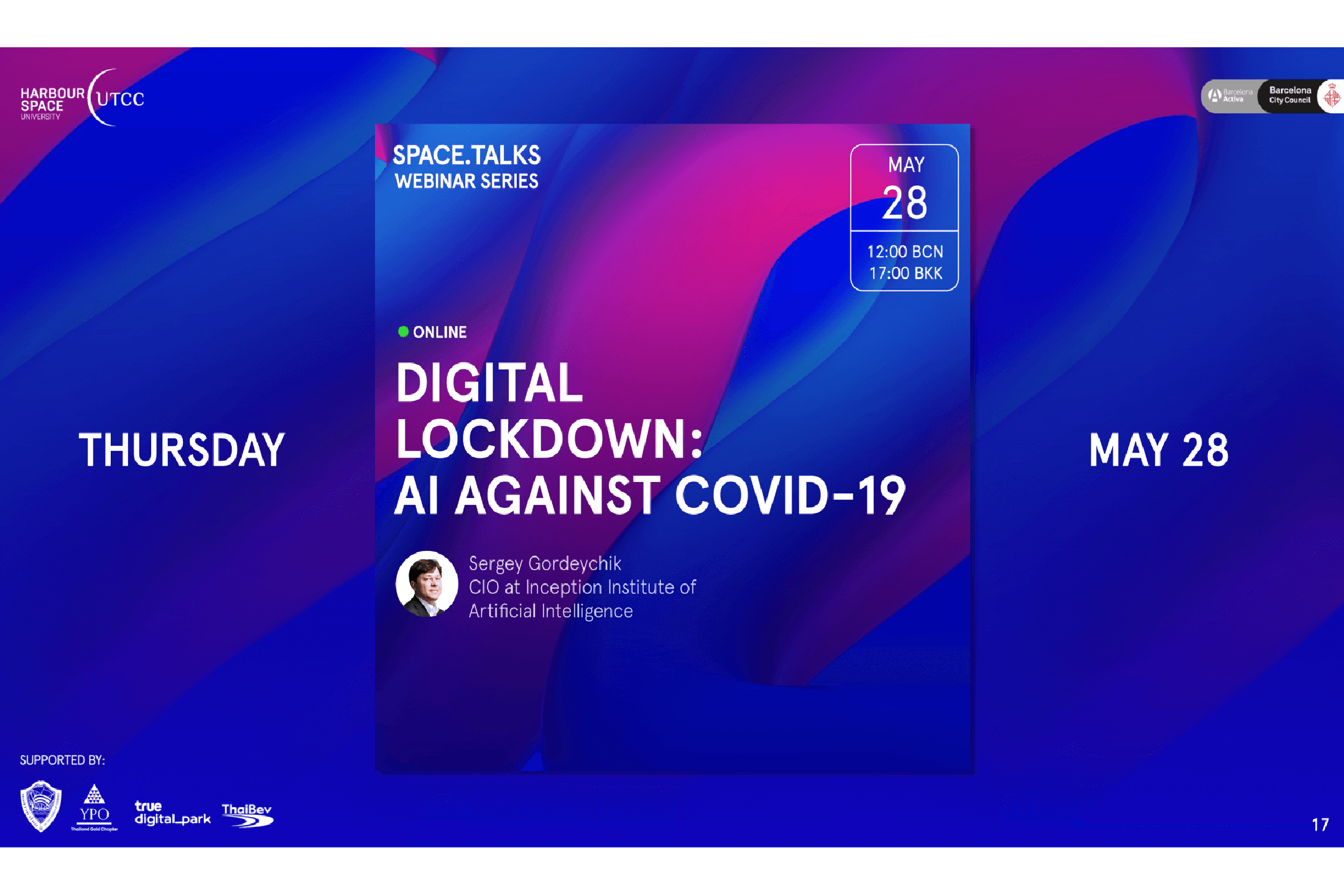 Join us for our next Space.Talk Thursday, May 28th, to see Sergey Gordeychik discuss how AI has volved during COVID-19, and how it has influenced the course of the pandemic. And if you're interested in further growth, take a look at our website to learn what your future could look like at Harbour.Space. Lastly, get in touch with us at hello@harbour.space to let us know your thoughts!