Painting with sound
Joshua Davis is an award-winning designer, technologist and artist in media based in New York. Joshua's work has been exhibited at many world-famous museums such as the Tate Modern (London), MoMA (New York), the Smithsonian's Cooper-Hewitt and more. He is also acclaimed for his role in designing the visualization of IBM's Watson, the intelligent computer program capable of answering questions, for the quiz show Jeopardy.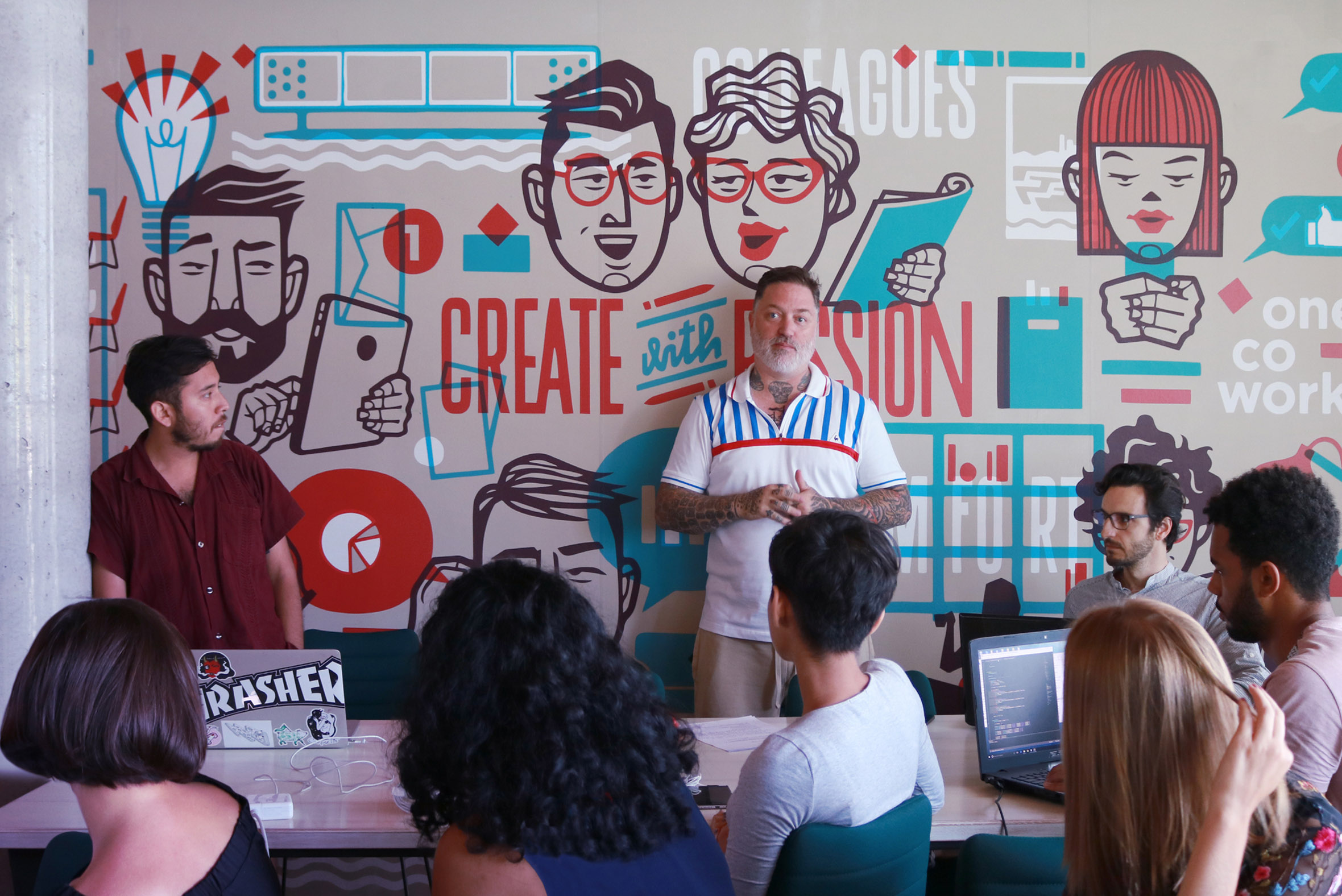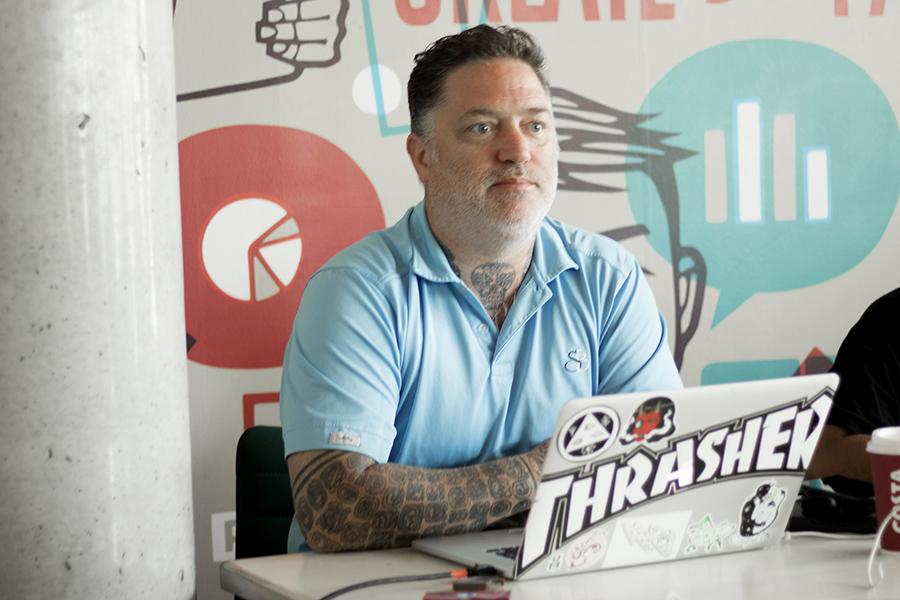 His previous website for exhibiting new artworks, praystation.com, was one of the first to offer open-source files available for anyone to download. Joshua Davis currently maintains an open source library for processing, HYPE framework , to create his visual works.
HYPE Framework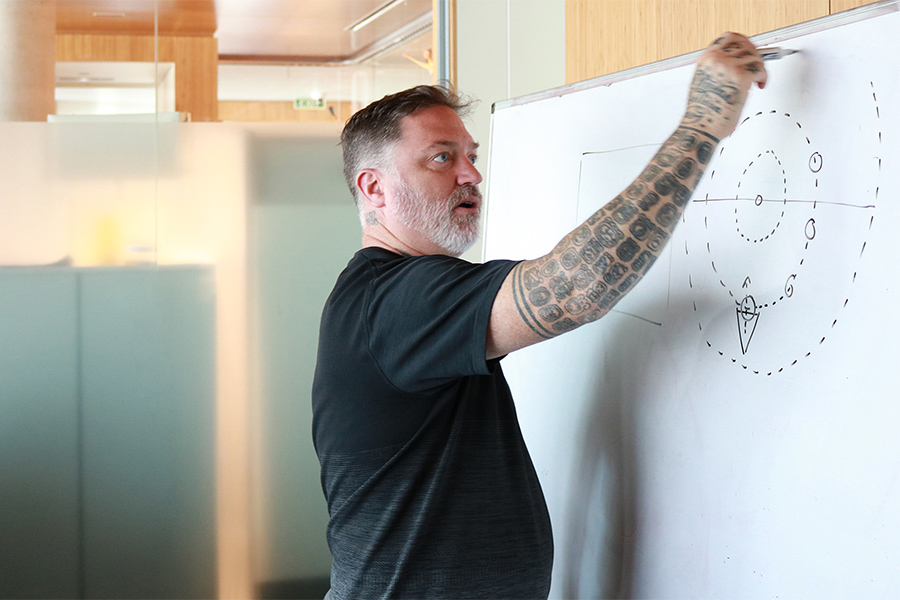 Joshua Davis's work method is through coding. He uses various hardware and software to create algorithmic image making & animation. He has developed a library called HYPE Framework to use within Processing. Processing is a software and a language that allows you to code easily within the context of the visual arts. The HYPE Framework library allows you to create animated and interactive art pieces that perform heavy lifting tasks with minimal amount of code writing.
'Painting with Sound' at Harbour.Space
Joshua came to give a class at Harbour.Space on July 2017. His class was aimed to teach students programming that uses sound as an input to create artwork. His class exposed students to a completely different method to create art.
During the course, we learned how to create interactive visual patterns and animations with basic coding. While the goal of the course was to create visual installations reacting to sound, some of the projects have also been implemented to different mediums such as print and business cards.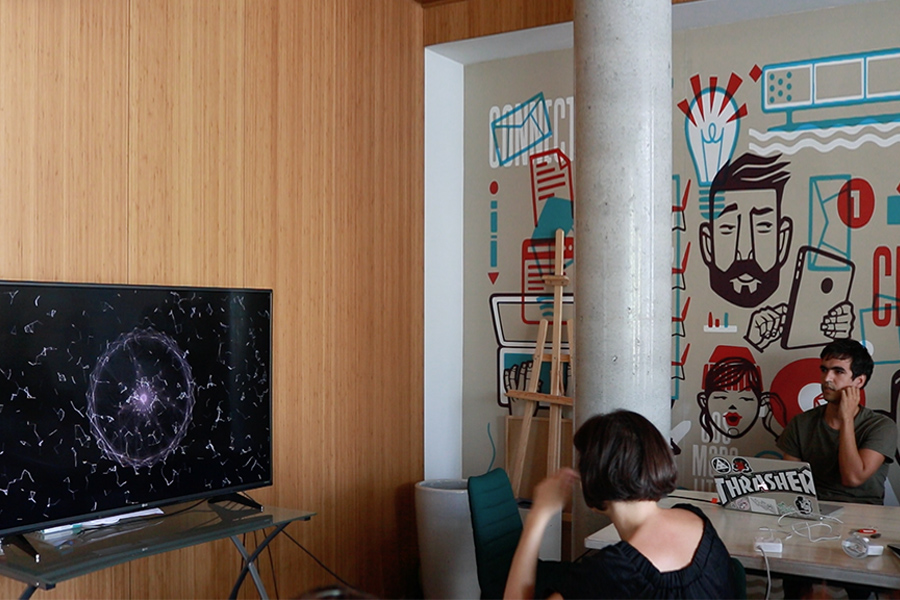 Projects by Students
The Progress of Gaia

The project depicts a 3-phase evolution of the planet: the first phase depicts the time our planet was just a big blue ball of water; the second phase represents the life on Earth with its cycles, whereas the third part focuses on the human and the technology that came along with the human, and the tendency towards the exploration of the sky and the cosmos.

For the first and the third phase I used tones of blues to symbolise the water and respectively the sky and the technology. For the second phase, the shades of green are a symbol of the Flora and the greys stand for the Fauna with its many colours.

At the base of the 3-phase evolution depicted, lays a hexagonal structure - the shape of crystal water - deconstructed through games of symmetry and asymmetry to suggest the imperfection in nature's perfection.

-Cristina Enache

The March of the Zapotec

The elements used in my projects derived from Zapotec culture, an ancient civilization from Oaxaca, México which is the place where I come from. The graphics developed for the project are modernized representations of Zapotec Gods and symbols that embrace our culture. This project is a tribute to The Binizaás (people who came down from the clouds).

The colors shown in the project where extracted from a wide range of palettes derived from the Mexican culture, not only Zapotec but also Huicholes. You normally find these colors everywhere in my town; in the flowers, in the sky, in people's eyes, in our costumes, etc.

My project is called 'The March of the Zapotec' which communicates the traced path of the warriors and philosophers who came down from the clouds and merged into our imaginarium.

-Hiram Aragon

Symbols

The elements used in this project are the symbols designed by a famous Turkish graphic designer, Sait Maden . He has started modern graphic design and typography in Turkey. Since 1950s, for more than 60 years, he had designed countless logos, posters, book covers and illustrations from which some are still being used to this day.

I have taken colors from Turkish tiles, which are a big part of traditional decoration. The tiles usually consist of colors white, red and different shades of blue. Taking these colors, I have inverted them to represent the fall of tradition and the rise of modern graphics in Turkey. This gave me a range of pastel, bright and neon colors.

In this project, I have used modern symbols from Turkish life and inverted colors of traditional patterns to create a modern take on Turkish graphic design. Rotating these elements around an orbit and changing their scales allowed me to achieve a Mandala-like effect, symbolizing the spirituality of the field of graphic design. These code-generated graphics are applied to book covers.

-Simge Toksoz

Russian Folklore: XXI. Century For my work, I decided to use traditional Russian motives. The first element that came to my mind was Khokhloma - it's a style of painting in Russian folklore. I decided to use pieces that form Khokhloma. I chose particular shapes that seemed to me the most expressive. I also got inspired by the idea of nested dolls - Matryoshka dolls which very common attribute in Russian folklore.

The traditional colors used in Russia are red, black, yellow and sometimes green. Also, I wanted to use colors from a natural phenomenon common in the north of Russia - Northern Lights. For this, I added another color scheme to the project consisting of purple, lilac, and white colors.

In my project, I essentially expressed elements of traditional Russian folklore in the language of Processing and really strict geometrical shapes and movements. I was looking for really energetic music in order to have enough diversity to work with, so I used Ostia by Zu.

I really was surprised what it turned out to be in the end!

"For me, this course was very exciting - I really love art and before it, I didn't realize that I can use my skills in programming to make something fancy. This course really widened my horizons of understanding of what I can do using programming." -Vladimir Mazin