The impact of the crisis: Thoughts on the next new normal
Founding Chairman of Harbour.Space, Prof. Dr. Ingo Beyer von Morgenstern is McKinsey & Company's Senior Partner Emeritus, Head of the European and Asian High Tech, Telecom and Media Practice, a serial entrepreneur and a Professor at Tsinghua University, Beijing. In this blog, Prof. Dr. von Morgenstern shares his thoughts as he looks beyond the surface of the COVID-19 pandemic.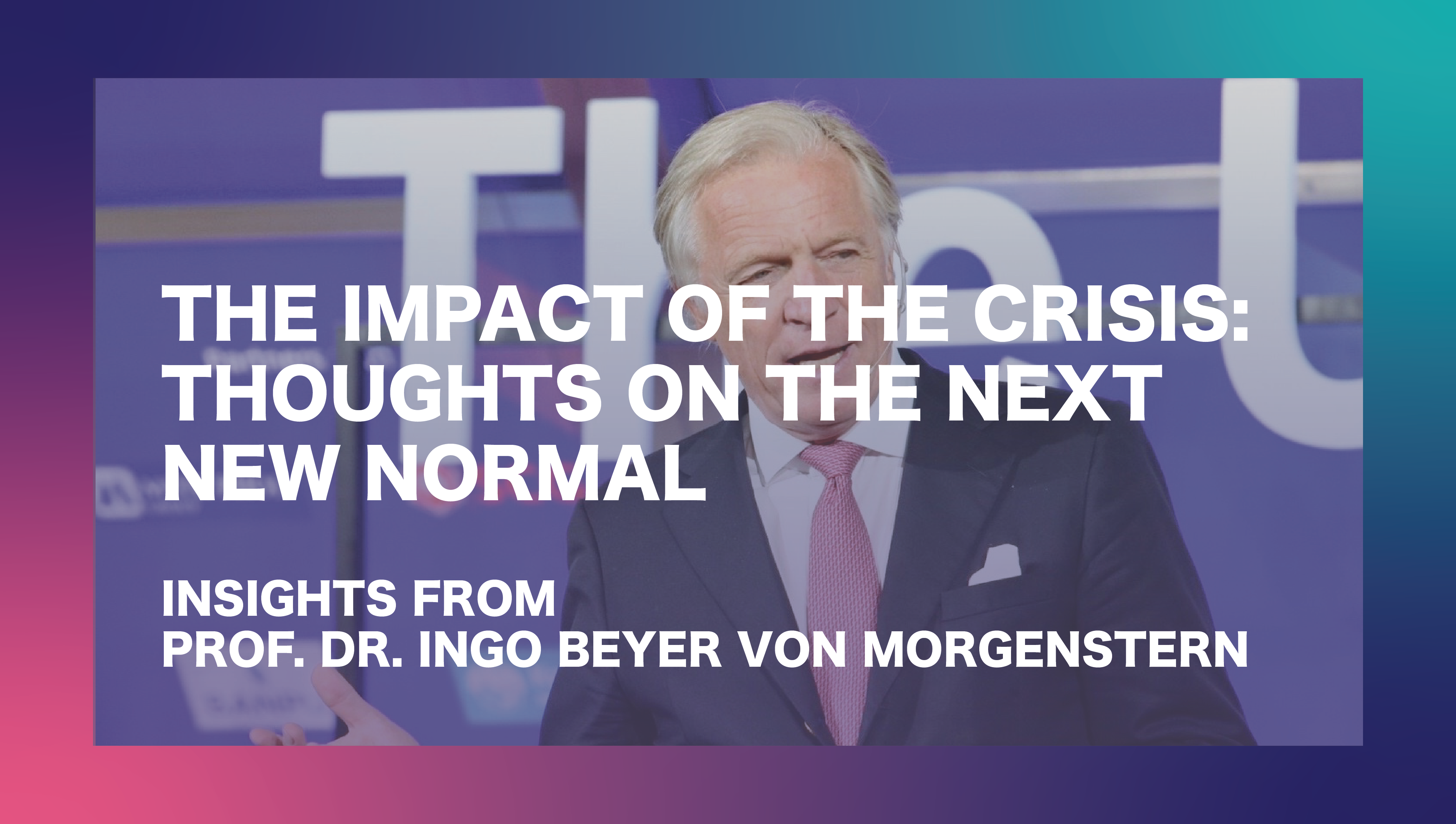 The COVID-19 pandemic is a world-changing event that will transform our lives in more ways than any previous crisis of modern history. It has forced the hand of government, industry, and individuals to do, think, and feel differently about many aspects of life. As with great disruptions in our past, what we are witnessing now is the emergence of a next new normal. 
Though the full impact and the end of the crisis remain obscure, it will be the imperative of our times. We are at the cusp of this metamorphosis and have a rare opportunity to choose who we will become. Using this point of reference, we can and should employ our lessons from crises past and present to actively redesign the future. Now is the time for all to come together, with a spirit of shared sacrifice, accountability, and unbridled innovation, to fix the holes in our democracy and institutions. Three perspectives are relevant - the mental, social, and formal context – through these lenses we can see the monumental changes that have already occurred, and changes (and choices) still ahead.  
Our Mental Context
Most of us are living through a reality shock. For some, it is a trauma that will challenge and change their life.  If a crisis is long and deep enough, the experience will lead to new sets of behaviors. Over the course of the past weeks, we find ourselves asking what really matters? A break from our typical preoccupations has provided time for reflection, introspection, and perhaps room for answers. 
Our health, for instance, matters. Prior to the COVID-19 crisis, there was increasing awareness of the importance of mental health. Still, issues around mental health remained a silent pandemic that had been swept under society's rug for lack of information and understanding, despite its prevalence. According to a WHO report, globally, one in four people is affected by some form of mental disorder in their lives. With many people on the same boat, feelings of loneliness, anxiety, depression can now be expressed with little fear of prejudice and are met with greater compassion. 
Our planet's health, too, matters. Global air pollution has dropped, literally and figuratively lifting the smog. The air in Beijing is the cleanest it has been in years and the peaks of the Himalayas can be seen from over 100 miles away in parts of India. What we have seen we cannot unsee. What we now know cannot be unknown. Sustainability and its relevance for the individual is no longer a political dogma. We will become more thoughtful and reflective of what is important to us moving forward.
Our Social Context
Coronavirus put the globe on the fast track to digital transformation. During the outbreak, China's leading online health care platform, Ping An Good Doctor, received 1.11 billion visits within 3 weeks from people seeking information and advice. Overseas online medical consultations have reached nearly 10 million since January 1st. 
In addition, development of vaccines and medicines will be sped up, research increased, and its production localized. 
South Korea is keeping the virus at bay with the use of technology and data. They use telehealth apps for pre-screening, AI to cross-reference travel history and health symptoms to identify infection risks among travelers, and communicate health advice to people at-risk via SMS. On top, geo-tracking traces the movements of infected patients to canvas for potential cases and ensure that self-isolation measures are taken. These measures are keeping the numbers of new infections low. Overnight, the traditional barriers of protecting personnel data are gone. 
Online education has surged. On top of the digital switchover by formal educational institutions and students from kindergarteners to doctoral candidates, millions are also taking the opportunity to upskill or pursue a creative talent of which they have always dreamed.
According to Google Trends, from March 7 to March 21 this year, queries for online classes increased by 204%. The spread between modern and old-fashioned education has widened meaningfully. The centuries-old traditions of teaching and pedagogy at schools and universities worldwide are being disrupted.  
Commerce has changed. Amazon added 100,000 new employees since March and has announced it is looking to fill an additional 75,000 new full and part-time roles to cope with demand. More broadly, digital commerce is at a decisive turning point. 13% of consumers in Europe said in early April that they browsed online stores for the first time. The virus has pushed even the most reluctant adopters to fulfill necessities online. 
On the factory floor, the pace of automation is increasing, minimizing human contact.
IT is the enabler of disruption and people are coming onboard in unprecedented numbers. As a side effect, interaction frequency and decision-making speed accelerated substantially. 
Distance is back, the economy is becoming increasingly contact free. Ways of working, communicating, and consuming have changed overnight. What we used to enjoy and have access to offline has found its way in increasing forms online through apps, social media, and devices. 
Our Formal Context
Governments were quick to realize that the crisis expanded their implicit authority to direct and regulate. We've seen this before -- in crises such as wartime or financial market meltdowns. Drastic moves by some governments to deal with the virus' spread and prevent national healthcare systems from collapse found broad acceptance. 
Some of the measures taken to implement new practices, which are often in opposition to their society's customs, cultures, and traditions, include penalties for being out in public spaces, tracking the movement of citizens, and closing city and country borders. Weeks before these decisions would have been met with unilateral opposition. That is not the case in the time of coronavirus - citizens seem willing to accept, even embrace, greater government control of the economy and of the individual. It is imperative that governments be benevolent stewards of this information and power, and citizens must educate themselves and maintain accountability for the civil society.
In that spirit, nations have also taken steps to alleviate some consequences of halting movement and economic activities. Leaders found it important to assure citizens that they are not impervious to the danger – that everyone is in this together. 
Indeed the key to engagement and cooperation between government and civil society, as can be witnessed around the world in this moment, is transparency. That can only be achieved by sharing hard facts, real data, and unbiased information.
Tax breaks and subsidies are among the welcome suggestions to bear through the storm, at least in the near term, which goes to say that there is a lot that can be invented in the face of necessity. Growth, for now, is no longer the driving factor; social harmony and sustainability are. 
All these elements together have created a golden opportunity for governments, businesses, and individuals to take pause, rethink, and redesign a new model for democracy and governance. Democracy of the second half of the 20th Century in Europe and the US was a growth enabling democracy. We now have the unprecedented opportunity to develop a next new democracy that works for everyone – emboldening people to take risks, to create, to innovate, to feel safe and secure, and to have a voice. 
---
Who will be the winners in this post Covid-19 world? Those who anticipate the disruption will apply technology and data to move through this world-changing time and come out stronger than ever. The winners are those who built and are building completely new and innovative end-to-end business systems and a modus operandi befitting the digital environment. The winners are individuals who familiarize themselves with this context and prepare themselves for the world ahead. They use speed, agility, and digital savvy to navigate the next new normal, gaining strength and leadership in the process.
At Harbour.Space, we believe the future is both digital and human. From its inception, Harbour.Space was intended to be the university of the future, which means it was designed to be responsive, adaptable, and evolutionary. We were realizing that the world needs a disruption to be enabled to change, though we did not see the pandemic coming. When faced with the government directive to close our physical premises until further notice, Harbour.Space switched all ongoing classes online immediately. Our students, teachers, and the team worked together and made continuity not just possible, but seamless. New guides for working, teaching, and studying were developed, and ongoing support and mentorship was put in place. It is a testament to the fact that Technology, Entrepreneurship, and Design are indeed the pillars of the next new normal, come what may. 
We have stayed on course to find and develop the most talented individuals on the planet. While instruction and personal development takes on its new shape, we progress with the opening of our Bangkok campus with equal parts attentiveness and optimism. We are welcoming new student applications for the next semester and getting prepared to integrate the best of both online and offline worlds. We remain committed – now more than ever – to helping our students respond to the future as it happens, even as they grow in their capacities as the leaders and innovators to co-design it. 
Founding Chairman of Harbour.Space, Prof. Dr. Ingo Beyer von Morgenstern is McKinsey & Company's Senior Partner Emeritus, Head of the European and Asian High Tech, Telecom and Media Practice, a serial entrepreneur and a Professor at Tsinghua University, Beijing. 
To help leaders prepare for the future, McKinsey & Company has launched The Next Normal, a collection of articles in which leading executives and experts analyze contemporary trends, one industry at a time. Visit their website to follow the latest publications in the series.