Harbour.Space x Telefonica Alpha: How to Survive your First Hackathon
9:45 a.m. on April 14th, the students arrived at the Telefonica building, bleary-eyed but ready to compete and showcase their abilities in the first Telefonica Alpha x Harbour.Space University Hackathon.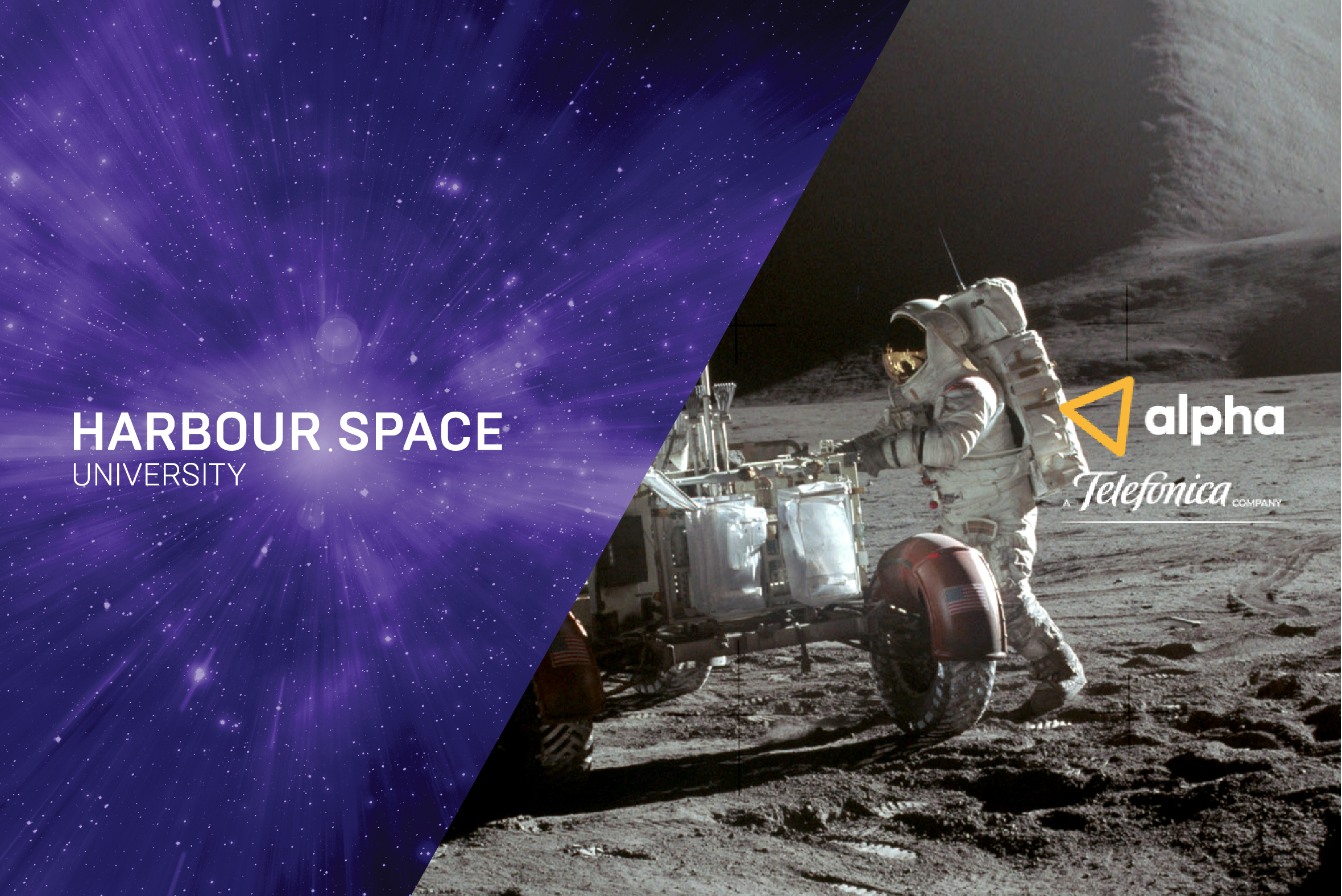 The eclectic group consisted of students from the High-Tech Entrepreneurship programme, alongside Interaction Design, Data Science, Digital Marketing, and Cyber Security, all forming their well-rounded teams.
The event got underway as the Alpha team hit the stage with their briefs that consisted of globally relevant issues. After the presentations, each team drew from a lottery on which issue they would tackle, then promptly got to work.
This was an exciting opportunity, as for most students it was their first hackathon event. To be clear, it's not a 'hackathon' in the traditional sense, which is where a group of people meet to engage in collaborative computer programming. Instead, it took shape closer to a design sprint, which is a time-constrained process for answering critical questions through design, prototyping and testing with consumers.
It was a new experience for me, having never participated in a hackathon before," says MA Digital Marketing student, Shreya Jha. "I was working with new people, so in less than two days we had to form a cohesive team that worked against a tight deadline to achieve the set objectives.
Our event bore all the markers of a hackathon, with the cheesy pizza, chips, and Coca-Cola included. Just throw in some fruits, salads and bulletproof coffee, and you're there.
RULE 1 OF A HACKATHON: PICK A GOOD TEAM
If you would be spending two intensive days with a close-knit team, solving problems that could change the world as we know it, who would you pick?
To the first-timers: don't think of what you can't do, stick to your speciality and make the challenges your own," advises Animesh Bajpai, Data Scientist.
Most of the teams were completely cross-disciplinary and included a student from nearly every discipline at Harbour.Space University.
Shannon Bering, our resident Cyber Security student said, "It was really cool for me as a developer to experience the entire ideation process because all I've ever done is sit down and code."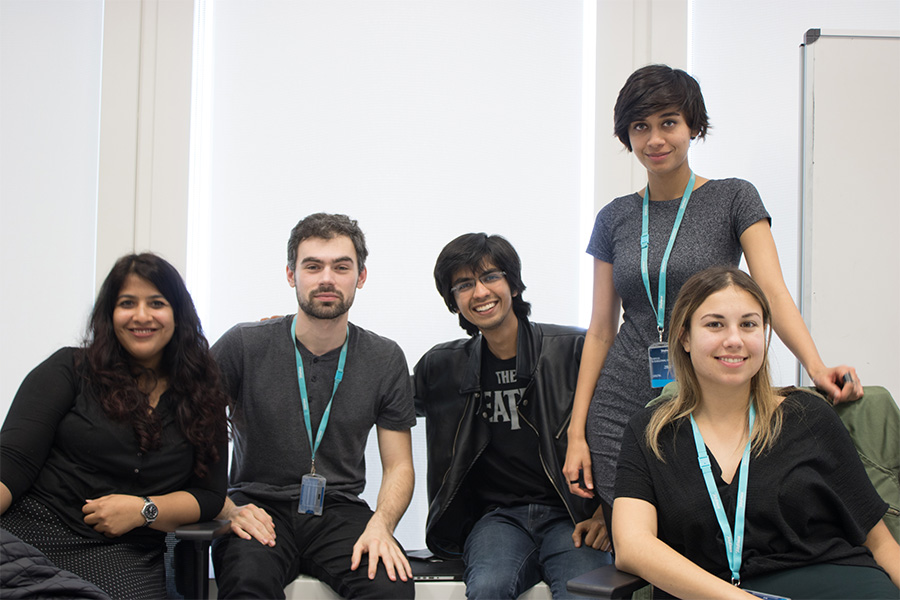 This hackathon was a great opportunity to work with a multidisciplinary team, integrating the different skill-sets of each one to solve the problem proposed," Nicolas D'Auria, an MA Digital Marketing student, shares.
Chyngyz Dyikanbaev, a Data Science student, adds, "It was a good experience for this university. This was the truly one of the first times we got to work together from different programmes with the industry itself."
Some teams were formed by good friends, and others were a mix of students who had never collaborated before.
When I saw the team dynamics I was excited because I was the only designer and I could develop my own process and my own way of conducting research to synthesise through aggregating the findings. So I jumped in and said, 'Let's do this together!" says MA Interaction Design student Juneza Niyazi.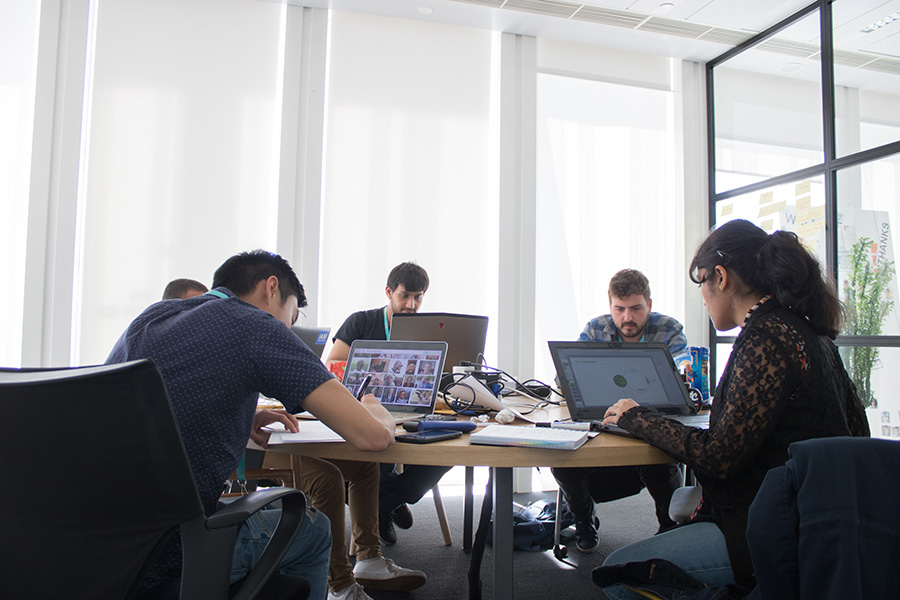 RULE 2: KEEP A COOL HEAD UNDER THE TIME PRESSURE
This challenge was limited to just 36 hours, and in this time students were presented with a brief and were to come up with a fully developed concept as a solution, merging all of their fields.
The time pressure definitely worried us a little bit. We had to come up with a solution to an algorithmic problem that was really complex. Fortunately, our team was diverse and from many fields. We played off each other's knowledge and strength's, brainstorming ideas and getting insights from each other's tangents," says Tortanat Cheng, a High-Tech Entrepreneurship student and part of the winning team.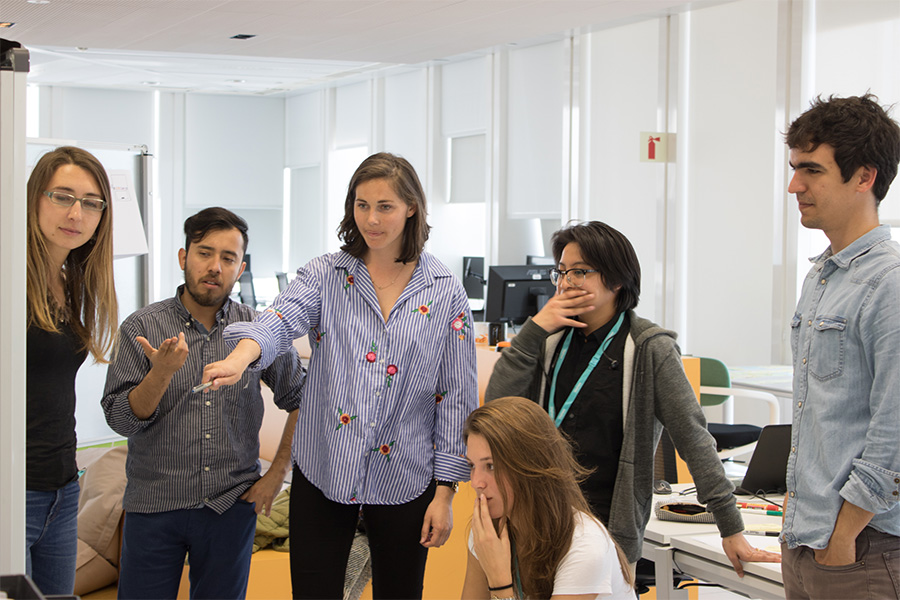 Time seemed to be biting at everyone, but the teams were smart and time boxed their design sessions to manage the deadline. "We were strictly limited to the time so during brainstorming, identifying the problem was mostly from our own insights rather than research," says Vladimir Mazin, MA Data Science student.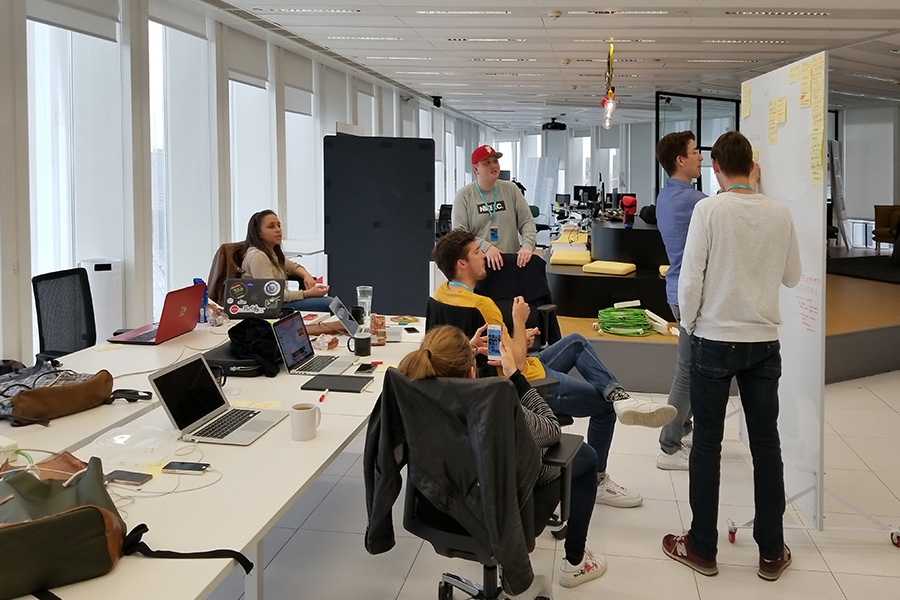 RULE 3: TAKE BIO-BREAKS AND EAT THE PIZZA
When so busy being focussed and brainstorming, it is easy to forget about your body and what it needs. Don't forget to drink enough water to keep hydrated. There was enough coffee for the caffeine addicts to keep functioning, and plenty of fruit for the herbivores.
At 1 p.m. every day, we had a massive pizza delivery to the building. Large cartons stuffed with every type of pizza for the omnivorous group would be placed on the table, mixing perfectly with the Coca-Cola and completing the "college life" nostalgia, all while the fruit and salads went largely untouched. The students would descend and devour until returning to their workspaces.
Hackathons are usually full-day events. In our case, it lasted from 10 a.m. Saturday morning to 6 p.m. in the evening, and picked up at the same time on Sunday, finishing off with presentations at around 7 p.m. that night. Then there is always the afterparty.
My advice would be get a good night's sleep, and don't skip the pizza," says Shannon.
RULE 4: BRING IT HOME WITH THE PRESENTATION
The last few hours on Sunday was consumed by preparing for the final presentation. Each team would have twenty minutes to present their brief, their research, their key findings and insights which lead them to a final, well thought through concept.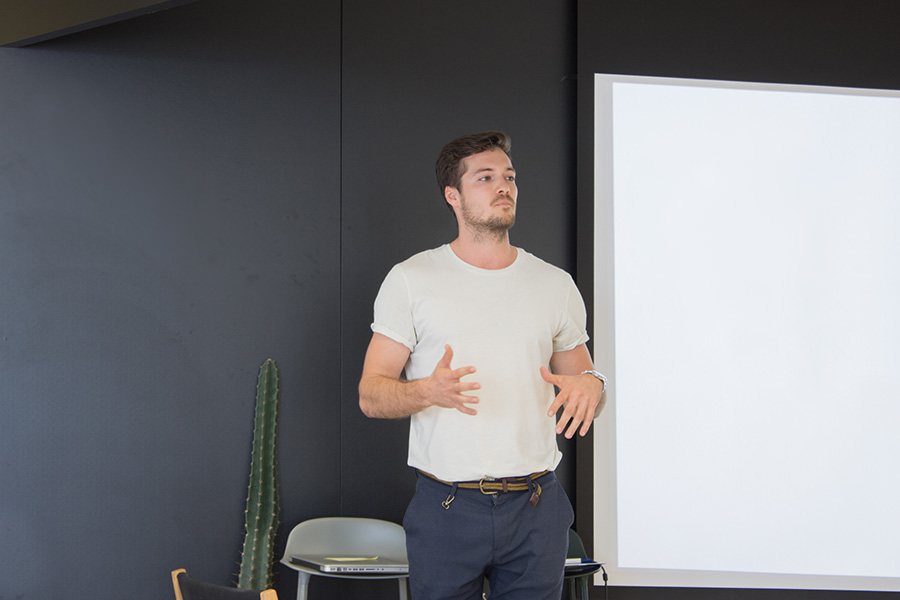 It was a mad scramble to ensure everything relevant made it into the presentation.
I was thinking about how to use the time effectively. We did not know what it was supposed to be before we started, but we knew we would be presenting some kind of concept or idea," says Rebecca Bossart, MA Interaction Designer. "We wanted to have our time focused on coming up with a strong concept rather than a slick presentation of a boring concept."
The students presented their concepts in front of the deeply experienced Alpha panel that consisted of varying fields of PhD holders in design and tech. At the end of the show-and-tell, they questioned certain aspects of the projects to ensure that the students had thoroughly thought through all the details of their concepts.
COLLABORATION BETWEEN HARBOUR.SPACE AND TELEFONICA ALPHA
The Telefonica Alpha Hackathon has been a great opportunity for our students to enter into contact with real problems of society and put all their talent and creativity to work on them. "When you see talented students putting all their passion into solving real social problems, you feel that the mission of Harbour.Space is being achieved," says Christian Palau, COO of Harbour.Space.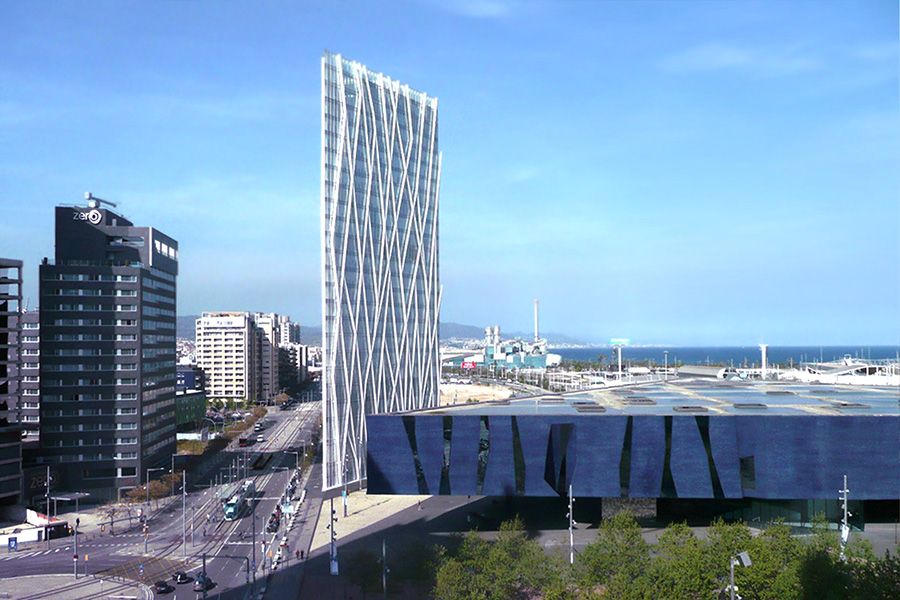 The excitement was shared by Telefonica too. In the thirty-six hours, the students were able to interact with many from the Alpha team.
I was extremely shocked and impressed, and absolutely loved working with [the students]. I had an amazing time. [They] exceeded all my expectations when it came to intelligence, work ethic and manners. Everything was tremendous. And I would never hesitate to have Telefonica Alpha work with [Harbour.Space] again," says Alex Rodriguez Vitello, Lead Curator at Telefonica Alpha.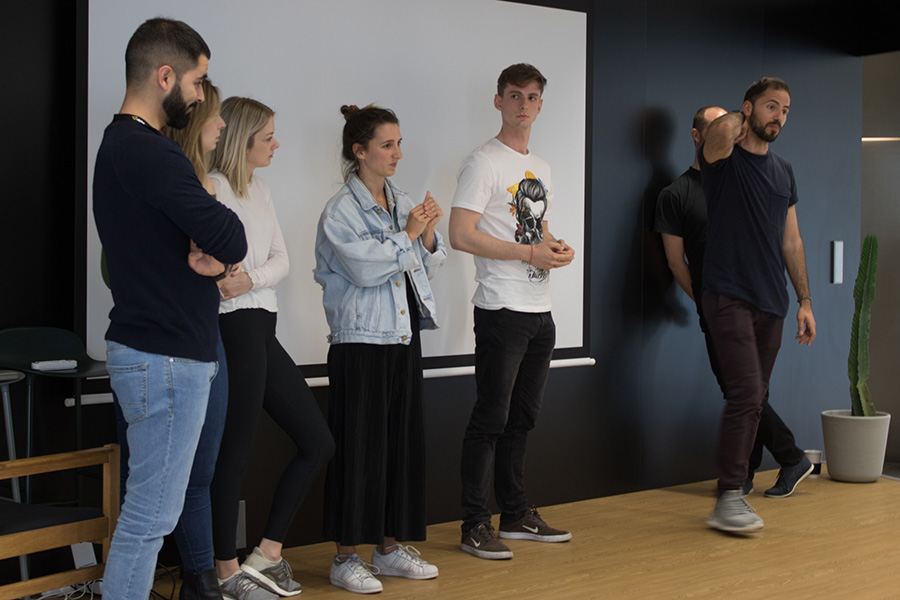 The hackathon was significant as it gave the students a chance to solve real tasks, to know what the world is working on, and with this specific hackathon, to think even further than we do in our daily lives. It broadened their minds, and helped them reach for the unexpected, says Michel Lopez, student and co-coordinator of the event.
This is something we want to keep doing because having these short experiences where students just break out of the curriculum and solve other things gives them the energy to come back and keep working on their capstones. Sometimes we find inspiration in achieving new goals in something we didn't know we needed yet."
And there you have it, your first hackathon is finished. Whether you take pride in the way your team handled problems that almost seemed too big for the world, or you decide to swear off pizza for life, your first hackathon will go down as a memorable one.