Crafting a Good Sales Story with Fil Guijarro
No one knows your company better than you do. As the CEO and Founder, you are familiar with the mission and the value your company brings to the market.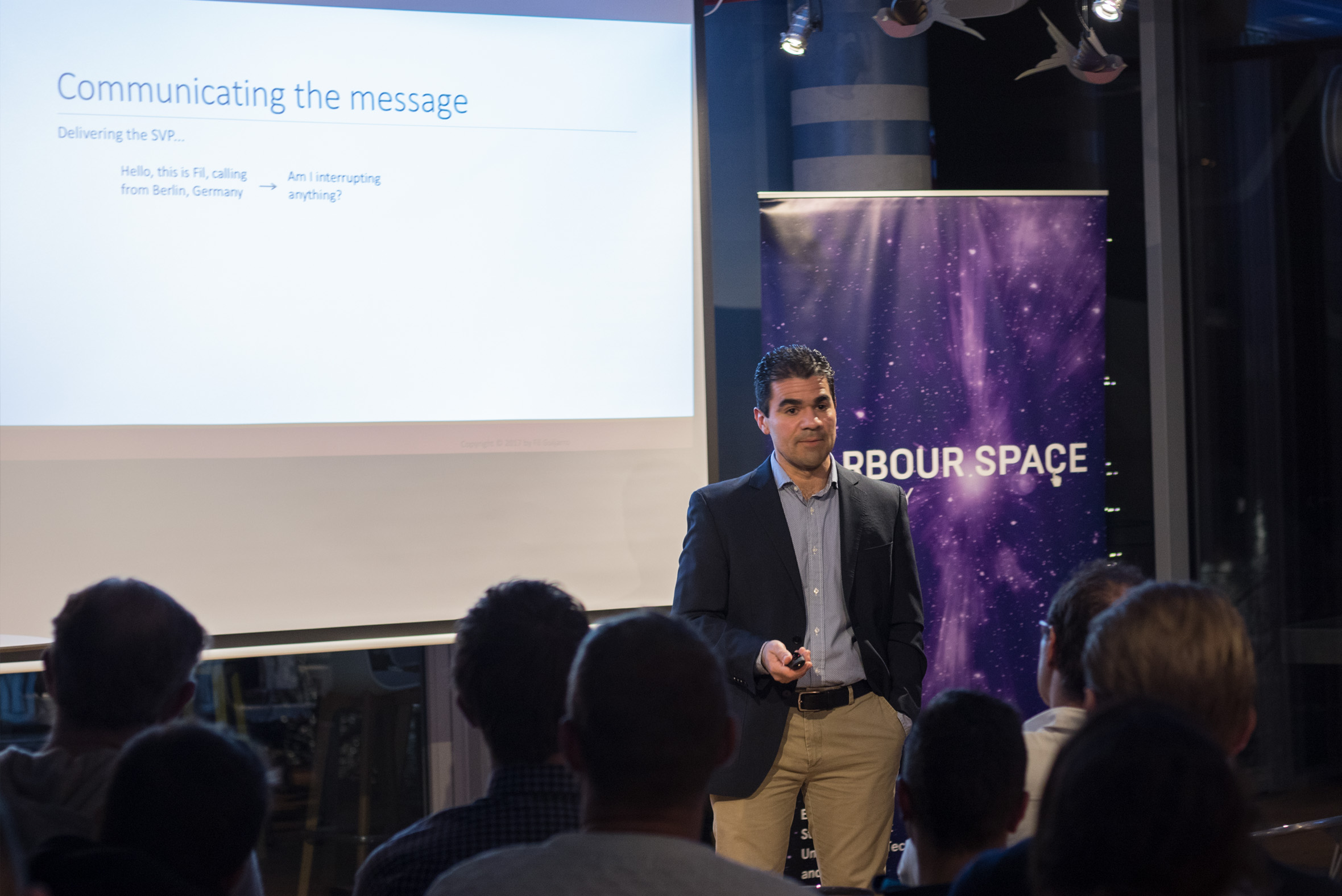 "A good value proposition should be clear enough so a person can judge its value and whether it is relevant," says Fil Guijarro, a Berlin based sales consultant.
"The next thing is that you hope when someone corners you at an event, and you say your value proposition, that it inspires some emotional reaction." Fil joined Harbour.Space University in December 2017 to teach students about Customer Acquisition for Startups.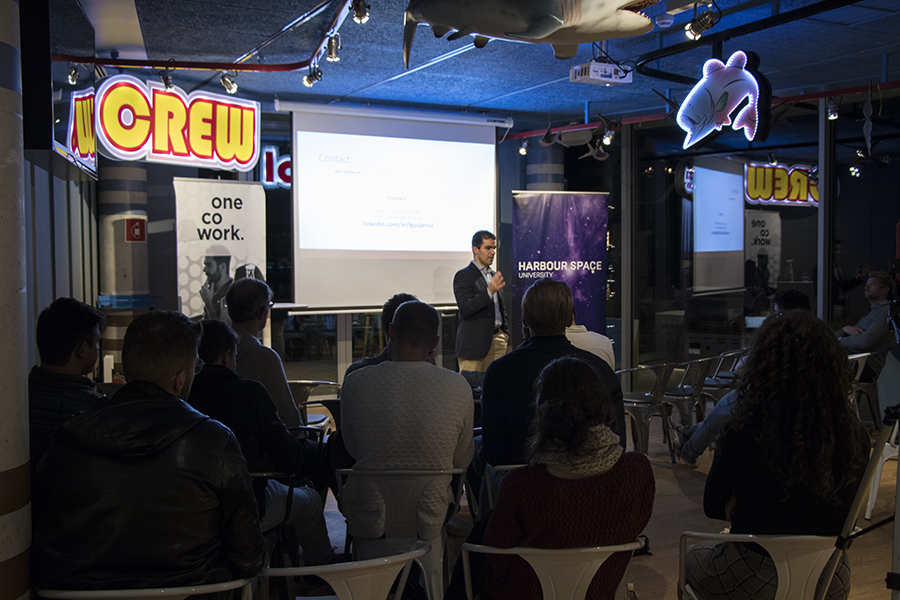 He also delivered a public lecture at OneCoWork to share best practice ideas in B2B sales for digital companies. With expertise in the multi-national expansion of digital products and services, Fil has headed the internationalisation and business development of various European internet startups.
BUILDING THE NEXT GREAT SALES TEAM
No one knows your company better than you do. As the CEO and Founder, you are familiar with the mission and the value your company brings to the market. Depending on how mature the company is, maybe some of the sales has been resting on your shoulder as the founder of your startup. When crafting a sales team, the first steps are finding good communicators. "Think about the sales team as an engine that is on and running in the background. And working for you at a constant rate – what should they be doing?" Fil urges. "The sales team should keep prospecting regularly, like that machine humming at a constant rate." A sales team would be expected to research for the decision maker in a particular company, whether they are the head of business relations, head of marketing, or even head of their own B2B branch. Once you have those nuggets, the sales team should reach out to them. Think of it as panning for gold in an effort to find the vein, which in our case is the decision maker. After making contact with a client, schedule next steps. "Fil gave us a really good guideline on how to acquire potential leads. Not only based on clients, but also partners and suppliers at this beginning stage," says Clemens Boehler, HTE Master's student at Harbour.Space University.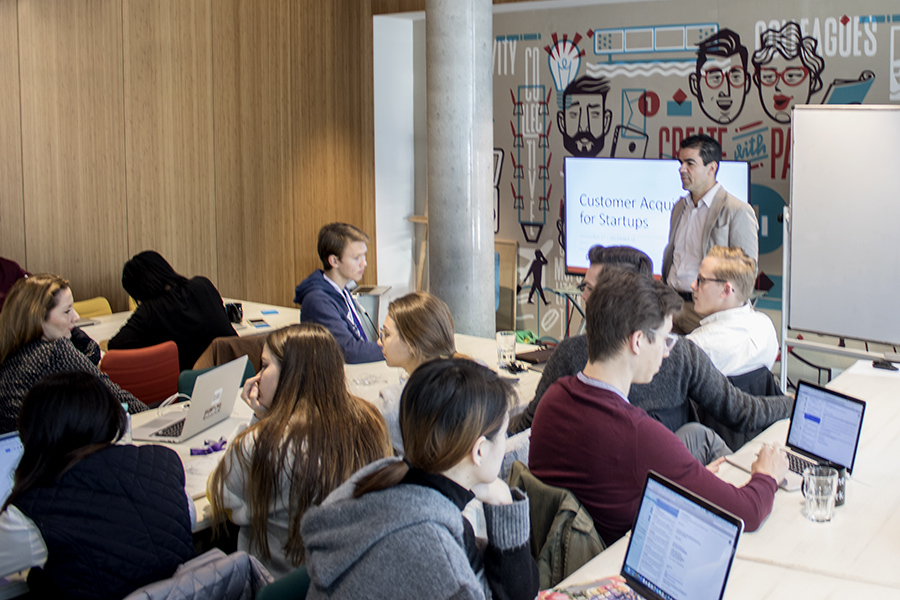 FIL-OSOPHICAL SALES ROLES
For Fil, there are three philosophical, albeit fundamental, roles of the sales force. Salespeople are the communicators of a sales message, they are the loudspeakers. "They come in the door and their main task is communicate, communicate and communicate". The communication only stops at the end of the day, and sometimes beyond that. That is the life of a sales person – to be articulating your sales message. The next philosophical role would be historians. They keep a careful history of communication with the customer in the CRM. This means tracking every act of communication punctually and accurately. Lastly, they're good hosts. Hosts greet you at the door and welcome you in to join the party. They guide you carefully through each room to meet and greet different people. In this case, each room is a sales stage. Why is this important? "Closing deals, in my opinion, is a company-wide responsibility. It is a collaboration between different people working at the company," Fil advises.
THE FOUNDER'S STORY AND IDENTITY
"All the value refined for the client is the sales value proposition. The value proposition is a very important thing. We can engineer it, it's not mythical language," Fil indicates. Imagine it as a statement that you can summarise down to seven words. It can be treated like a formula. "We are helping X to do Y. X represents the client and the Y is the solution." A good value proposition should be clear enough for a person to judge its value. When you drop the value proposition in the ear of a potential client, the job is done. Then you hope for a reaction to start a conversation, and to be in a conversation is gold. "For me personally, it helped me open up a conversation to get potential clients for my project, even though my project is still very much up in the air and is just an idea," Digital Marketing student, Fernanda Pardiena, shares. Sales is a journey, with the story of your company constantly growing and evolving. The sales team are the storytellers. How will they tell your story?