How to Create an Effective Marketing Video
What makes for a highly effective marketing video? Is it one or many elements? In this blog post, we'll examine these and other aspects of creating marketing videos. We'll look at why defining your audience is essential, how to ensure that you develop a strong message for your audience, how to position your offer, and more.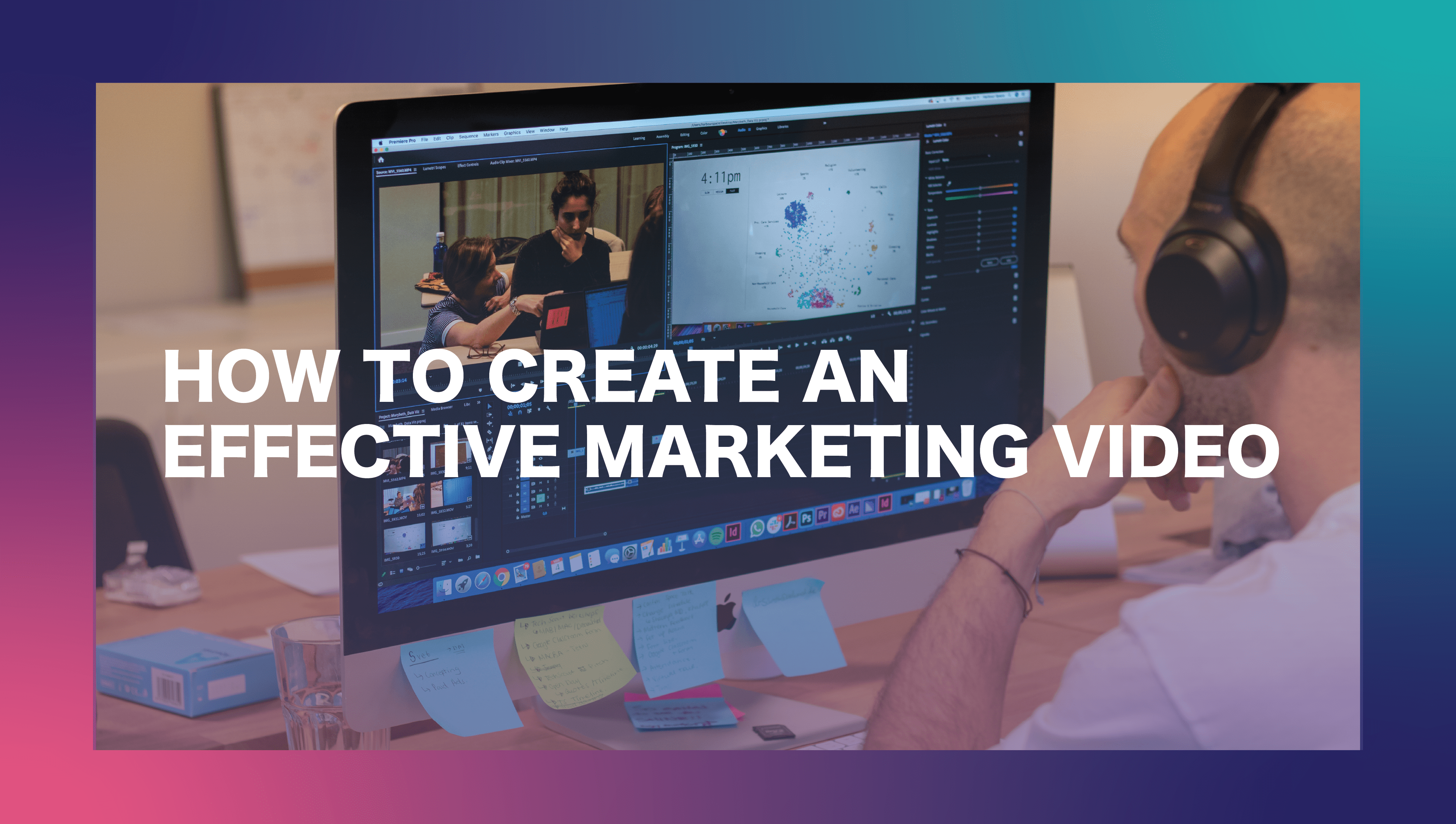 Video is growing into a highly effective marketing medium. 92% of marketers attest that video is a critical tool for their brand's success. Video is also used by 85% of brands today. 
But why video?
Let's take a closer look.
Video offers brands more than any other medium can. It rolls-in audio, visuals and has the power to evoke emotional responses, telling stronger and more colorful stories for brands. 
It's also far more engaging than text and images. Research by Livestream shows that buyers would rather watch a video than read a blog post. And today, when it comes to capturing the attention of consumers, video is fast-becoming the consumer tool of choice.
You see, more people are consuming more video each year. For example, today, there are more than 500 hours of video uploaded to YouTube each minute. And did you know that Facebook gets 8 billion video views a day and Twitter gets 1.2 billion? 
But what makes for a highly effective marketing video?
Is it one or many elements?
In this blog post, we'll examine these and other aspects of creating marketing videos. We'll look at why defining your audience is essential, how to ensure that you develop a strong message for your audience, how to position your offer, and more.
Let's get started!
What makes an effective marketing video?
Video is versatile. It can be used for attracting, educating and even converting leads into sales. It can be used to monetize your Instagram following or Over-the-top live streaming. But to create an effective video for any of these purposes, you need to understand what the four critical components of an effective marketing video are. 
An Efficient Video is A Targeted Video
All effective marketing videos appeal to a specific group of people who share certain characteristics. Therefore, it's essential to define your audience. You need to understand who they are, what challenges and pain points they're facing when searching for a solution, what information you have to offer, and what drives them to make decisions. 
For example, in this video about HubSpot CRM, sales professionals quickly identify with the opening line, "driving sales is your job and you can't do it without the right tools and an outdated approach."
Why does this message resonate with this audience? 
The nature of sales has changed. Today, salespeople need tools that integrate with email and help track the sales process. But that's not all, inbound sales has become the way that brands grow. And if you're not equipped to manage or support the inbound sales process, you may not succeed.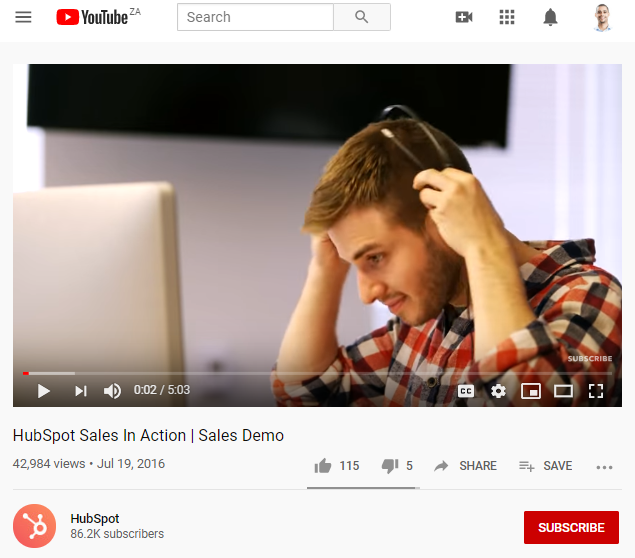 Source: https://www.youtube.com/watch?v=kY8QIiF6NkQ&t=5s 
A Strong Video Has Strong Messaging
Messaging is all about the story you share. For yours to be effective, it has to be both appealing and take viewers on a journey. 
You need to be able to identify their pain points and challenges to tell a relatable and relevant story that can help them. This can include sharing golden nuggets or insights to create "Aha!" moments for viewers.
In this video, Daniel Kosmala shares how fitness professionals can use email marketing to generate results. 
Why does email marketing matter to fitness professionals? 
Daniel shares that growing a fitness brand, as with all other types of businesses, isn't easy. He also explains that unless you have your audience on your email list, you don't own your audience. 
Email marketing solves this particular problem. Once you have an email list, you no longer need to spend money acquiring the same customer, you can simply begin engaging them with email marketing.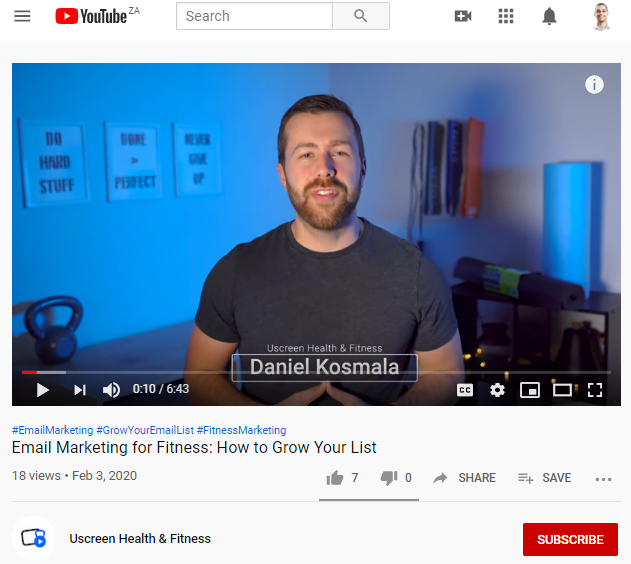 Source: https://www.youtube.com/watch?v=G4lo4FrARrI&t=10s
An appealing video has an attractive offer
What is a strong offer? Before we dig into what makes a strong offer, let's consider why you have an audience. 
Take the idea of using video paywalls. These are videos that people pay to access. They do so because these videos are filled with content they're interested in. These people are in search of content that can address a need they have.
And when it comes to establishing what matters to your audience, always focus on what your viewers stand to gain. 
For example, are you offering information or knowledge that's hard to find?
Are you sharing a solution or perspective that can change your viewer's life?
Whatever your offer, make sure it's directly related to a pain point or challenge that your viewer is experiencing. 
Always have a strategy in mind
As versatile as video can be, it's important to remember that it should serve a special purpose in your content marketing strategy. Video, like other pieces of content, should have one specific goal. 
Being strategic means knowing where to use video and how it supports your business goals. 
Take this video from Slack. It's an explainer video designed to show viewers how Slack fits into everyday life.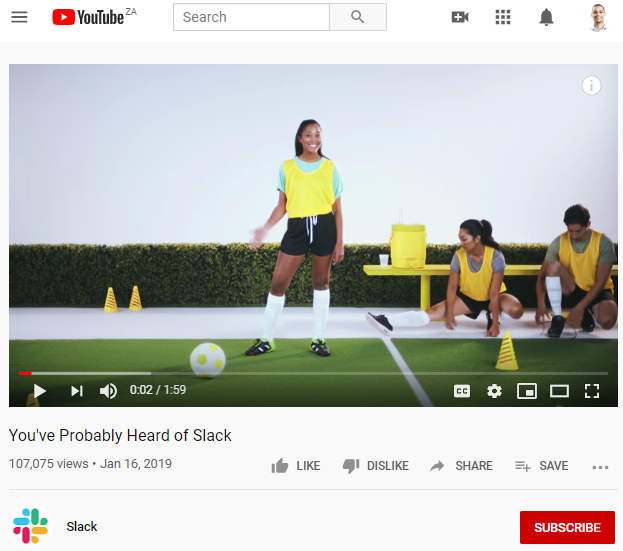 Source: https://www.youtube.com/watch?v=6c7_TpPUpL0
Why an explainer video?
Explainer videos are powerful. They give brands the opportunity to share how their solutions work and make them more relevant to buyers. In the content marketing funnel, explainer videos are middle-of-funnel content pieces. They help educate problem-aware buyers about brand-specific solutions.
Being strategic also means being intentional about your desired outcomes. This is where calls to action are important. Put another way, your business and brand cannot grow unless you clearly indicate what your audience must do next.
Taking the next step can be as simple as visiting a landing page to download a guide or a product page to make a purchase. Whatever the next step is, make it clear.
How to create an effective marketing video
Now that you know which elements go into creating an effective marketing video, let's look at the formula for creating marketing videos. 
1. An attention-grabbing headline
Headlines are powerful and designed to get viewers to do one thing: press play.
But to entice viewers to start watching your video, you must appeal to their needs, wants and desires. When it comes to creating strong headlines, here are four elements you can inject into yours:
Uniqueness
Include something different to what your competition has used.
Ultra-specific
Include a detail about what your audience stands to gain from your video.
Urgency
Introduce a reason for the viewer to take action and watch your video now.
Useful
Show how your video includes practical and actionable value.
You may not be able to include all four elements, but aim for at least three of them to have a powerful headline.
Here's an example of one that's unique, ultra-specific, urgent and useful: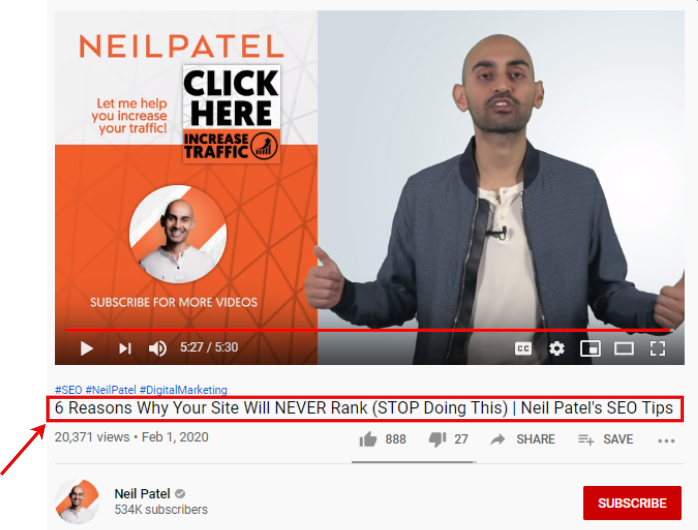 2. A Powerful Hook 
The first few seconds of a marketing video are critical. They determine whether viewers will pay attention long enough to see what the next piece of your message is. In fact, according to YouTube, the first 15 seconds of a video need to hook the viewer or you'll lose them. 
How do you hook your viewer?
Open with an attention-grabbing opening. This can be a statement, question or fact. Whatever you choose, make sure it's something that makes your viewer stop and focus on what you're saying. 
In Neil Patel's video, he jumps straight into a strong statistic about ranking content and how hard it is for brands to generate results. He states that only 9% of sites get the traffic they need.
If you're looking for ways to rank your content, Neil's opening will grab your attention. You'll want to know what you can do to move out of the losing 91% pool and to the winning 9%. 
URL to video: https://www.youtube.com/watch?v=1BlLJjOQdes
3. Engage your viewer on a personal level 
Viewers are always after value, but value without context is very hard to appreciate. This is why you must focus on engaging your audience on a personal level. 
Speak about challenges or pain points they experience. Introduce examples to show them you understand and empathize with them. 
In Neil Patel's video above, he drives home the idea that there are six reasons why a site will not rank. He then makes a personal plea to the viewer to stop doing these six things, before sharing exactly what they are.
4. Delivers value
Real value isn't hard to mistake. It's obvious and viewers will undoubtedly identify and appreciate it. 
But here's the thing about value: it must be delivered. If you make a promise at the start of your video or in the headline, you have to deliver. If not, you risk damaging your brand and potentially losing customers. 
Value can be anything from a solution to the problem, an insight or some bit of information that leads to an "Aha!" moment for your audience.
Using Neil's video again, he doesn't hold back on sharing value. He follows through with all six reasons promised in his headline and at the start of the video.
5. Close with a strong call to action
Calls to action are a must for every piece of marketing content. When you create an effective marketing video, remember that it has to support your content marketing funnel and goals, and show your viewer the next step in the buyer's journey. 
Neil ends his video with an invite to check out his digital agency if you've liked the content he just shared. He also includes a hyperlinked card to a site viewers can visit to increase their website traffic.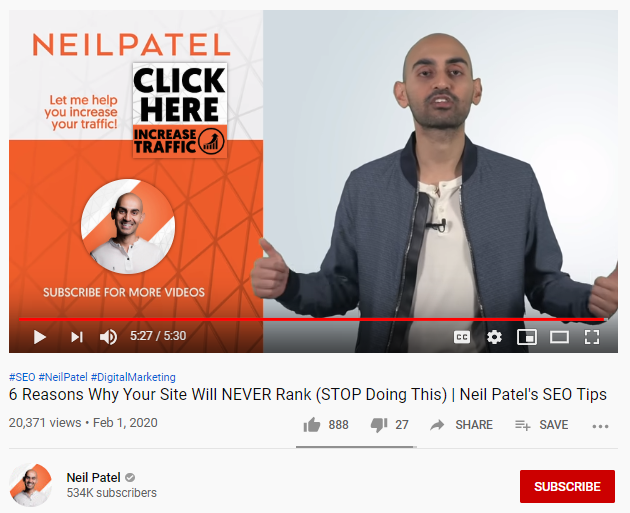 Conclusion
Video is a powerful tool and it is possible to use it to create strong and effective marketing messaging. To do so, you'll need to know your audience, create a strong and value-packed message and direct viewers to the next step in their journey.
If you're curious to learn more about Digital Marketing, you should chceck out our Digital Marketing program - it's taught by some of the leading figures in the industry. 
For this article, we had the pleasure of welcoming Amir Shahzeidi to our blog. Amir is the digital marketing manager at Uscreen, an all-in-one video monetization and OTT platform provider that empowers video entrepreneurs and creators to monetize their content and build thriving businesses around their videos.