Get Started with Influence Marketing
In November 2018, I was privileged to give a workshop for students and professionals in Barcelona at the Cibernarium of the MediaTIC building on one of my favorite digital marketing topics, Influence Marketing.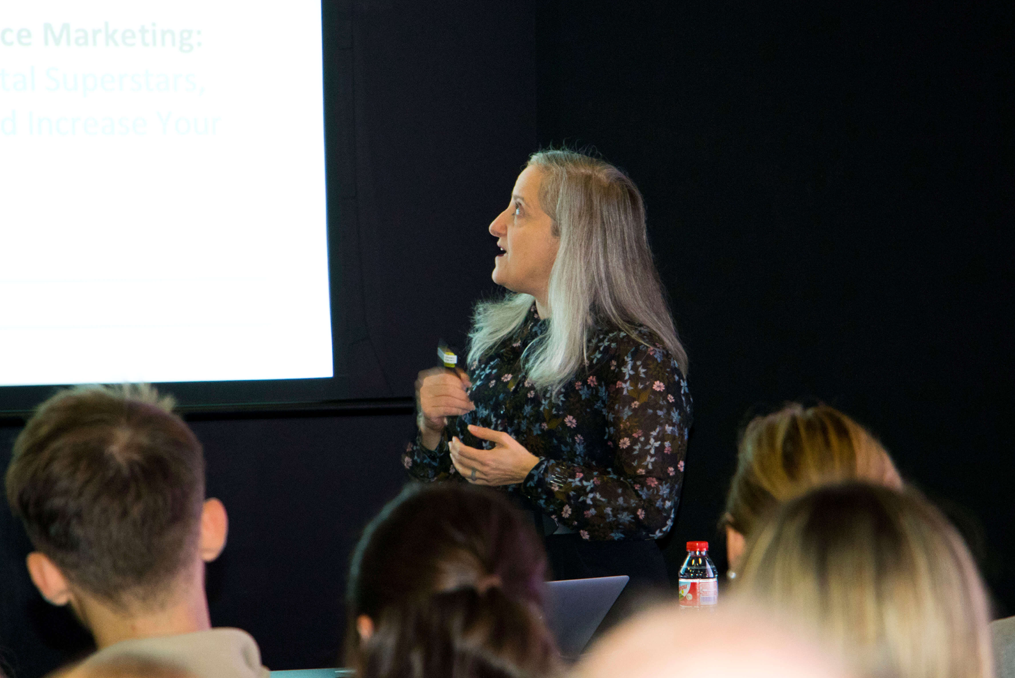 My talk, "The Power of Influence," broadly outlined some of the themes I'm exploring in my upcoming book of the same name. With the increasingly rapid rise of the creators on platforms like YouTube and Instagram, Influence marketing is of increasing importance for today's marketer, particularly for business-to-consumer (B2C) marketers but for business-to-business (B2B) marketers as well. If you attended my talk, it's my hope that you were able to already get started with influence marketing; if not, perhaps this post will be encouragement to begin.
From Word-of-Mouth to Online Influence
Influence marketing can trace its origins back to an "old school" type of marketing: word-of-mouth marketing. From early hunters and gatherers who shared information on the best berry patches to World War II housewives comparing notes on where to buy scarce products, word-of-mouth (WOM) has enabled societies for millennia. It's therefore no surprise that when communities began to form online, WOM online followed, and we now call digitally-driven WOM influence marketing.
Pillars of Influence
In 2011 David Armano, a well-known social media practitioner, suggested that there are six main pillars of influence : - Reach - Proximity - Expertise - Relevancy - Credibility - Trust Strong influencers will demonstrate all or most of these pillars to their audience, and smart brands will leverage these pillars in their influence marketing campaigns and programs.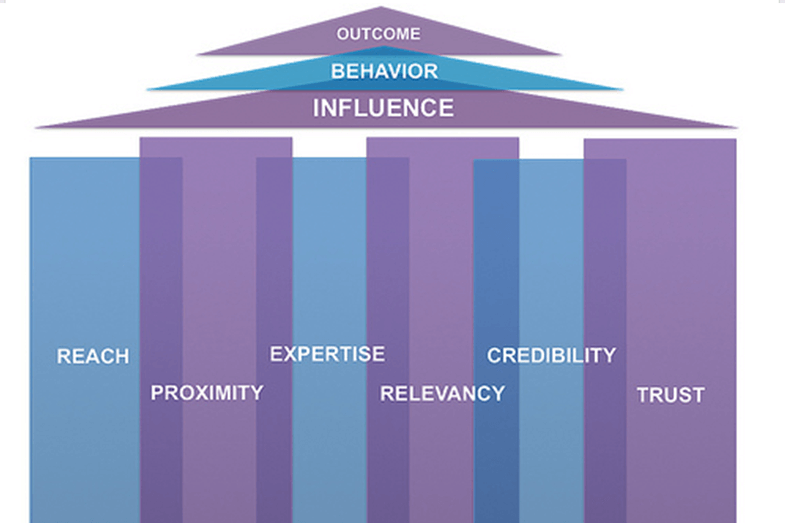 (image source: https://darmano.typepad.com/logic_emotion/2011/01/the-six-pillars-of-inf...)
For example, when a brand works with a well-known influencer to help them promote their new hotel brand, they are "borrowing" the reach, credibility, and trust of that influencer. There's a follow-on effect of having a star Instagrammer promote a hotel property, professionally and ethically, and doing so will undoubtedly allow the hotel to reach people they would otherwise not be able to reach, and with the endorsement of the influencer. Influence marketing also allows marketers to focus their time, effort, and budget on reaching a few top influencers vs. trying to reach their entire audience directly, as the influencers will be the bridge between the brand and the end audience. Influence marketing is not usually the only type of marketing a brand will utilize, but it can be the most cost-effective and valuable.
Fill in the Gaps
Recent research from Google indicates that today's consumers encounter potentially Harbour Space , check out the hundreds of touchpoints about a brand, product, or service prior to making a purchase decision, up from a handful as little as 10 years ago. Brands are racing to create these touchpoints themselves, in social media, through traditional and digital advertising, via email, and through in-person experiences such as retail stores. If we assume that marketing at its core is getting in front of your target audience at the right time, and with the right messages, to be top of mind in their decision process, then influence marketing can provide many of the touchpoints in a customers' purchase journey.
A few of the many brand touchpoints that can be created through influence marketing include: Search engine results: An influencer with good search visibility could potentially vault your brand to the top of a search. Social media: Influencers posting about your brand increase the outlets where a customer can encounter your brand message. Video: An influencer who creates video about your product or service and posts that video to YouTube, gives your brand extra positioning in the world's second-largest search engine (yup, YouTube is the second-largest search engine!). Reviews and comparison shopping sites: An influencer who loves your brand may post their opinion online, and if they're a well-respected reviewer in that community, that's even better for you. Email: Some influencers have email newsletters that they use to promote products and services that they love. Don't forget about email, it's still one of the top converting marketing channels!
The Three Ws
When brands work with influencers, it's important that the programs and campaigns they create together are relevant and authentic. In our agency, we define a great influence marketing program as a "3 W" effort: Win for the brand, win for the influencer, and win for the consumer or customer. If your campaign doesn't deliver all of these wins, it may be seen as inauthentic, spammy, or unprofessional by your intended audience.
To ensure that the program you're creating is a 3W campaign, engage with the influencer(s) you're working with in advance; don't just show up with a campaign and ask them to do your bidding. You'll have far better results if you collaborate with the influencer and develop something that takes advantage of their talents and resonates with their audience. Some of the collaborations you can create with influencers include asking them to create a video for your brand, write a sponsored post on their site, display a sponsored image on their Instagram account, write guest posts for your company blog, host a live event, sample or test products….the list goes on.
To Pay or Not To Pay?
A major question that always gets asked about influence marketing is when, and how much, to pay influencers. My answer for this may be somewhat controversial: I believe that you're always going to pay influencers to engage with your brand, even if that payment is in the form of product or a comped experience. A well-run clothing gifting program can generate great Instagram content from fashion influencers, and gifting even a pair of theater tickets may be enough for a local blogger to engage with your small venue.
However, many influencers, particularly those that are already well-established, are looking to monetize their influence, and that means more than just product or services. Keep in mind that any time you gift something or pay an influencer that the influencer is responsible for using the appropriate legal disclosures on their content, indicating that they've been given something or compensated for their relationship with your brand. It's up to you and your brand to ensure that they use the proper disclosures, and it's even possible that your brand could be legally liable if they don't. For more details, you can find the United States' Federal Trade Commission Endorsement Guides here, and the European Union / International Chamber of Commerce's Advertising and Marketing Communications Code here.
As for how much to pay: that's a complex question, for which the answer will depend on what kind of work the influencer is doing, how large and how engaged their audience is, and whether you are building a short- or longer-term relationship with the influencer. The CPC Strategy blog created an extremely rough (and definitely not one-size-fits-all) guide to influencer compensation, which may be useful to you.
Get Started!
Now it's your turn: Are you ready to create an influence marketing program for your company? Start small, perhaps by working with one influencer on a simple project such as a sponsored (meaning, you are paying them) post on their site, or by asking them to create a video using your product that you can use on your own social media channels.
Don't be intimidated by the concept, influence marketing is at its core building win-win relationships with people who can help your business. You build relationships every day, right? So, go forth with influence!