Introducing the Newest Addition to the Harbour.Space Ecosystem: Leagues of Code
Introducing Leagues of Code, an online programming and math school teaching kids all the required computer science fundamentals in a 5-year long program.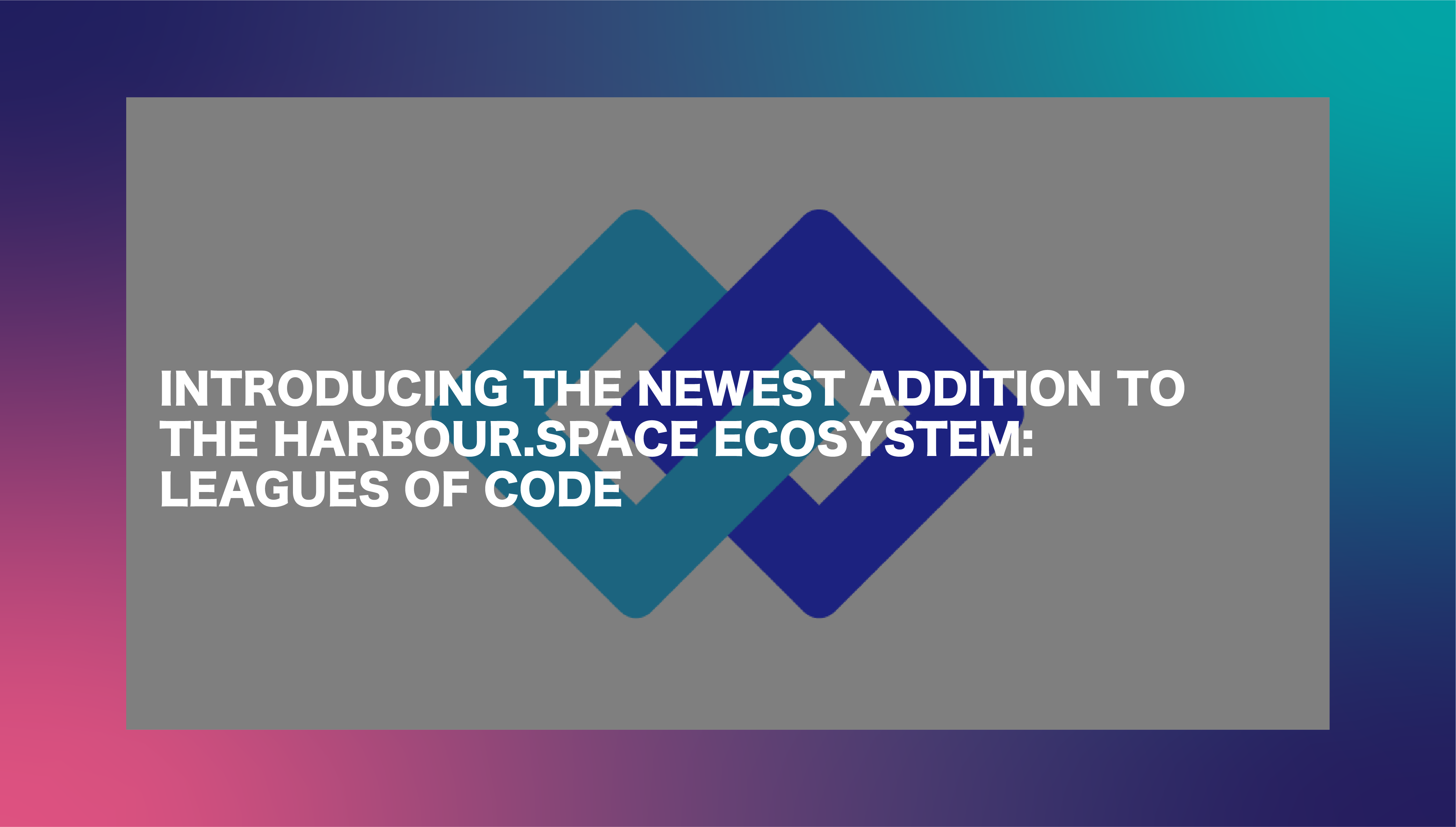 Programming is a language, a career and a way of expanding options and opportunities for the future. The younger students learn how to code, the better. It enables students to create, invent and do more - for their career and the world. 
Students who learn to code and program can be trailblazers in medical tech and invent the greenest energy on the planet. However, they want to change the world, getting great at maths and coding will rocket launch their future.
That's why we introduce Leagues of Code, an online programming and math school teaching kids all the required computer science fundamentals in a 5-year long program. As students progress in their skills, they will upgrade to a new League when they have learned certain concepts well enough to reach that League. 

Although there is a competitive approach to creating kids' motivation to learn more to win and better themselves, there is also a teamwork approach and helping the class excel all together!
Get to know our story, how we work and what's included during the academic journey. 
Introducing Leagues of Code 
Leagues of Code is the newest addition to the Harbour.Space ecosystem and complements the work we started five years ago. With the same mindset, Leagues of Code was born out of a passion and drive towards changing traditional learning methods. However, the focus is on inspiring tomorrow's leaders - teenagers between the ages of 10 and 18. 
To challenge the traditional educational system's slow pace, Leagues of Code aims to teach students to prepare, adapt, and thrive in a tech-dominant future.
The program offers a truly innovative teaching method. Leagues of Code students will learn theory in small groups, taught by top coaches of world-renowned programming competitions like the International Olympiad in Informatics (IOI) and International Collegiate Programming Competition (ICPC). 
Step by step, they will learn how to solve increasingly complex computer science problems and have the chance to hone their skills by competing both individually and within teams – always in the format used in world-class competitions.
By the time students participate in official national and international tournaments, they will have a distinct advantage. Their competitive programming experience will translate into a firm academic profile that will be especially attractive to the most prestigious universities and technology companies. 
This credibility is all thanks to their ability to solve complex problems and their mastery of computer science.
Furthermore, Leagues of Code is designed for students to discover the power of critical thinking. In a world that's changing every day, we see it as our responsibility to develop tomorrow's leaders who apply their learnings from our courses to solve pressing real-world problems.
We know all children deserve an educational system that recognizes, enables, and empowers their learning potential. That's why at Leagues of Code, we commit to offering a learning experience that will bring out the prodigy of kids. 
How Leagues of Code Works:
Developed by Computer Scientists, Coding Champions, and industry professionals, our program helps bright minds build their interest and passion for technical subjects outside of school. 
Placement Test 
To begin the Leagues of Code journey, students start by taking a placement test. Like our program, the test is designed for students of a wide range of maths and programming levels, and its sole purpose is to help us identify the prior knowledge so we can fit the incoming students to their right level. The aim is to provide a personalized learning experience. 
The placement test is divided into two parts. Part one is math, and part two is programming. Students are encouraged to solve the second part only if they have any coding experience. Otherwise, it's optional.
There are five Leagues representing students' levels: Apprentice, Junior, Senior, Pro and Super. 
Remember, as students progress in their skills, they will upgrade to a new League when they have learned certain concepts well enough to reach the next League. 

League Breakdown
Apprentice League is the beginning level of the coding journey and is a great place to start. Here, students learn the most fundamental programming concepts and data structures. They also formulate problems, think creatively about solutions, and implement them accurately and clearly. Developing these skills demands serious practice. 
That's why we have over 200 practical problems ready to go.
In the Junior League, students firstly dive into the concept and properties of algorithms. Then they expand this knowledge with simple and efficient data structures. Secondly, students learn the fundamentals of Object-Oriented Programming and explore Standard Library's possibilities.
When students make it to the Senior League, they start specializing in Computer Science. They tackle its fundamental concepts with modules in mathematics: Number Theory and Combinatorics. Students gain next-level experience in competitive programming and are encouraged to participate in Olympiads and other contests. 
The year closes with an introduction to graph theory and related algorithms.
In the Pro League, students progress to more advanced graph algorithms. This means finding the shortest paths and minimum spanning trees and you deep-dive into efficient data structures. Students learn about computational geometry, string algorithms and game theory. 
The Pro League aims to get students competing in national competitions.
Each League takes a year to complete and consists of three difficulty levels: Division A, Division B, and Division C.

Designed to match the student's pace of learning, the divisions' purpose is to have different "speeds" of how students learn a concept and how in-depth they go into that concept. 
Modules Explained
Each League consists of 10 modules, and each module lasts four weeks, with classes taught live every weekend. This unique academic model includes group classes, personalized mentorship, seminars with industry leaders, and monthly team and individual competitions.
Here is the weekly breakdown: 

To advance to a higher Division or unlock the next module, each student needs the minimum requirements of good attendance, solving the weekly practices and participating in challenges.  
This learning model is designed to help our students learn better and faster, also in a way that's more fun! Expect a combination of learning-by-doing, working together with peers at their own level, and a healthy dose of competition so they can go full-speed ahead.
Meet Our Team: 
The instructors teaching at Leagues of Code come from the best of the best. Most of the instructors are world finalists from the most prestigious coding competitions in the world. Many of them have been employed at big tech companies, including Google, Codeforces and Zeptolab. 
All of our instructors have experience in training, coaching, and teaching Computer Programming in the best way to learn it. But most of all, they teach a way of thinking to make coding and mathematics easy for students to use not just for career or education, but throughout life.
Check out their previous experience in developing and leading competitive programming events and international camps shaping future leaders.

We match students with instructors based on their previous learning experience, personality fit, interests, and availability. Not only will students learn from the best, but they will have the possibility to meet with their instructor in a private 1:1 session one or multiple times per module.
Alongside our instructors, students have a personal coordinator to help with any academic help. Even our academic coordinators have expertise in Computer Science or Mathematics.
Our instructors and faculty help Leagues of Code students build resilience and grit alongside their technical skills.
Testimonials 
How Do I Register?
Our mission is to train the next generation of tech innovators at leaders at a young age by providing a unique academic education for students to become well versed with advanced concepts in Math, Coding, and Computer Science.
By registering, you benefit from a free trial granting you access to orientation week and four weeks of activities that include access to live sessions, a webinar, and practice.
As part of the free trial, we also offer a free placement test to everyone who joins to determine the right League for their skill level. This test allows us to meet everyone at their level and offer an experience tailored for each student's particular needs and challenges.
If you or anyone you know between the ages of 10-18 interested in advancing their knowledge, contact us and join students globally. We begin a new cohort every four weeks.