The New Normal at Harbour.Space: What You Need to Know As a Potential Student
As Harbour.Space prepares to re-open and potential students prepare their applications for 2020-2021, the same question is on all of their minds: how will COVID-19 affect my application to Harbour.Space? Don't worry - it's been an unconventional time for all of us. We feel you. To help guide you, we've created a list with the most Frequently Asked Questions that include the answers you need.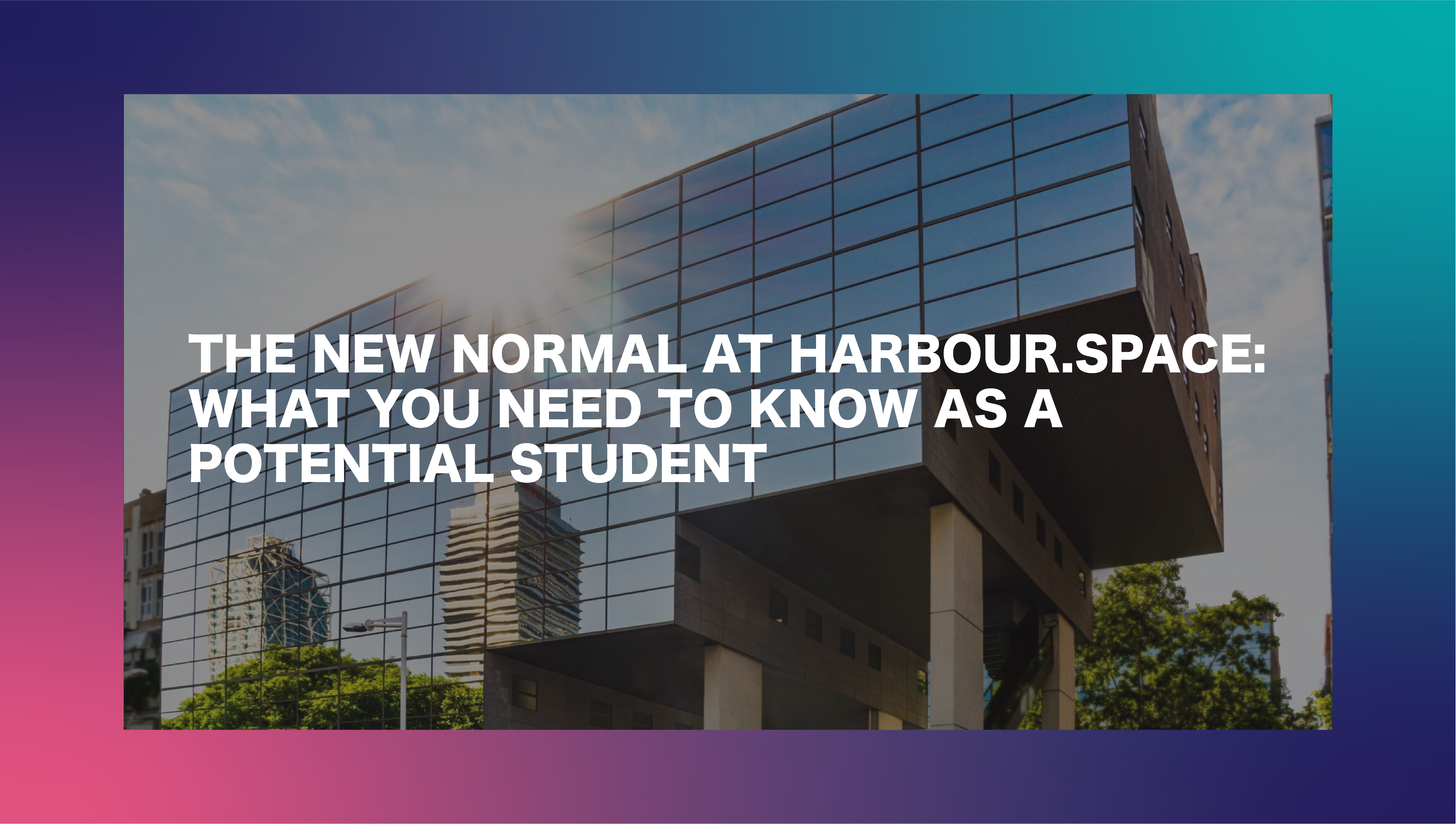 Note: This article was last updated on Thursday, July 30, 2020. We will be updating the information as it comes out and adding more questions and answers as they come in. Stay tuned! 
What if I get admitted but can't get a visa on time?
Our programs run for an entire calendar year, from September to September. As the programs are divided into 15 intensive 3-week modules, the university employs a rolling admission policy. This means that students can apply, be admitted, and begin their studies at any point in that year, but they will always complete a total of 15 modules, regardless of when they begin their studies. Therefore, in the case that a student is admitted, but he or she cannot get a visa in time for Module 1, the student will be able to start his or her studies in one of the following modules, once they have been granted their visa. For further information, please contact the Admissions Team at admissions@harbour.space, and they will be able to guide you on this matter. 
When will Harbour.Space open again for offline classes? 
At this moment, we are preparing to open our campus and continue our classes offline in August 2020 and will continue doing so unless there are governmental regulations put in place. However, the final decision will be made based on the governmental regulations regarding the evolution of the outbreak. With that in mind, we will do our best to provide the offline classroom-based learning as soon as possible, hopefully not later than August. So, until there is further notice, we are opening as planned. In the meantime, all classes will continue to be streamed online. 
Are you offering online classes for the first modules in the case that offline classes are not possible?
Online classes will still be an option for the 2020-2021 academic year. We are closely monitoring the situation and are always in communication with the local government and health organisations to ensure we have the latest updates on the situation. 
If government regulations require, all Harbour.Space activities will temporarily be delivered virtually until further notice. Our first priority is ensuring the wellbeing of our community, so all the necessary measures to safeguard the health of our staff, faculty and students will be put in place. 
If I don't want an online experience and I prefer being on campus, can I start when all of the classes are offline?
Yes. Students who do not wish to pursue their education online will have the option of deferring their studies to another semester or year. In that case, they are kindly requested to communicate their decision as soon as possible to the Admissions Team. 
What happens if I pay for the academic place, but cannot join the university in September because of Covid-19? 
We understand we're living in uncertain times. However, we still ask that each applicant pays the security deposit in order to ensure that there is a place reserved for them within the program. Especially because of the circumstances, our Admissions Team will be more prepared than ever to help and evaluate each applicant's situation on a case-by-case basis in order to find a solution which ensures that nobody misses the opportunity to join Harbour.Space.
Are Spanish consulates/embassies open?
The Spanish government is gradually relaxing some confinement measures in phases over the next several weeks. Confinement measures will vary from region to region within Spain and, as a result, so will the consular services. This might mean that acquiring documentation may take longer than usual. As a result of this, we recommend that you contact the embassy in the country you currently reside in as soon as possible for further information about visa expediting services. 
How is Harbour.Space monitoring COVID-19 and what measures are going to take place once the campuses are re-open? 
In August 2020 Harbour.Space will be open for students. We established and will continue to implement the General Health Protocol that can be physically found in the common areas. It outlines the basic safety measures everyone needs to abide by in order to reduce the chances of catching or transmitting the virus. 
Furthermore, the reopening of the campus will come with new guidelines, including the following:
1. Every student inside the university will need to maintain a distance of 2m from each other. Students and staff will need to wear a mask at all times while moving around the building. 
2. There will be hand sanitizer in every entrance and room around the campus for students to constantly disinfect their hands.
3. If at any moment once we reopen the campus students show symptoms of COVID-19, we will need to ask them to return to their homes and continue their studies from there until they get tested or the quarantine period (14 days) is completed.
4. The Campus will be completely cleaned and disinfected every day, and we will have periods during the day when we will open all windows and doors to ventilate all areas. 
5. The bathrooms will be cleaned a minimum of 3 times a day.
6. Every time students dispose of a mask or gloves, they will put them in the trash can and wash their hands afterward.
7. We will minimize the office paper usage inside the campus to essential documents.
7. The students will be encouraged to use the staircase as much as possible. If a student chooses to go on the elevator, the maximum number of people allowed in the elevator are 2.
8. Students will not be able to bring visitors to the campus until these guidelines are lifted.
How can I know which changes affect the courses I'm planning or wish to enroll in?
As a potential student, mention this to your Admissions Officer - they are in contact with the University's Academic Coordinator, and will be able to provide you with more information about each course and if/how it has been modified. 
Special Announcement! Visa extension for current and upcoming students 
We're committed to helping our students expand their horizons and find their place in the job market. That's why we will support our current and upcoming students' application for visa extension for a period of 6 months after they graduate, in order for them to have time to find an internship or an employment opportunity. Please consider that Harbour.Space can only provide students with the required documents support for their visa extension request. From that point on, the student is responsible for providing the other documents and submitting the request to the Spanish immigration offices. This offer stands for applicants starting their studies in September 2020.
If you want to inform yourself further, we suggest looking at the webpage of the Catalonian Government. Unfortunately, the page is only available in Catalan and Spanish, but it is the only source which we can guarantee contains 100% reliable information regarding Barcelona's status on COVID-19. Alternatively, get in touch with your Admissions Officer, and they will do their best to provide you with the most relevant information to your query. We hope to see you soon!