Harbour.Space x Barcelona Activa: 30 Scholarships to Build the Future
Harbour.Space and Barcelona Activa are collaborating to offer the next generation of change-makers a unique study and work opportunity. We are looking to accelerate talent development with scholarships to study in one of our Bachelor's or Master's programs.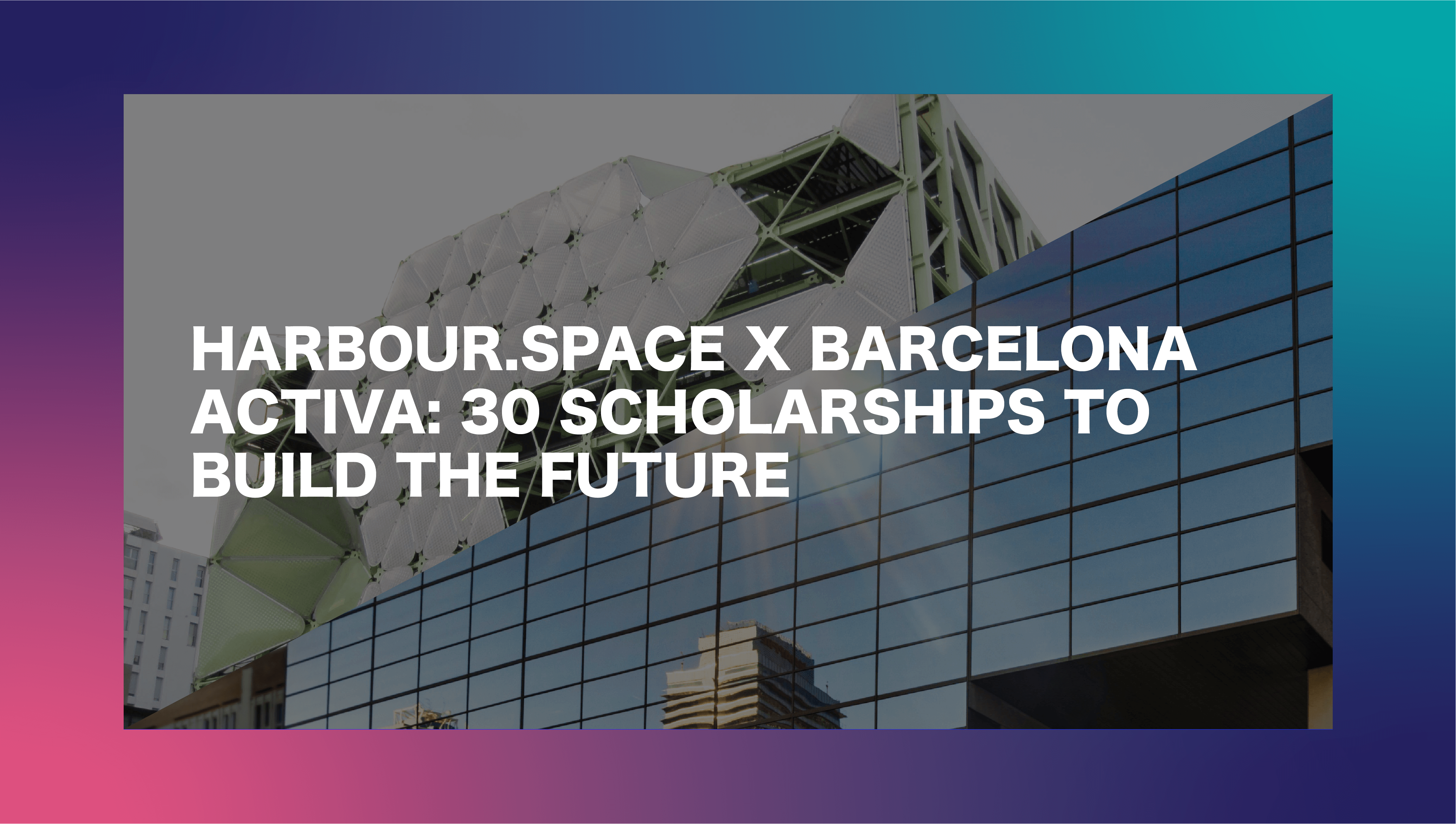 After one of the most unprecedented global events in history, the world has a newfound need for a fresh generation of innovative designers, bold entrepreneurs, and brilliant technologists. 
For that reason, Harbour.Space is partnering with Barcelona Activa to offer members of their community an opportunity to rise to the occasion, with 30 full and partial scholarships for our Bachelors and Master's programmes. 
Learn how to navigate through ever-changing global landscapes, and master the digital skills needed to create measurable impact, both during and after the COVID-19 pandemic.
WHAT KINDS OF SCHOLARSHIPS ARE OFFERED?
We are offering a total of 30 Scholarships for 6 of our progressive programmes. 
Here's the breakdown of our programmes (be sure to check the prerequisites for each one): 
15 Scholarships for 3 Year Bachelor Programmes
15 Scholarships for 1-2 Year Master Programmes
The distribution of the scholarship amount will be awarded depending on the profile of the candidates. The available scholarships are as follows:
10 - 100% Scholarship
10 - 50% Scholarship
10 - 30% Scholarship
Our programmes start on September of every year. Each year of study at Harbour.Space has a value of 22,900eur. 
Worried about how COVID-19 might affect  your application and/or learning experience at Harbour.Space? Read our blog covering what you should know as a potential student.
WHAT'S SPECIAL ABOUT STUDYING AT HARBOUR.SPACE?
Harbour.Space is the University of the Future: the bridge between talented individuals worldwide and a leading role in the industries of tomorrow. 
Studying at Harbour.Space is a very different experience from studying at traditional universities. Our objective is for you to graduate with all the tools you need to meet and exceed the demands of the professional workforce. 
Here are some features that make us special:
Practising Professionals as Instructors: The Harbour.Space faculty is composed entirely of leading practising professionals from the private sector.  
Modular Academic Structure: Programs at Harbour.Space run for an entire calendar year, divided into 15 "sprint-like" 3-week modules, instead of monthly semesters. 
Personalized Study Plans: You are given the freedom to design your own study plan, and select up to 5 courses from any discipline within the Harbour.Space curriculum, considering you fulfil the prerequisites. 
Experiential Learning: In the place of written exams, you work on group and individual projects, which you present at the end of the course. For that reason, you have class for 3 hours a day. 
Capstone Projects: A Capstone is a year-long project where you apply your learnings and experiences from each course to either launch a Startup, develop a Design Portfolio, write a Thesis or produce a Case Study based on real work experience during your time of study.  
HOW DO I APPLY? 
Head over to the Apply page to get started! 
Once you're there, it's an easy process: 
1. Complete and submit your application form - Make sure you have all required information ready to upload. In the Where did you hear from us? field, don't forget to mention that you came from the Barcelona Activa post, so that you're entered in the system as a candidate for these scholarships! After you successfully submit your application, you will receive an instant email confirmation.
2. Schedule an interview - Pay the application fee of 125eur for our admissions team to review your profile and schedule an interview with you. The fee guarantees we can process every single application fairly and maintain the highest possible standard of assessment. Furthermore, by paying the fee, you have the chance of receiving a free 3 week course, whether you are selected for the scholarship or not! 
3. Await the decision - If your application has been successful and you have received the scholarship, we will ask you to upload the remaining documents to officially enrol in the university.
As mentioned, we may only have 30 scholarship positions, but the top applicants that are not selected for the scholarship will be awarded a free 3-week course of their choosing (in person or online), considering they fulfil the prerequisites for that course!
Don't take too long to apply - the deadline for applications is September 4th, 2020.
Finally, if you want more information, check out our Admissions page, or contact our Admissions Department at admissions@harbour.space. One of our admissions officers will be happy to help you. 
We are looking to empower talented individuals to develop into the creative leaders who will design the future and set the foundations for the new normal. 
Do you have what it takes?
More questions? Feel free to contact our admissions team at admissions@harbour.space!