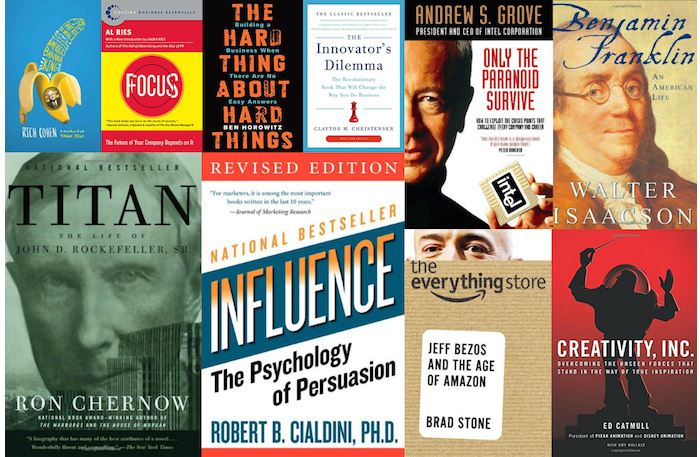 You Are What You Read: 10 Books To Inspire Successful Entrepreneurs
Here are some top reads to help guide you on your entrepreneurship journey and to serve as a source of inspiration.
1. The Innovator's Dilemma by Clayton Christensen
Focusing on "disruptive technology" - the Honda Super Cub, Intel's 8088 processor, or the hydraulic excavator, for example - Christensen shows why most companies miss "the next great wave." Whether in electronics or retailing, a successful company with established products will get pushed aside unless managers know when to abandon traditional business practices.
---
"This is one of the innovator's dilemmas: Blindly following the maxim that good managers should keep close to their customers can sometimes be a fatal mistake."
---
2. Only the Paranoid Survive by Andy Grove
Under Andy Grove's leadership, Intel has become the world's largest chip maker and one of the most admired companies in the world. In Only the Paranoid Survive, Grove reveals his strategy of focusing on a new way of measuring the nightmare moment every leader dreads--when massive change occurs and a company must, virtually overnight, adapt or fall by the wayside.
---
"The person who is the star of previous era is often the last one to adapt to change, the last one to yield to logic of a strategic inflection point and tends to fall harder than most."
---
3.Focus: The Future of Your Company Depends on It by Al Ries
What's the secret to a company's continued growth and prosperity? Internationally known marketing expert Al Ries has the answer: focus. His common sense approach to business management is founded on the premise that long-lasting success depends on focusing on core products and eschewing the temptation to diversify into unrelated enterprises.
---
"Sooner or later, even the most powerful focus becomes obsolete. That's when a company must refocus itself."
---
4. Creativity, Inc. by Ed Catmull
From Ed Catmull, co-founder (with Steve Jobs and John Lasseter) of Pixar Animation Studios, comes an incisive book about creativity in business
Creativity, Inc. is a book for managers who want to lead their employees to new heights, a manual for anyone who strives for originality, and the first-ever, all-access trip into the nerve center of Pixar Animation—into the meetings, postmortems, and "Braintrust" sessions where some of the most successful films in history are made.
---
"If you give a good idea to a mediocre team, they will screw it up. If you give a mediocre idea to a brilliant team, they will either fix it or throw it away and come up with something better."
---
5. Titan: The Life of John D. Rockefeller, Sr. by Ron Chernow
Titan is the first full-length biography based on unrestricted access to Rockefeller's exceptionally rich trove of papers. A landmark publication full of startling revelations, the book will indelibly alter our image of this most enigmatic capitalist. Born the son of a flamboyant, bigamous snake-oil salesman and a pious, straitlaced mother, Rockefeller rose from rustic origins to become the world's richest man by creating America's most powerful and feared monopoly, Standard Oil.
---
"Success comes from keeping the ears open and the mouth closed"
---
6. Benjamin Franklin by Walter Isaacson
Benjamin Franklin was an ambitious urban entrepreneur who rose up the social ladder, from leather-aproned shopkeeper to dining with kings, he seems made of flesh rather than of marble.
By bringing Franklin to life, Isaacson shows how he helped to define both his own time and ours.
He was, during his 84-year life, America's best scientist, inventor, diplomat, writer, and business strategist, and he was also one of its most practical - though not most profound - political thinkers.
---
"Knowledge, he realized, "was obtained rather by the use of the ear than of the tongue."
---
7. The Fish That Ate the Whale: The Life and Times of America's Banana King by Rich Cohen
When Samuel Zemurray arrived in America in 1891, he was tall, gangly, and penniless. When he died in the grandest house in New Orleans sixty-nine years later, he was among the richest, most powerful men in the world. In between, he worked as a fruit peddler, a banana hauler, a dockside hustler, and a plantation owner. He battled and conquered the United Fruit Company, becoming a symbol of the best and worst of the United States: proof that America is the land of opportunity, but also a classic example of the corporate pirate who treats foreign nations as the backdrop for his adventures.
---
"Show me a happy man and I will show you a man who is getting nothing accomplished in this world."
---
8. The Everything Store by Brad Stone
Amazon.com started off delivering books through the mail. But its visionary founder, Jeff Bezos, wasn't content with being a bookseller. He wanted Amazon to become the everything store, offering limitless selection and seductive convenience at disruptively low prices. To do so, he developed a corporate culture of relentless ambition and secrecy that's never been cracked. Until now.
---
"It's easier to invent the future than to predict it."
---
9. Influence: The Psychology of Persuasion by Robert B. Cialdini
Influence, the classic book on persuasion, explains the psychology of why people say "yes"—and how to apply these understandings. Dr. Robert Cialdini is the seminal expert in the rapidly expanding field of influence and persuasion. His thirty-five years of rigorous, evidence-based research along with a three-year program of study on what moves people to change behavior has resulted in this highly acclaimed book. You'll learn the six universal principles, how to use them to become a skilled persuader—and how to defend yourself against them.
---
"A well-known principle of human behavior says that when we ask someone to do us a favor we will be more successful if we provide a reason. People simply like to have reasons for what they do."
---
10. The Hard Thing About Hard Things by Ben Horowitz
In The Hard Thing About Hard Things, Ben Horowitz, cofounder of Andreessen Horowitz and one of Silicon Valley's most respected and experienced entrepreneurs, draws on his own story of founding, running, selling, buying, managing, and investing in technology companies to offer essential advice and practical wisdom for navigating the toughest problems business schools don't cover. His blog has garnered a devoted following of millions of readers who have come to rely on him to help them run their businesses. A lifelong rap fan, Horowitz amplifies business lessons with lyrics from his favorite songs and tells it straight about everything from firing friends to poaching competitors, from cultivating and sustaining a CEO mentality to knowing the right time to cash in.
---
"Until you make the effort to get to know someone or something, you don't know anything."
---